Discussion Starter
•
#1
•
Yesterday evening, I took my three-year-old grandson "deer hunting." We went to the old trailer that's bay window looks up toward the feeder.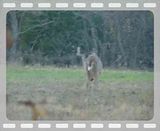 Then another visitor arrived.
Shortly after the buck drifted back into the woods, the cougar appeared at the top of the field near the far tree line. This time, I picked up the binoculars instead of the camera because I wanted to make a positive ID. I wish now, I'd grabbed the camera instead. This is the first time I've seen the lion.