Discussion Starter
·
#1
·
The range rimfires, working guns. I would like to start a thread about our 22 rimfire target
handguns
, and first I show you mine, but I want you to post yours too. 1 or 10, lets see them, c'mon! All of these I bought to shoot shoot shoot, and what they look like was never much of an an issue. Classic target 22 rimfires, each a tack driver if the shooter does his/her part.
One problem with this many, is you have to stock several different kinds of 22 ammo, as each one of these likes different bullets better than others. Some perform their best with match ammo, others with cheap stuff. As you know, there is no educated guessing with rimfire ammo and how it works in a particular firearm.
Here we go, in chronological order: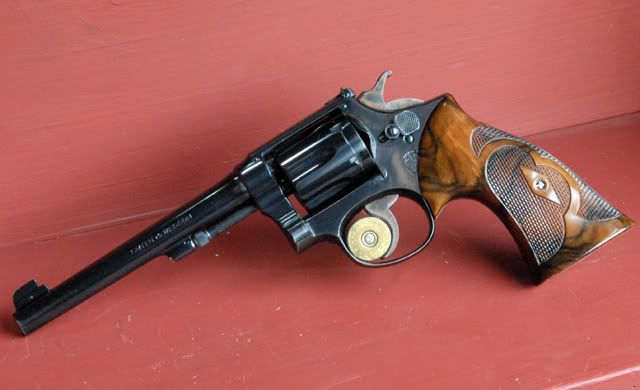 Pre-war Outdoorsman 1st model, 1933-34. It wears KB Roper stocks done with French walnut. This is my showiest gun among the collection, but I shoot this gun, a lot.
Colt Officer's Model, 1937-38. The action is butter smooth, absolute tight lock up, the classic Colt action. This guns looks like a war relic, but it shoots like a dream, and if any of you tried a cylinder or 2 in it I think you would immediately fall in love...
High Standard HD Military, early post war, probably late 46 or early 47. If you've never experienced one of these and you like 22 target shooting, one of these should be in your scope. They were made in shorter barrel versions too, and at 1 time some of them came from the factory with Roper grips (my brother has 1 of these with a shorter barrel). Other High Standard pistols are also well known as tack driving, high quality target guns.
Early 4 digit K22, 1947. Drew likes the serial number of this one
, K5678. The ejector rod bothers me a little, I wonder if it is original to the gun, maybe I'll replace it one of these days.
K22 "pre 18", 1953. I think if I had to chose just 1 .22LR revolver, this is the one I'd pick. I just seem to be able to shoot this one better more often than any of these others...
Early Model 43, 1958. Very scarce nickel finish. I tripped over this gun, while picking up a 38 that was on layaway. I bought it on the spot (stole it is far more the truth), not realizing how rare nickel 43s are. Small, light, compact, my liking for this as a trail gun has done nothing but grown. (But I might move it soon, as it should be with a collector, and if I do I'll replace it with a blued 43 instead.) Aside from that, I have taken this one to the range a few times and had a ton of fun with it.
Ruger Mark 1, 1974. What needs to be said about this classic that you don't already know? I have been thinking of sending one of these out for a really nice target/action job, trouble is you have to decide which version...