Discussion Starter
·
#1
·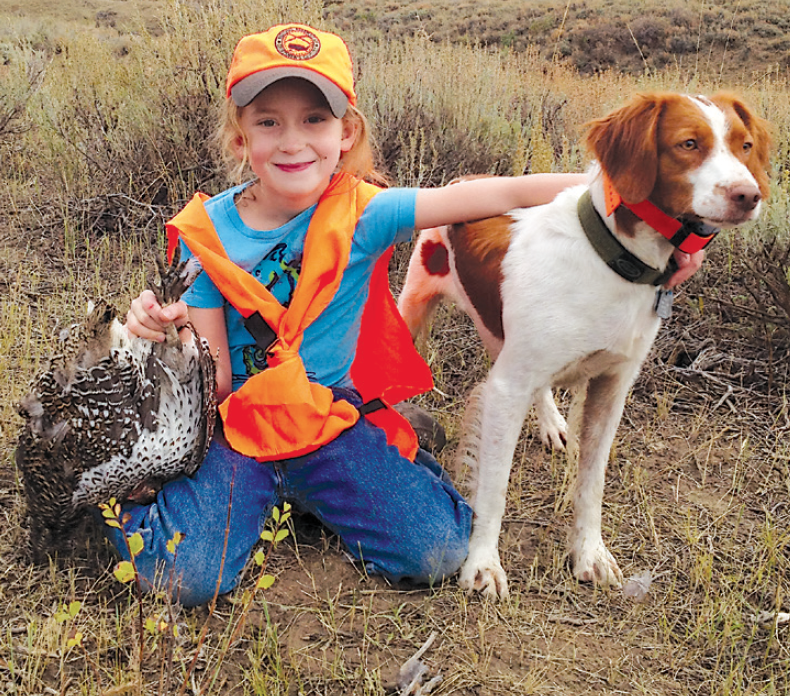 Every fire needs a catalyst and for me it was that orange-and-white ball of boundless energy and a daughter with an interest.

sportingclassicsdaily.com
by
Jodi Stemler
| Aug 6, 2020 |
GUNDOGS
,
HUNTING
,
Slider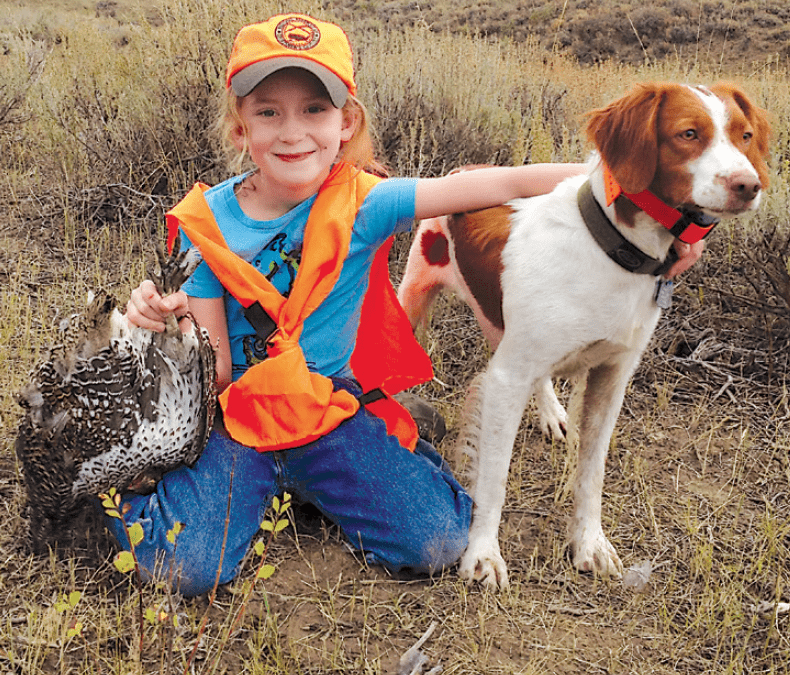 Emily holds a pair of sharptails in this 2013 photograph.
It started with a puppy and an adventurous little girl. Every fire needs a catalyst and for me it was that orange-and-white ball of boundless energy and a daughter with an interest.
Mesa was not my first Brittany—I'd had two before, but even with dreams of days in upland fields, life circumstances prevented both from becoming true bird dogs. I grew up in a hunting family and hunted as a child, yet I stopped in my teens. After college, I spent more than a decade moving around the urban Northeast and, though I still considered myself a hunter and worked on sportsmen's issues, I never went afield. This dog was going to change that.
We were living southwest of Denver with plenty of upland hunting opportunities a short drive away, though we didn't take advantage of them the first few years after we moved. Our old
Brittany
was long past learning to hunt, and I was busy being Mom to our daughter, Emily. We'd hike and fish together with her in a backpack, identifying the wildlife we'd see, hoping to cultivate a love of the outdoors. We would talk about hunting when Daddy went off to elk camp; Emily knew the ducks he had mounted on the wall, and the only meat she really loved was venison.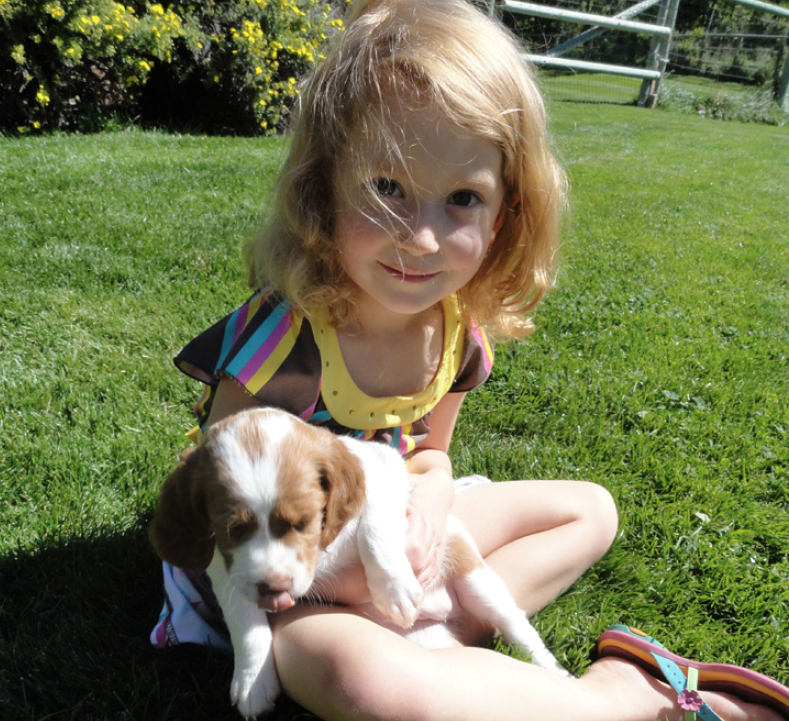 Five-year-old Emily Stemler and Mesa in 2010.
Everything changed after we brought Mesa home. We now had a bird dog that was vibrating with the enthusiasm of her breeding and the knowledge she'd acquired during a summer with a trainer. And at 6, our daughter was now old enough and excited about walking with us on a hunt. Our first family hunt, for pheasants near Scottsbluff, Nebraska, is still crystal clear in my memory.
There's nothing like watching a dog doing what it was born to do. That weekend, we could see the light turn on for both Mesa and Emily. If Mesa could smile, her grin would be ear to ear; I know because that same smile was mirrored on our daughter's face. The image of this little girl in her lime green snowsuit, standing next to our proud pup and holding a frozen solid rooster under her arm, is one of my favorites.
That weekend was like turning a corner in the maze of life and seeing a whole new realm beyond. After nearly 20 years away from hunting, I was hooked and wanted to do more.
The next few seasons we added more hunts. We chased Columbian sharp-tailed grouse and sage grouse on the west slope of Colorado; we went back to Nebraska and up to South Dakota for pheasants.
During these hunts, Emily walked with my husband, Casey. We gave her plenty of breaks and let her carry the birds. She was part of the process and loved helping clean the birds to see what they'd been eating and then bringing it full circle by eating their meat.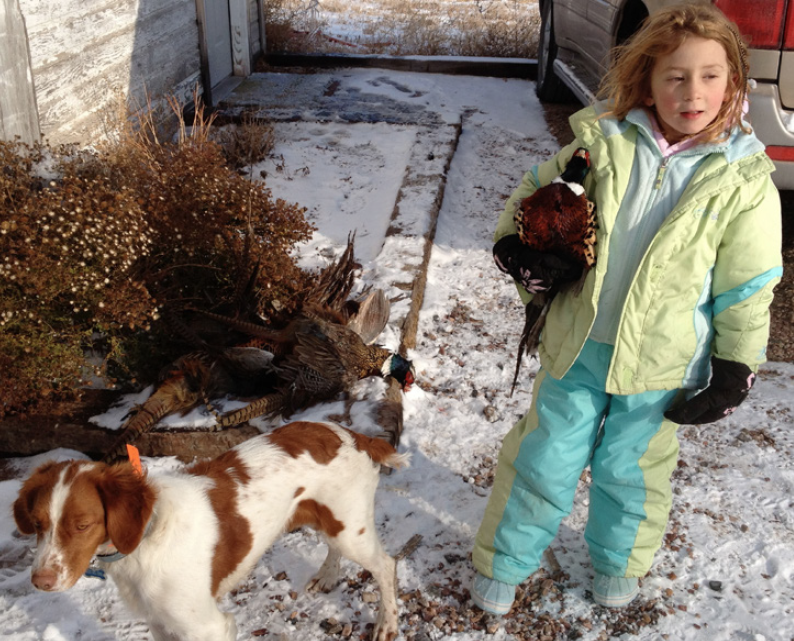 Emily totes a ringneck on her first pheasant hunt with her parents.
Each year my own confidence as a hunter increased. I loved those weekends in the field with my family, watching the sunrise as we listened to coyotes howl and hiking for miles through sagebrush and grassland. Sharing those experiences with the ones I love brought peace and a connection to the natural world.
The year Emily turned 10, she completed her hunter safety class and that fall carried my 20-gauge Beretta in the field on her first hunt. The gun was too big for her and those western grouse fly much too fast for a novice shooter, but I shot my first dusky grouse and sage grouse.
Later that season while hunting in Nebraska, Emily borrowed a youth shotgun belonging to our friend's grandson who had duct-taped towels around the stock to make it more comfortable to shoot. Birds on the wing were still a challenge for her, but one rooster pheasant with a death wish managed to stand still long enough for her to take a shot.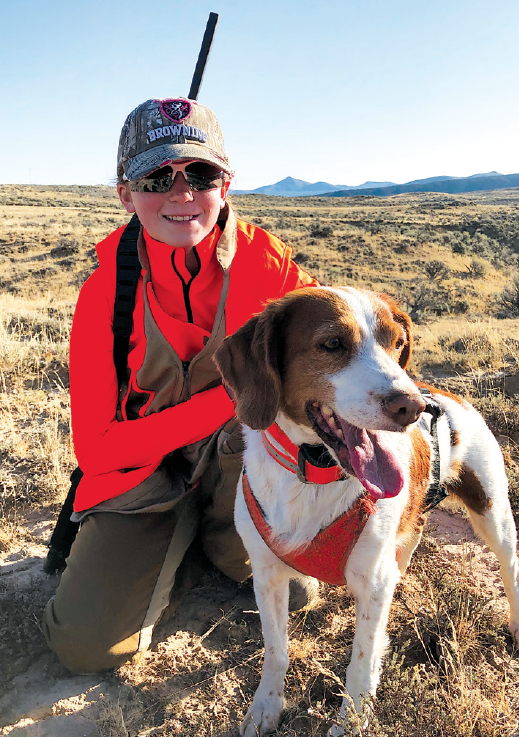 Emily and Mesa on a sage grouse hunt in 2018.
The next spring, we went back to Scottsbluff where my daughter and I had turkey tags. This was new for me; I'd never progressed beyond upland bird hunting and some waterfowl, while turkeys were more like big game hunting. After a very early morning start listening to the sounds of the forest as the world woke up, Emily made a beautiful shot on a big gobbler. She was euphoric as she tried to lift that heavy bird that was almost as long as she was.
On the other hand, I kept missing—from the blind as well as during some spot-and-stalk attempts. The mental transition from instinctive shotgunning in the upland fields to the more calculated shots needed for turkey hunting were beyond me.
That spring, Emily's journey as a hunter surpassed mine. I was thrilled for her, but it also fueled the fire within me. The turkey hunt had expanded my hunting horizons and now I couldn't wait to notch my own tag, which I did the next spring.
When she was 12, Emily drew a cow elk tag for a late-season youth hunt. We worked hard over two weekends, hiking for miles in the sagebrush flats and foothills where the elk should be that time of year. The lack of snow that December meant the animals were still high on the mountains, which is where we found a big herd.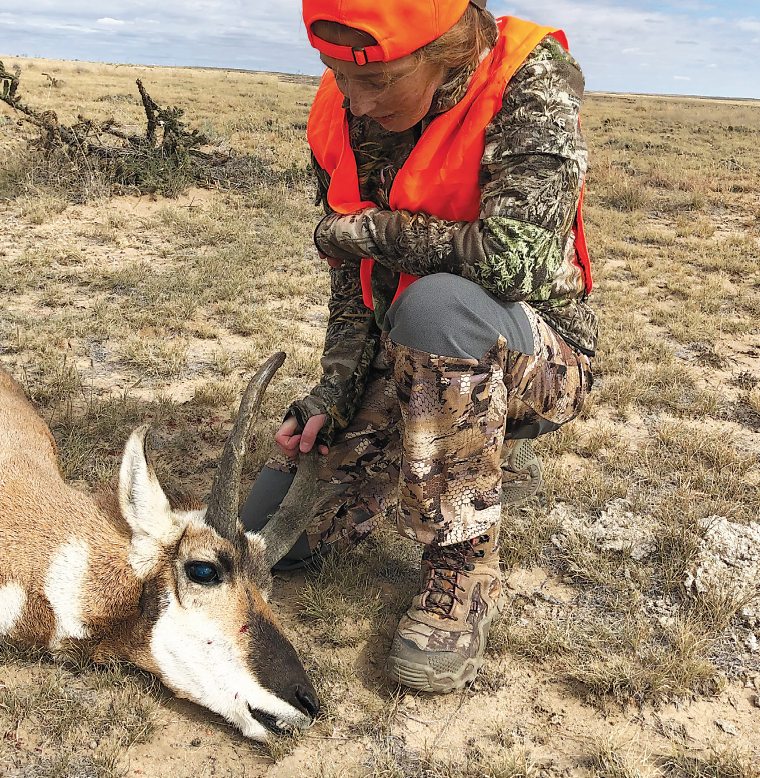 Emily with her first pronghorn, taken in Wyoming that same year.
After a long stalk close to sunset, we backed out because an ethical shot didn't present itself. We tried again two days later after a small snowstorm, but the cows had moved down to lower elevations and we left empty handed.
But it was at dawn on that mountaintop that the true power of hunting hit me. We were in some of the most beautiful country imaginable, seeing the crystalline beauty of nature in zero-degree temperatures. We interacted with animals in a profoundly wild way—tracking elk in the snow, flushing a group of sage grouse, watching a young coyote hunt. And we would never have done that, or had that time together, if we weren't hunting. For the first time in my life, I wanted to try big game hunting.
Last year was a watershed year. During a September hunt, Emily finally connected with a bird on the wing by shooting her first sage grouse, and then in October, a prairie sharptail. Both birds were retrieved to hand by Mesa, who at eight is now grayer around her face.
In early October, my daughter made an outstanding 100-yard shot on her first big game animal, a pronghorn buck. And just one week later, during the Wyoming Women's Antelope Hunt, I filled my own first big game tag.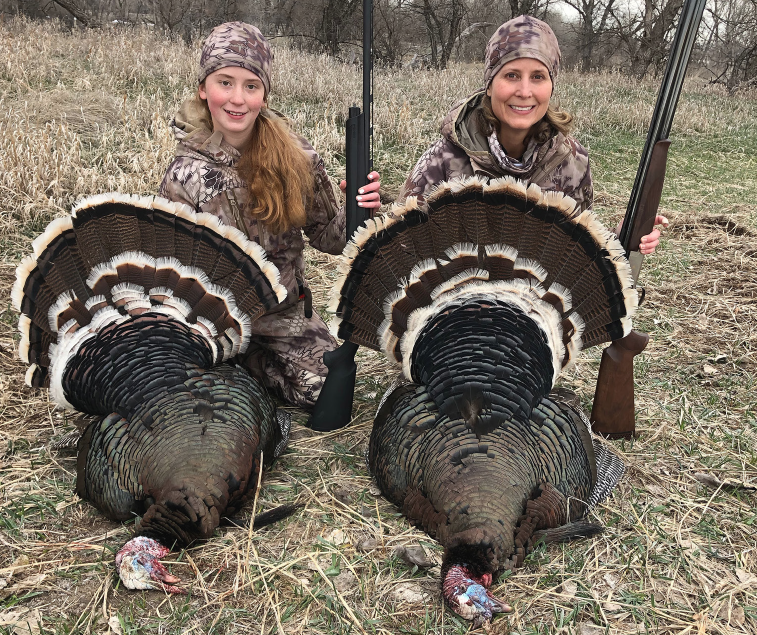 Jodi Stemler and daughter Emily accomplish a true double on wild gobblers.
This spring, Emily and I achieved a true double in the turkey blind when she shot her beautiful tom just 30 seconds before I dropped mine.
Our journey as hunters has traversed separate paths that interweave throughout their course. We've learned together and shared similar emotions during each successful, and unsuccessful, experience.
What rekindled within me in those early seasons with a new bird dog and an enthusiastic young girl has begun to blaze through cherished times afield with Casey and Emily. From upland birds to our first turkeys and big game animals, every hunt plays clearly in my mind. I can't wait to be part of the next experiences as our mutual skills expand.
This joy, this connection, the memories of these hunts and time together as a family— these are the gifts that my daughter and my dog have given to me.