Discussion Starter
·
#1
·
Yesterday, Clive Cussler was signing copies of his latest Dirk Pitt novel, Arctic Drift, at the annual Auburn-Cord-Dusenberg Festival in Auburn, Indiana from 1-3 pm. Cussler is the Grand Marshall for the Festival and he rode in the parade today. Cussler owns eight of these magnificent automobiles and displays them in his museum (over 104 cars) in Arvada, Colorado. Books sales are good....
I got up at 4:15 am like I always do when I'm working. I was out the door at 5am and on the road, but this particular morning I had a lot more enthusiasm than I would if I was just driving to work. I drove from Northern Illinois toward Indiana....
I decided to stay off the rather boring tollway and instead make the 4 1/2 hour drive heading eastbound on Highway 6. It was a cool morning and there was some patches of thick fog in some places. The scenery was just beautiful on the back roads. The cornfields stretched forever.
Highway 6 took me through the Amish Acres area where the horse and buggy is common.
I knew I was in Auburn when I saw a perfectly restored 1936 Cord driving along with fresh dew dripping off its shiny waxed paint. There's something special about seeing one of these classic automobiles actually driving on the road instead of just being on display.
I've been to many car shows (I'm a Ford and Mustang guy and we have two 1991 Musang show cars) during the past two decades, but they're small potatoes compared to this A-C-D Festival. There were so many perfect condition Auburns and Cords and Dusenbergs, it was hard to even appreciate so many of them.
I found the Cord I had seen on the street before, it was parked along with the rest of the classics in the parking lot next to the A-C-D Museum.
I can't describe how amazing the museum is. It's housed in the original manufacturing plant and offices of the company that produced the cars. The offices have been restored and you can walk through many of the research, design, art, mechanical, and advertising offices. Even the president's office and boardroom are restored. It sure was a great age back then. The fans on the desks have exposed steel blades and the cords are as thick as your thumb. There are so many outrageously expensive classic automobiles (in addition to the Auburns, Cords, and Dusenbergs) housed in the museum that it's a bit overwhelming.
Has anyone seen the General Motors Futurliner before? It reminded me of the Mammoth Car from the old Speed Racer cartoons. "Staggering" is an understated adjective to describe this gigantic vehicle:
I was two hours early for the book signing so I got to look around a bit. I spoke with the two ladies who were in charge of selling the 400 first edition copies of Arctic Drift. They had no idea who Cussler was. I stood two copies of the books up on end with the back cover displayed. I said that it might be a good idea to show the Auburn on the rear cover to attract some more attention to the books. It seemed like alot of people in the museum for the Festival didn't understand the connection between Cussler and the museum. Cussler's Dirk Pitt novels always have a new photo of Clive on the back cover with a classic car featured in the story. The ladies liked how the books looked with Clive and Dirk and the Auburn displayed, so they left them like that. I was glad to help out.
I bought a copy of the book at retail price and that nabbed me a red strip of paper with the number 32 on it. That meant I would be able to line up 32nd in order to get the book signed along with two other books.
Blue strips of paper were for those who did not wish to purchase a copy of the newest Dirk Pitt adventure, but just wanted to get three of their own books signed.
A week or so ago I had emailed the members of the Clive Cussler Collectors Society (yeah, I'm a member, go figure!) to see if anyone else was headed to the Auburn signing. Three other members said they were making the trip. We exchanged photos and cell phone numbers via email to make it easier to meet up at the event.
I had just finished exploring the second floor of the museum when my phone rang in my pocket. It was Josh, a CCCS member from Ohio. He had just parked his car and asked where we should meet. I told him I would come down and meet him at the museum's entrance.
I recognized Josh from his photo and we started to say our "hellos." But Josh excitedly told me he thought he just saw Cussler walk right past us. Josh was comparing the photo on the back of one of the many books he had brought with him. This was his first time seeing Cussler so we walked into the museum and, sure enough, there was Cussler and his lovely wife. They spoke with the museum personnel for a short time and then Clive just sort of looked around. His daughter, Terry, was there also, along with her son Jason. Clive saw the "Cussler Museum" tshirt I was wearing so I shook his hand and said hello.
Josh introduced himself and Cussler immediately offered to sign whatever Josh and I had for him to sign. Josh opened his backpack to get started and I ran out to my car to retrieve my items.
Here's Cussler autographing one of Josh's books (note the big stack ready to go!). Josh even brought some books for a fellow CCCS member to have autographed.
You'll note the pink Victoria's Secret bag I used to carry portions of my Cussler collection. It does seem odd that they make such a sturdy bag with strong handles even though their products weigh so little...weird.
I brought a small gift for Cussler - a tiny 50ml bottle of Don Julio Resposada tequila. It's the brand that both Cussler and his fictional hero, Dirk Pitt, drink. They don't make the little "two shots" bottles anymore, but you can find anything on Ebay if you're willing to pay for it. I presented it to Clive as a token of my appreciation and said I hoped he would have time to enjoy it during his stay in Auburn. His wife secured it in her purse for him.
Cussler then autographed
my
full size bottle of Dirk Pitt's favorite tequila, which I had brought along. He also signed my bottle of Vin Fiz grape soda (which was made by the publisher of Cussler's childrens book, "The Adventures of Vin Fiz" which is about a magical airplane, the Vin Fiz - which was the first plane to travel cross county and is now on display in the Smithsonian).
I also gave Cussler a 5x7 framed photograph I took that combined some elements of Dirk Pitt, including my Doxa watch, the Don Julio tequila, my Dodd Mead copy of Iceberg and my Colt .45 like the one Dirk Pitt uses in the books. (See! There's a gun connection in here!) Both Clive and his wife said they really liked the photo and that he would put it by his desk at home. Cussler's wife complimented me on the quality of the photo too. I think I was beaming from their kind words. I had an 8x10 of the photo and Clive signed it for me. This is it before it was signed: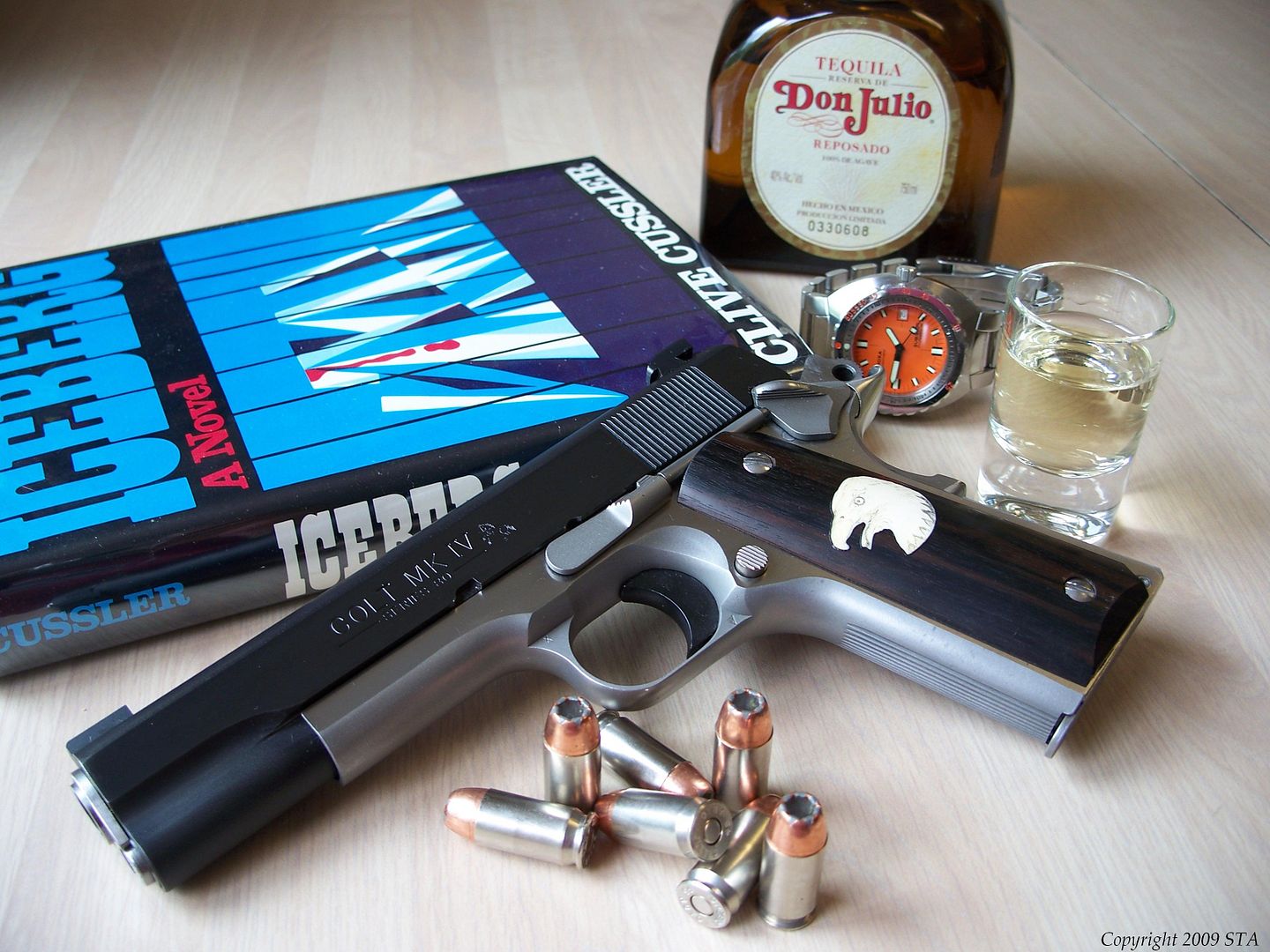 He also signed another 8x10 I took of my engraved Colt .32, which is the gun carried by Isaac Bell in Cussler's outstanding book, "
The Chase
."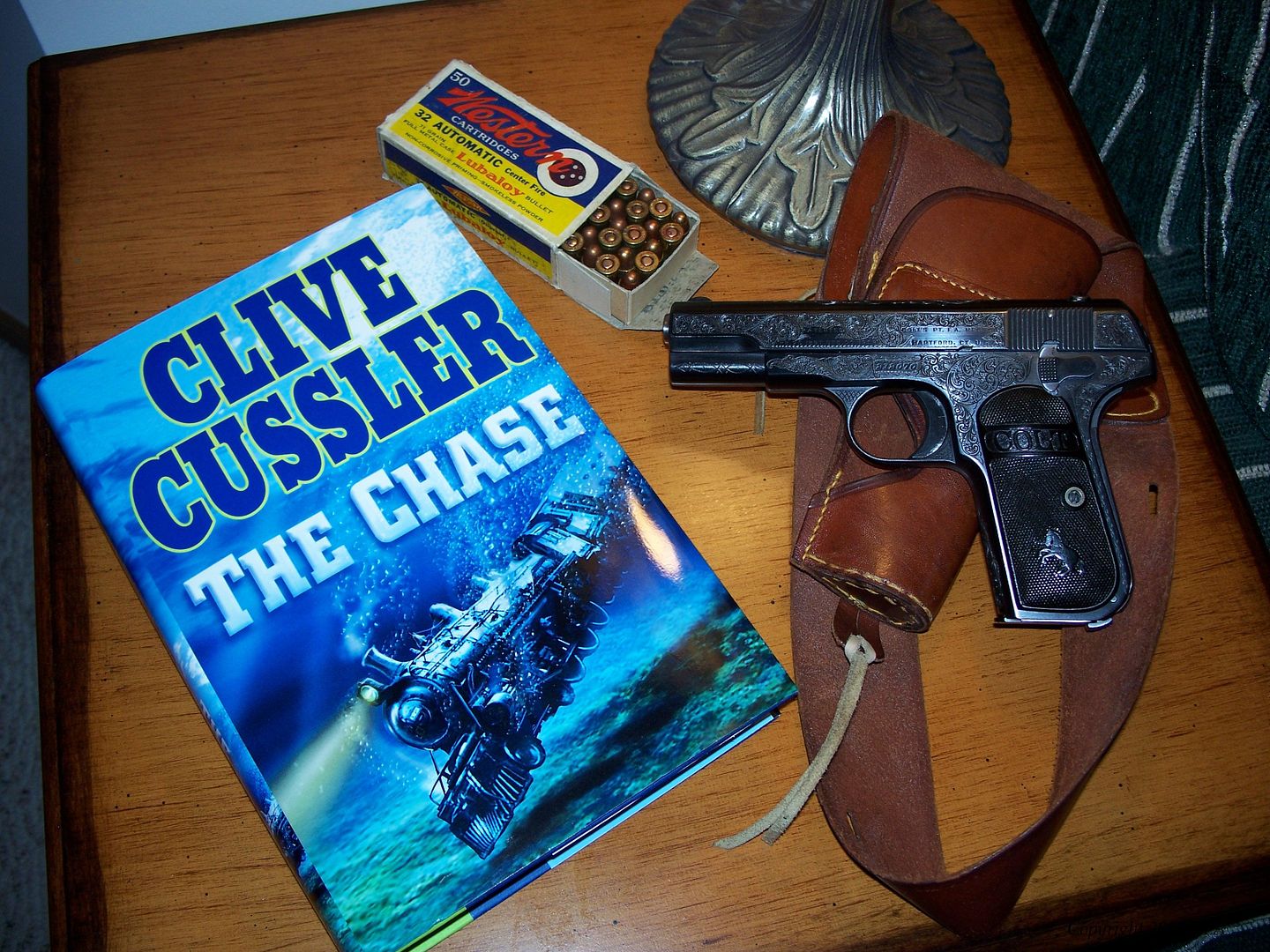 I have a diecast Fokker (Red Baron) airplane and a diecast Ford Tri-Motor airplane hanging by fishing line under the shelf that displays my Cussler collection. The planes are re-enacting the in-flight battle from the book "Valhalla Rising." Whenever I looked at the Tri-Motor, I thought it would look great with Cussler's signature on the top of the right wing.
Cussler signed the Ford airplane for me. Here's Josh and me with Cussler:
Cussler is wearing a Doxa SUB 5000T Seaconqueror watch. The watch looks great on his wrist.
Unfortunately this photo didn't turn out very well, but I just have to include it since his wife noticed my Doxa SUB 300T Professional Re-issue and she suggested a photo:
Cussler generously signed everything that Josh and I placed before him. His wife and daughter and grandson were all absolutely wonderful. Josh and felt almost guilty about having everything we brought signed. Almost.
We took a couple photos outside the museum entrance of the sign advertising the Cussler signing.
We met up with the two other CCCS members in attendance and here we all are. Josh (from Ohio), Rich (from Ohio), Andy (from Colorado), and Steve (that's me from Illinois):
Since Josh and I still felt guilty for getting so much stuff signed, we decided to stick around and wait in line so we could help Rich get all of his books signed. The limit was three so when Rich and his son gave three each to Josh and I, all the bases were covered. It was amazing to see so many of the rare Cussler books in everyone's hands. Pyramid Mediterranean Capers and Dodd Mead Icebergs are the rarest Cussler books but at the A-C-D, they almost appeared common.
The crowd was enthusiastic and I would estimate it at around 200. There were many more people than I though there would be. Especially considering that this was not a bookstore signing for a brand new book. It was also a Friday and Auburn, Indiana is truly in the middle of a cornfield.
Everyone was swapping Cussler stories in line and sharing their favorite storylines. I talked to alot of people who were unaware of the CCCS. I also received several compliments on my Doxa watch.
Everyone had a great time and Cussler wrapped up signing for the last few people right around his targeted 2 hour time frame. I told my fellow CCCS members that I had to hit the road as I had a long drive back home and traffic would most probably be a nightmare on a Friday, not to mention Labor Day weekend.
Sure enough traffic came to a standstill when I hit Chicago....
Just fifteen minutes from home, my car was hit from behind while I was stopped at red light. Luckily there was not real damage, just a few scuffs that I can buff out tomorrow. The "bang" gave me a quick little shock, but there were no injuries. Could you imagine if I was driving one of these other beauties from the A-C-D festival (blatant excuse to include a few more photos!):
At home I displayed all of my Cussler "stuff" for my wife and daughter (and for those of you still reading this post) and they confirmed that I may possibly be a bit unbalanced.
Yes, that's a photo of Cussler's original Doxa from 1967 that he signed for me along with the cover of HR Watches magazine.
I might be a little bit nuts, but the road trip was worth every second to me. I look upon Dirk Pitt's autographed Ford Tri-Motor flying under my bookshelf (kind of like how it flew under the bridge in the book) and I know the long day was well worthwhile.
I made new friends and got to spend a short amount of time with my favorite author and his terrific family. And now I got to share the day with you here on my favorite gun forum! What could be better than that?
I wonder if Clive has downed that little bottle of tequila yet?
-Steve