Discussion Starter
·
#1
·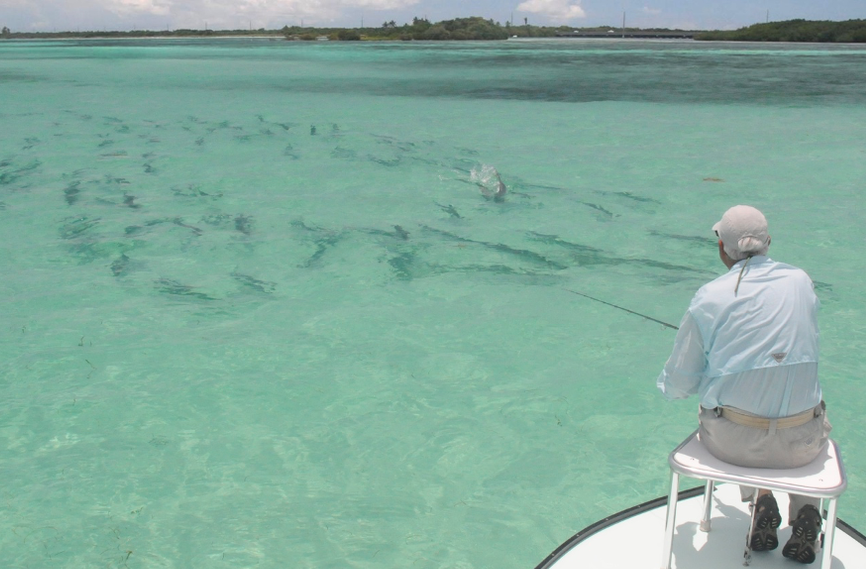 Fish that require effort, skill, knowledge and perseverance, along with some luck thrown in to land, are special indeed—tarpon are super special.

sportingclassicsdaily.com
by
Joe Coogan
| Oct 28, 2020 |
FISHING
,
FRESHWATER
,
SALTWATER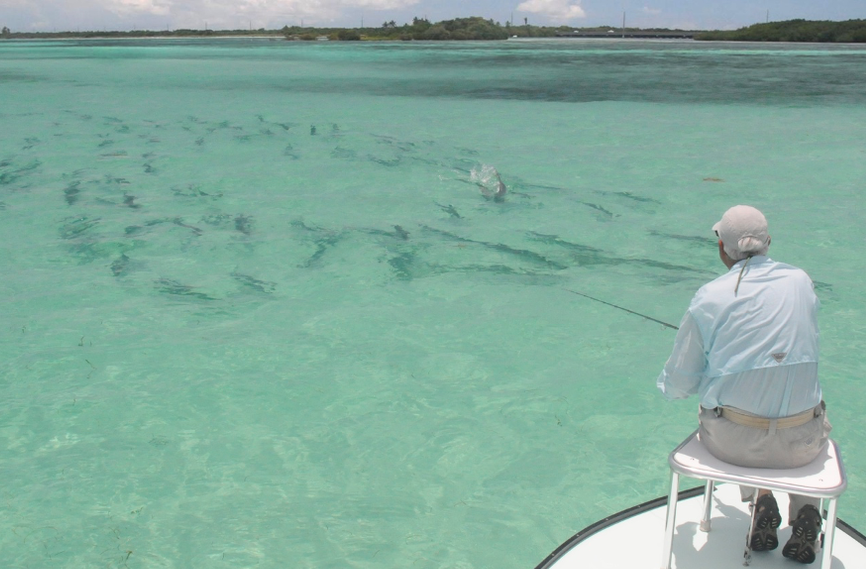 Watching the approach of a school of tarpon in clear water is a thrilling sight that leaves most anglers trembling. Presenting a fly that gets sucked into the bony bucket of a tarpon's mouth is possibly one of fly fishing's greatest accomplishments.
Fish that require effort, skill, knowledge and perseverance, along with some luck thrown in to land, are special indeed—tarpon are super special.
It's been said that the greater the challenge, the greater the appreciation. This means your sense of satisfaction is enhanced by the degree of sweat-equity you put into completing a difficult task or project, especially when it comes to hunting and fishing. Take
tarpon fishing
for example. During many days and hours of fishing in my home state of Florida, I've never caught a tarpon—never even had one swirl at my bait. At this stage of life my appreciation for a tarpon (Megalops Atlanticus) is over the top.
So the chance to join a couple of fish-crazy buddies, outdoor writer Jeff Johnston and Virginia real estate broker Bruce Anderson, in search of "Silver Kings" on the flats of the Lower Florida Keys was one I couldn't miss. Not only would we be probing tarpon-rich waters at a prime time of the year (May and June), but we'd be in the hands of an established and experienced outfitter. Most importantly, though, we'd benefit from the expertise and skill of a sure-enough "born-and-raised-in-the-Keys" tarpon guide and his custom 18-foot flats skiff.
But long before we'd shove off for the "poon" flats, our first challenge was to locate each other. Johnston and Anderson were coming in from different points of the compass and converging on the Miami International Airport. I drove down from my home in Viera, Florida, to meet them. It involved a frenetic game of cell-phone hide-n-seek, as we shouted into our phones, something like this, "Can you hear me now? What's your 20? What's your other 20? What's that near?
Okay, don't move!"
We eventually connected in a rushed curbside pick-up at two different baggage claim locations. Our next hurdle was negotiating snarled, congested Miami airport traffic on a road system that defied logic or any sense of direction. Talking us through myriad twists and turns, the wizardry of GPS technology eventually got the bow of my vehicle pointed southward toward the Keys.
An hour's drive down the 113-mile Overseas Highway brought us to Robbies of Islamorada where we stopped for an obligatory seafood lunch and a chance to gawk at monster tarpon wolfing down hand-held mullet. Oversize tarpon with magnificently wide maws were spectacular to watch, but they deceptively lulled us into hinking that finding hungry tarpon would be a slam-dunk. Two hours later, following directions via text message, we reached an obscure turn-off several miles northeast of Key West that led to a spectacular waterfront property we'd call home for the next three nights.
We knocked on a large wooden front door and were greeted by Gordon Baggett, owner of Bahia Honda Sporting Club. "Welcome! You may be in luck—there was a second worm hatch yesterday!"
After introductions, Baggett explained that something called a palolo worm, which looks like a red and white earthworm, hatches annually from coral rocks and sponges covering the sandy bottom on the Atlantic Ocean side of the Keys. If you're fortunate enough to catch one of the hatches, you might see large numbers of rolling tarpon staging in anticipation of this summertime phenomenon. The exact day of a hatch is never known, but it can take place anytime during late May or early June and provides a worm-fest for hungry tarpon. It sounded like exciting news, indeed.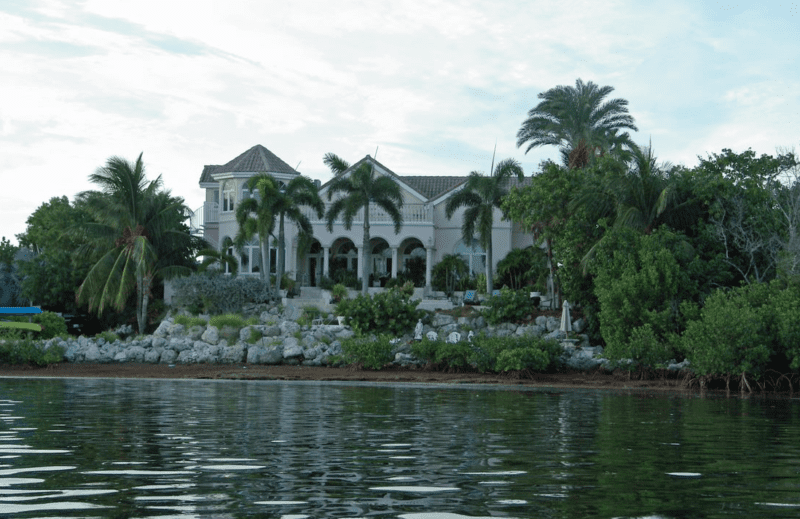 The Bahia Honda Sporting Club is an all-inclusive fishing lodge that allows traveling anglers access to the Lower Keys. Overlooking gin-clear waters of fish-rich bay, the spectacular waterfront lodge provides excellent accommodations and first-class meals.
After stowing our gear, Baggett conducted a cook's tour of his extensive land–side operations. His Club is literally the only all-inclusive fishing lodge allowing traveling anglers access to the Lower Keys and providing well-appointed accommodations and first-class meals. Located on a 16-acre estate, the lodge overlooks an open-water bay and is bordered by a 50-plus acre state wildlife preserve. Invisible from the road, the lodge is uniquely private—truly a remote island escape.
Some might prefer budget travel, doing everything themselves and foregoing the benefit and advantage of a guide's experience and local knowledge. But fishing in the Florida Keys is too great of an experience to be degraded by inconveniences and lack of knowhow. The Bahia Honda Sporting Club is a place for those anglers who want the very best in a fishing experience, complete with a turn-key operation that provides all the "bells and whistles." If you've never heard of the Club, it's because, until recently, the facility has been operated strictly by word-of-mouth.
Your time at the Club is flexible and is based entirely around the activities of fishing. That means if you want to be out fishing, you're fishing. If you want to stay out all day you cast-off with a prepared lunch aboard to be eaten on the skiff. Anglers who wish to enjoy a more relaxed approach can take a break from the sun and fishing and return to the lodge for lunch during the hot mid-day hours. Skiffs are conveniently docked right out front, so you can leave and return from fishing at any time.
As the sun slowly sank in the west, we relaxed with sundowners in comfortable deck chairs by the pool, while Baggett explained how he'd become a Keys outfitter and described his early fishing experiences.
"Each spring I'd count the days leading up to my family's return to the Keys, fly rod in hand. I couldn't wait to rocket a loop at a big school of tarpon swimming straight to me," Baggett said. "By my early 20s, all I wanted to do was fish, and I was fortunate enough to snag a seasonal bonefish guiding gig in the Bahamas."
Baggett soon discovered that many of his bonefish clients were also interested in fishing for tarpon. With precious few poon in the Bahamas, Baggett recognized an opportunity and began bringing tarpon-targeting anglers to his home waters in the Keys. But fighting the crowded waters of the Upper Keys during the tarpon season, and the difficulty for visiting anglers to organize their own transport and accommodations, was a constant source of frustration.
"I really gained some perspective on the drawbacks traveling anglers faced one busy holiday period that happened to be "bartenders and exotic dancers weekend" in Islamorada—boats and tourists were everywhere. 'Pristine' waters would not describe the chaotic conditions that weekend. That's when I knew I had to make a move.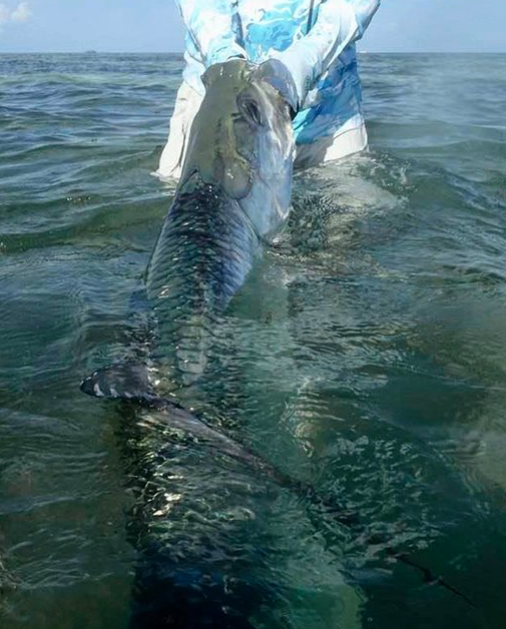 A tarpon can grow about eight feet in length with mature fish weighing anywhere from 60 to nearly 300 pounds. Adult tarpon are strictly carnivorous and feed on mid-water prey, swallowing their food whole and normally hunting nocturnally. Hooking and landing a 100-pound tarpon is considered fishing's "Holy Grail" by many anglers.
"Most of my Bahamas clients were happy to come to the Keys to experience the quality tarpon fishing with skilled guides, but they wanted to avoid crowds and to have good, clean, comfortable accommodation and five-star cuisine laid on," Baggett explained. "The Keys, throughout the island chain, offers some of the best fishing in the world, but finding uncrowded waters to fish in the Upper Keys can be next to impossible."
Located between Marathon and Key West is a long stretch of "lonely water" that fit Baggett's clients' needs for quality fishing minus the audience. Bahia Honda Key is the gateway to this maze of islands, channels and flats where tarpon gather to gorge on everything from crabs and hatching worms to large schools of pilchards, threadfin, pinfish and mullet before they begin their seasonal migrational swim northward. That 40-mile expanse of natural mangrove islands and unspoiled waters is referred to as the Lower Keys.
"It's mostly uninhabited with little infrastructure, which is good, but there's few suitable accommodations for visiting anglers," Baggett elaborated. "But as far as tarpon are concerned, Bahia Honda is recognized as being one of the oldest and most productive tarpon fisheries on the planet.
"I had to organize the kind of accommodations my clients expected so that once they got here, there was no reason for them to leave, other than by boat to go fishing," Baggett explained. "Coming from my experience in the remote Bahamas, I won't say there's no one else down here fishing. On the contrary, there are a handful of great fishermen, a number of very skilled guides and, I have to admit, the occasional goofball in a pontoon boat. But in no way could you call it crowded.
"From the first moment I fished Bahia Honda, I knew this was where I wanted to bring my clients," Baggett said. "So, in 2005, I finally put all the pieces together and launched the Bahia Honda Sporting Club."
Finally, after all the other guest anglers had returned from the day's fishing exploits and cleaned up, dinner was served. We were seated at a large table where tarpon talk centered around fishing, either recounting the day's adventures or covering fishing plans for the next day. The chef had prepared a four-course feast using fresh local fare and wild Florida game. We began with wild Everglades frog legs sautéed with garlic and fresh herbs, followed by wild Seminole County woods hog ribs slow roasted in hoisin sauce and presented with mashed Yukon Gold potatoes. One of the chef's most popular dinners is a seafood spread with the first course featuring local conch medallions, followed by fresh, cashew-crusted hog snapper roasted in a Jamaican rum butter. Dessert might be a caramel banana martini or a piece of homemade Key lime pie.
After dinner and dessert, we adjourned to the courtyard to sit around an outdoor fire and enjoy night caps and fine cigars. The fish tales continued while we gazed at a star-studded sky and commiserated with that wonderful thought about the great satisfaction of being right where we wanted to be.
At first light the next morning, cheffy was back at work preparing breakfast for awakening guests and serving it on the sunny outdoor patio overlooking the pool. With plenty of daylight hours and consistent afternoon action, many of the anglers elected to take it easy in the morning and put their time and efforts into the afternoon bite.
Florida Keys guides are among some of the most skilled fishermen in the world. The Club employs a small group of these master anglers who know how to guide visiting sports from expert level to novice beginners and everything in-between. As a group, they're all friends who freely share information and collaborate with each other to ensure that every guest of the Club gets the most enjoyment out of their fishing experience.
The main attraction, of course, is mature tarpon averaging around 70 pounds or more. It takes time, experience and knowledge to locate tarpon, then you add quality tackle and the right technique for presenting the bait properly and, finally, perseverance and skill to hook a tarpon. Putting all these elements together gives you a fighting chance of landing one of the giant "Silver Kings."
One aspect that sets the Florida Keys apart from other tarpon destinations in the world is that you're almost always sight fishing in clear, shallow water. Anglers cast to targets they see, either when tarpon roll or break the surface, or approach in clear water.
One angler described the visual thrill of presenting his fly correctly and then watching it slip into the bony bucket of a tarpon's mouth—and then the hook set. "Truthfully, it's like a crash of white water followed by a runaway locomotive at the end of your line," he claimed.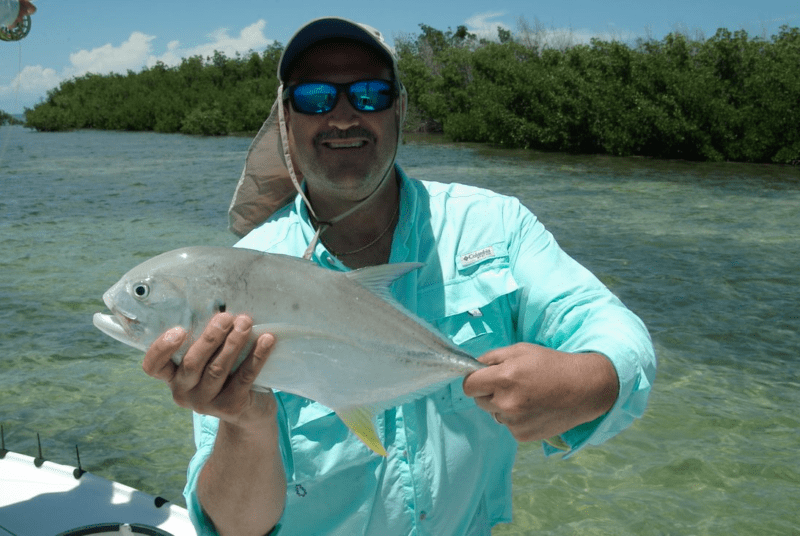 Besides tarpon, the Lower Keys flats produce myriad catchable fish species including permit, bonefish, jacks, barracuda, yellowtail snapper, mutton snapper, sharks, cobia and various grouper.
Another enthusiastic fisherman summed up his experience, "I was paralyzed with emotion when a huge tarpon hit my fly and then proceeded to tear my tackle to shreds."
Anglers who do not bring their own gear can use the Club's tackle, including an array of custom fly rods by Loomis and Sage in 10- through 12-weights, signature Tibor reels and custom flies. The most successful fly design is dubbed "Gordon's Stiff Worm," a proprietary palola worm imitation that has been productive from the days when the Club first opened.
If you're wondering about the outcome of our Lower Keys fishing trip, the best way I can describe it is to say that it was great fun, we met fascinating fellow anglers and enjoyed two exciting days on the water. My appreciation and respect for tarpon continues to rise even without the swirl of a tarpon at my bait. One thing is for certain, there are no guarantees when it comes to poon.
Two full days on the water only scratched the surface of the area and the tarpon potential it holds. Having the benefit of a guide and a top-class flats skiff that scoots across the water at 60 mph allows you to cover lots of area fairly quickly, but even with that we couldn't cover it all. Clearly, the biggest miscalculation we made in planning the trip was not allowing for more time—tarpon take time.
Another reason for our lack of luck, ironically, may have been the worm-hatch itself. Missing the actual hatch might have accounted for the scarcity of poon by the time we wet our lines. Like lions in Africa that become lazy and inactive after gorging on a buffalo or zebra, the tarpon may also have become inactive and lazy after a day of gulping down a belly-full of worms. So the challenge of hooking and landing my first tarpon remains on my bucket list.
Furthermore, I'll be counting the days until I can get back to waters where my tarpon dreams might yet be fulfilled.