Discussion Starter
·
#1
·
I am a huge fan of the Single Action revolver and own many Colts across all generations but I wanted something different and didnt want to wait 5 years for a Custom Shop order. I looked into Standard Mfg. and was really surprised by the quality and presentation. I purchased a blue/ cch 4.75 inch in 45LC and love it more than most of my Colt guns. In talking with the Mgmt.( yes you get to talk to a manager, not a salesman ) I learned they do take custom orders. Long story short, I placed and order for a nickel 44-40 with a 4.75 inch barrel and faux ivory ( bonded ) grips. If you dont know about the STD MFG SA, they have many features standard that Colt charges extra for. For instance timed screws and fire blued screws, trigger, ejector rod, and cylinder pin. Lead times for special orders are 8-10 weeks, so not bad at all. I will post photos when I get her which should be early June, in the meantime here is the gun I already own so you can see how beautiful these guns are.
And some of my Colt Single Action Army for comparison.
Brand new late 2019 production Colt
1993 Custom Shop order
1980 Full Royal Blue production model
Had to give a nod to my grandfather and his SAA (1916) which has passed to me.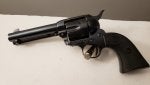 If you're a fan of single action revolvers I highly recommend these, pictures dont do them justice, you need to see one in person.