Discussion Starter
·
#1
·
by
Mike Gaddis
| May 19, 2020 |
ART & COLLECTIBLES
,
BOOKS
,
Slider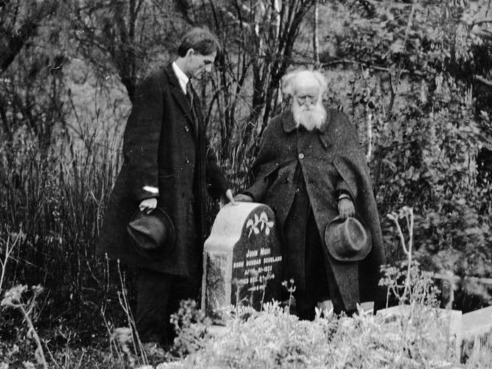 Every man of decent sentiment should leave his personal summation of his days on Earth.
It has been said that "birth, life, death…took place on the hidden side of a leaf." There you will know it is true.
I have collected epitaphs for years, from all sources, but mostly from old country churchyards. And most avidly, those that either directly or by paraphrase capture the things I have loved most: elements of the
sporting life
.
I believe it is important that every man of decent sentiment leave his personal summation of his days on earth. For himself, and for his others. It is important to know of a man, the last spiritual thing of himself he would leave to be known by his kin and brothers.
Do not wait too late, nor choose to forget…
"Stranger as you pass As you are now, so once was I.
As I am now, so you must be,
Prepare in time to follow me."
("To follow you I'll not consent,
Until I know which way you went.")
Or less elegantly,
"Stuff happens."
(Actual, from the tomb.)
or, "Dammit! I told you so."
or, "Shall I be gone long?"
or, "Just get me back by opening day?"
Those who savor Nature, the rod and chase, I believe, live about as expressively as a man can; why check out more commonly? Relish every hour.
Omnes vulnerant, ultima necat.
"All hours wound, the last one kills."
"There's nothing certain in a man's life except that he must lose it."
"Once I wasn't…Then I was,
Now I ain't again."
"Die, V. To cease hunting & fishing suddenly."
"God pours death into life, and life into death, without a drop being spilled."
From the gravestones of those who have known both:
"Live your own life, for you shall die your own death."
"Be not afraid of death—it's the stake one puts up in order to play the game of life."
"Die proudly when it is no longer possible to live proudly."
"I shouldn't mind dying—it's this business of staying dead that scares hell out o' me."

For all who have cherished Nature:
"What is to die? Other than to stand in the sun and melt into the wind."
"Gaily I lived as ease and Nature taught,
And spent my life without undue thought,
And am amazed that Death, that tyrant grim,
Should remember me, who never thought of him."
"Millions long for eternity, who do not know what to do with a rainy afternoon."
"Let children walk with Nature, let them see the beautiful blendings and communions of life and death, their incomparable unity." (Epitaph of John Muir)
"Death is the debt to Nature due."
For fishermen:
"'Good Fishing' the sign said, that hung on a golden door. When I flung it open, there was God with a dry fly—plying the near shore."
(In deference to the late Ed Zern
"Sir John Grange,
An honest fisherman,
And that is strange."
"Here lies Gilles. Knew no fear,
Fished the big rivers, made a mis-step, and wound up here."
"My glass is run, yours is comin',
Remember the salmon, fish while they're chumming."
"Life is better than death, I believe, if only because it is less boring, and has brook trout in it."
"No fish, no net, no rod, no run,
No fish! Dead, man. Thy will be done."
For hunters and fishermen who have loved Africa:
"The idea is to die young as late as possible."
"He had six bullets, but he needed seven."
"He was young, he was fair,
Until a careless buffalo re-did his hair."
From a gunning companion:
"I do not care how many flowers they send –
Only that the happiest trade would be
For you to say to me, "Let's go hunting again, My Friend."
For hunters:
"For lives taken, it remains only fair that one day we should relinquish our own."
"Home is the sailor, home from the sea, And the hunter, home from the hill." (Robert Louis Stevenson)
"My coal is spent, and I am gone,
My stag is hung, my day is won."
"What! Kill a Partridge in the month of May?
Was that done like a sportsman, eh, Death, eh?"
(Last words of Will Partridge)
"Here lies the body of Bubba Magrew, Made a glorious double, but choked on Redman chew."
Life as we should live it:
"Nothing's so sacred as honor, and nothing's so loyal as love." (Wyatt & Josie Earp)
"Here lies…Age 102. The good die young."
Of our dogs:
"To mark a friend's remains these stones arise; I never knew but one – and here he lies." (Lord Byron)
"Steel true, blade straight." (Sir Arthur Conan Doyle)
Amor conjugalis aeterus.
"One Mind, One Faith, One Hope, One Grave, In Life, In Death, they had and still have."
"Between genesis and eternity a man and his dog need only two sanctions: hope to live by, and an epitaph to die by."
"Beauty without vanity, Strength without insolence, Courage without ferocity, The virtues of Man without his vices." (Byron)
"Twenty-nine setters had Randolph Grimes,
Woulda had more, but ran out of time."
"Whether thou goest, I will go." Ruth 1:16
(Gotta love 'em)
"The children of Israel wanted bread and the Lord sent them Manna, Old Doc Wallace wanted a bird dog, and the Devil sent him 'Hannah.'"
For a great grouse dog: "Even in the night of death, look for his star, Listen closely, for his bell still rings afar."
The goal of living:
(in allegory)
"Here lies the body of Jonathan Blake stepped on the gas pedal instead of the brake."
"Because I have so lived life, I shall have no sorrow to die."
"Of death he knew nothing, of life he gave and gathered all."
"Die, My Friend, of having lived."
Kata ton daimona eay toy.
"[Live] True to your own spirit."
"Don't worry. You know you'll die, but you'll never know you're dead."
So leave should you want with the profound dignity and kindly remembrance of November alone:
Donec obviam iterum.
Until we meet again.
Depart hand-in-hand with Miss Spring: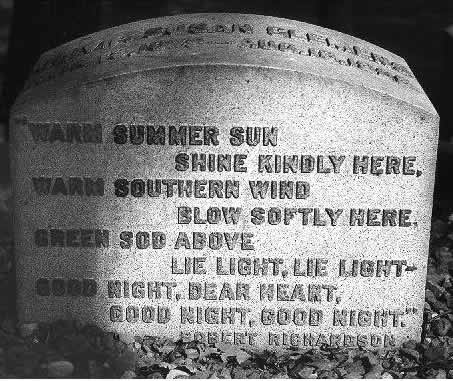 "Warm summer sun shine kindly here;
Warm southern wind, blow softly here,
Green sod above, lie light, lie light,
Good night, Dear Hearts, good night, good night." (Susan Clemens)
Though I'll part much more indulgently, "When I'm dead…" and, I think, instead, "Faithfully hope it may well and often be said: His sins were scarlet, but his books were read…"
And "Departing un-apologetically, I'll vainly trust "You'll overlook the smoke," and "Excuse my dust." (Dorothy Parker)
With last wishes of being economical and least thoughts of being shy, I'll cut this short and sweet here, to simply bid you: "Bye."