Discussion Starter
·
#1
·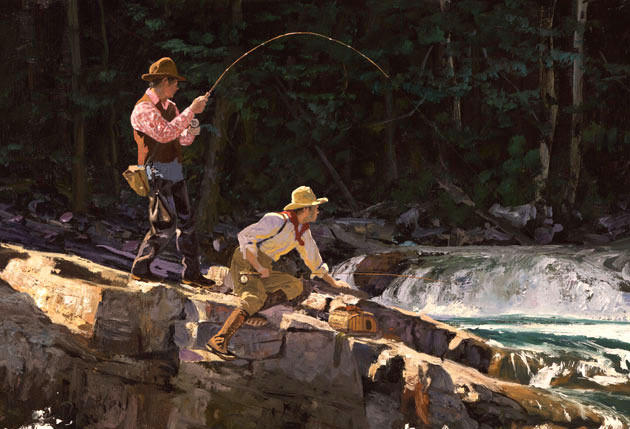 More and more anglers are buying old bamboo split-cane fly rods to restore them. I wanted to save my Folsom, resurrect it and fish it hard.

sportingclassicsdaily.com
by
Richard S. Grozik
| Dec 28, 2020 |
FISHING
,
TACKLE
|
0 comments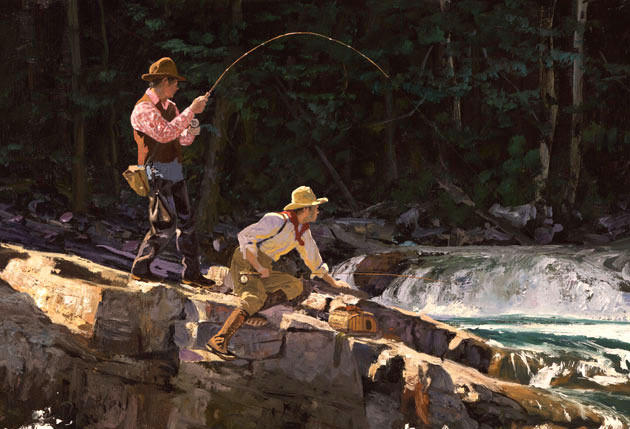 Brett James Smith
More and more anglers are buying old bamboo split-cane fly rods to restore them. I wanted to save my Folsom, resurrect it and fish it hard.
The bamboo fly rods crafted by past masters such as Leonard, Halstead, Payne, Thomas, Dickerson, Gillum, Garrison, Edwards, Powell and Young are becoming rarer and more collectible with each passing year. Those in excellent, original condition are the Holy Grail of the bamboo-rod cognoscenti. Similar to starving artists who pour their hearts and souls into their works, the bamboo pioneers built extraordinary, high-performance split-cane rods—and each succeeded in his own inimitable way.
It's doubtful any of them ever thought the fruits of their labor would fetch the sums they do today, or that their utilitarian fly rods would be stored by serious collectors in humidity-controlled rooms or behind museum glass. But even the mass-produced bamboo fly rods offered by companies such as Heddon, Granger, South Bend and Montague are escalating in value.
A few romantic collectors hunt for classic split-cane rods for the heritage and history. Others simply desire to collect rods and have the wealth to do so, and then there are the speculators who view
vintage split-cane rods
strictly as a commodity to help them turn a buck. But more and more anglers are buying these wonderful old rods to restore them, then fish with them. The time and cost are secondary to the joy of fishing with a piece of history.
Whether custom-built or produced in a factory, all bamboo fly rods were essentially fishing tools, their cosmetics secondary to their function. The old masters knew this, too, and they finished their rods with understated hardware and wraps. As such, these handcrafted bamboo rods exhibited a refined, classic beauty that was embellished only when they were cast and fished.
Unfortunately, the elements and time aren't kind to split-cane fly rods. Varnish melts, wraps unravel, guides wear, cork degrades, bamboo sets, glue deteriorates, ferrules loosen and reel seats fail. Mention restore, however, to serious cane-rod collectors and watch their eyes roll, especially if it's a rod with a coveted pedigree.
Even if you own a rod of plebeian origin and want to restore it, you'll want it repaired carefully and correctly. While there are artisans who are capable of refinishing a bamboo rod, there aren't many who are qualified to fully restore them.
A cane-rod refinisher is limited by the availability of parts and materials at hand, but a master rod-maker can fashion parts that closely resemble original designs and faithfully restore a fly rod to its original form, function, and finish. He can seamlessly scarf a broken mid-section or replace it, fashion worn or cracked ferrules from nickel-silver tubing, replace worn and cracked hardwood inserts, forge sliding-band or screw-locking reel seats from nickel-silver or aluminum bar-stock, and even replicate the old patina.
Convincing a rod-maker to set aside time from building rods with his name on them to restoring those inked with someone else's moniker requires considerable tact and a great deal of patience. A few will oblige, many will not.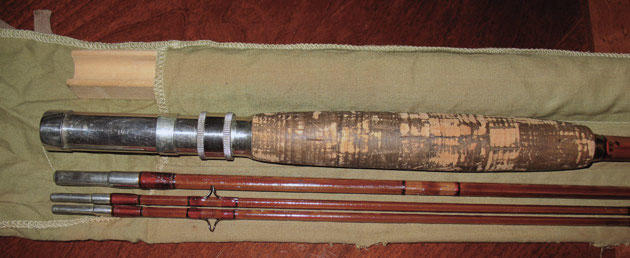 The author's old Folsom #1510 had fallen into an unfishable state of disrepair.
Some years ago I acquired an old Folsom #1510, a Heddon trade rod. It was obvious from the reel seat, ferrules, and guides that the 8-foot three-piece rod had seen little if any use, but its original varnish had suffered complete meltdown—it clung to the rod's storage bag and pulled the bag apart in several places when I removed the sections. Also, two of its snake guides on the mid-section and the stripper guide were missing.
Made during the 1930s by James Heddon and Sons of Dowagiac, Michigan, for Folsom Arms Company, a well-respected sporting goods retailer and cataloger at that time, the rod was in good condition compared to others of its vintage, but it certainly didn't leave the Heddon factory in the condition I received it and was in no way fishable.
Granted, it's a lowly blue-collar rod of dubious collector value, but with its desirable length and the coveted No. 1¾ Heddon ferrules, which are light and lend a delicate dry-fly action to Heddon's 8-foot rods, it's still a wonderful fly-fishing tool and a perfect candidate for a prudent restoration.
If my old Heddon had originated from the hands of Gillum, Dickerson, or Payne, I might have left it as I found it. But that's an issue for collectors to debate, not fly anglers.
It is neither my intent to demean cane-rod collectors nor minimize their importance to the angling fraternity. Searching out and preserving those rare classic rods can be immensely gratifying and rewarding, and is a service to fly fishing at large. And when these collectors eventually pass away, they can pass along their heirloom split-cane treasures to those who deeply appreciate the legacy of the rods and have the resolve to keep the rods in fishing or collector's shape.
Or, they can purchase a new split-cane rod made to the same artistic and functional standards by contemporary masters such as Ted Simroe, Bob Summers, Don Schroeder, Nick Taransky, A. J. Thramer, Thomas Morgan, Jeff Wagner, Bob Nunley, Per Brandin, Walt Carpenter and many other living, breathing cane-rod builders who use the very best Tonkin bamboo, innovative hollowing techniques, space-age glues and varnishes, intricate and attractive wraps, state-of-the-art nickel-silver ferrules and reel-seat hardware, the finest Portuguese Flor Plus cork, and other premium components to produce masterpieces.
In spite of all the high-tech materials and techniques used to render a bewildering array of fiberglass and graphite offerings available today, America's rich cane-rod legacy is still in very good hands. History-steeped rod companies such as Orvis, Scott, and Winston, pioneers of space-age fly-rod materials and designs, continue to offer fine split-cane models.
I fish Wonderods, Feralites, and other glass fly rods, and still use my Eagle, Sage and quiver-full of other graphite long rods, but as the years slouch my shoulders and gray my hair, I find myself paying homage to the bespeckled wraiths that haunt my small piece of Big Sky Country by reaching more and more often for an old Heddon, Granger, Orvis, or one of the few custom-built split-cane rods I am privileged to own. It has less to do with the rods' nostalgic appeal and more to do with their fluid grace and feel, and that their age is close to my own.
Perhaps they personify the old adage that "slow is smooth, and smooth is fast," regardless of their taper and time-worn reputations. Whatever it is, I just know I feel more like a true fly fisherman with a hex-shaped cane rod in my hand.
To my way of thinking, an unfished split-cane fly rod is in danger of losing its soul, and I wanted to save my Folsom, resurrect it, and fish it hard. When pursuing Westslope cutthroats, rainbows, brookies, and browns, I didn't want to worry about clicking ferrules, loose guides, or melting varnish. So I packaged my humble, old Folsom cane rod and sent it to someone who would faithfully restore it to its former glory and fishabliity. Don Schroeder of Janesville, Wisconsin, is a highly-respected rod-maker who not only can accurately reproduce the classic tapers of yesteryear, but also build superb, smooth-performing cane rods of his own design.
I recently inspected a few Edwards quadrates, a Heddon 1000, and an Orvis Battenkill he restored and was amazed by his respect for the intended fit and finish of the originals. Here is my letter to Don, which I enclosed with the Folsom #1510:
Dear Don,
As we discussed over the phone, here's the 8-foot, three-piece, two-tip Folsom #1510 rod for restoration. I'll defer to your professional judgment, but this is what I think needs to be done to make it fishable:
1. Strip old varnish, preserving the rod inscriptions and as many of the wraps as possible.
2. Duplicate original wraps on missing stripper guide and on the two missing snake guides on the mid-section.
3. Install new stripper guide: ruby-red agate.
4. Refinish rod, maintaining as much of the rich color of the cane as possible.
5. Clean cork grip and nickel-silver reel seat.
6. Sew new cotton rod sock with sleeves for wooden tip form, mid-section, and butt.
If you see additional work that needs to be done, don't hesitate to do it. It's going to be my go-to rod for Montana trout on the smaller and medium-sized rivers I fish. I would much prefer one of your three-piece, 8-foot masterpieces, but I can't financially swing it at this time. Maybe someday I will be able to, before I am creeled myself.
All the best,
Richard Grozik
As I knew he would, Don did James Heddon and Sons proud. The old rod wraps proved too dry and brittle to save, but he matched the vibrant color of the originals down to the thread count on their black tipping. Heddon cane always ran dark and gave their rods a caramel hue coveted by anglers and collectors alike. Don explained that the Folsom's color displayed before refinishing was the result of its 70-year-old varnish darkening with age. After stripping the rod of its old factory finish, Don discovered a six-inch delamination halfway up its mid-section. Years of neglect in probably an over-heated attic or garage had weakened the glue, a malady not uncommon among cane rods of its vintage.
Don separated the mid-section's six segments, held them open with small splints, applied his special epoxy mix to the exposed segments, then removed the splints before tightly wrapping the section with twine to ensure a seamless bond. Once cured, he cleaned the repaired section before attaching the guides. After wrapping the guides and ferrules, he gave the rod sections three coats of varnish in his custom-made dip tanks. The before-and-after photographs tell the rest of the story.
In less than three months, the hidden beauty of the rod, along with its utility, had been completely restored by a man who has dedicated his working life to building exceptional split-cane fly rods. He is as passionate about the rods he crafts and restores as he is about the angling mystique that lured him to the trout streams of his youth. Though his labor-of-love still occupies most of his waking hours, Don spends as much time as he can field-testing his handiwork on Wisconsin's numerous trout streams. He joins the long line of master-builders whose passion for fly-fishing split-cane rods was always first and foremost.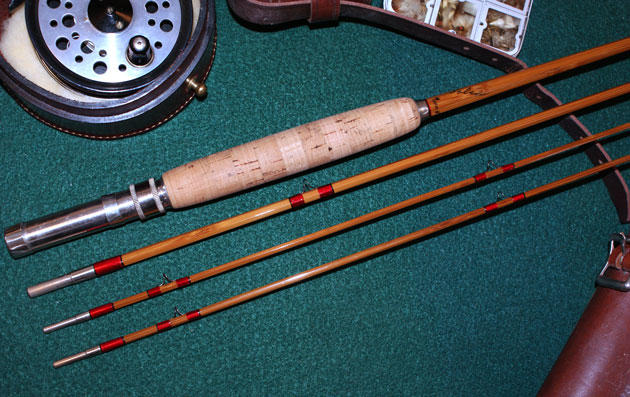 The author sent the rod to Don Schroeder, a master rod builder who restored the old Folsom to its former glory (above) and a near match to its original appearance.
Will my Folsom fly rod ever be spoken of in hushed tones by split-cane pundits, or hidden away in a humidity-controlled rod closet, or coveted by inveterate cane-rod collectors? Probably not, but at least when it's my turn to pass it along, another angler will be able to appreciate its masterful revival, feel the beat of its fighting heart and experience the magic it still casts upon trout waters.