Discussion Starter
·
#1
·
I bought my Savage 114 Classic .30-06 at BPS about two months ago. I paid $629 plus tax. The gun has been wonderful. I shot it again today and the guy next to me had the exact same gun. The two of us gushed over how much we like the rifle. The Classic 14 and 114 (short and long action respectively) are new to Savage during the past few years. The walnut stocks have gorgeous wood and super checkering (all the way under and around the forearm). There is a dark wood forearm tip and a brass inlay of Savage's Indian emblem on the pistol grip. The buttplate is a thick rubber, the blueing is high luster and the bolt is jeweled and etched with the Savage name and Indian emblem as well. The action is smooth and the Accutrigger is a amazing. Mine measured just under 3 1/2 pounds and just a hair over 2 pounds once I adjusted it down some more.
This is my first bolt action, centerfire rifle and my first rifle with a standard style scope. I put a Burris 3-9X40mm Fullfied II on it. I shot it today to see where I needed to hold with the ballistic plex reticle for 150 grain, 180 grain, and 220 grain bullets (all factory Remington .30-06). I had alot of fun today shooting at 100 yards from a rest.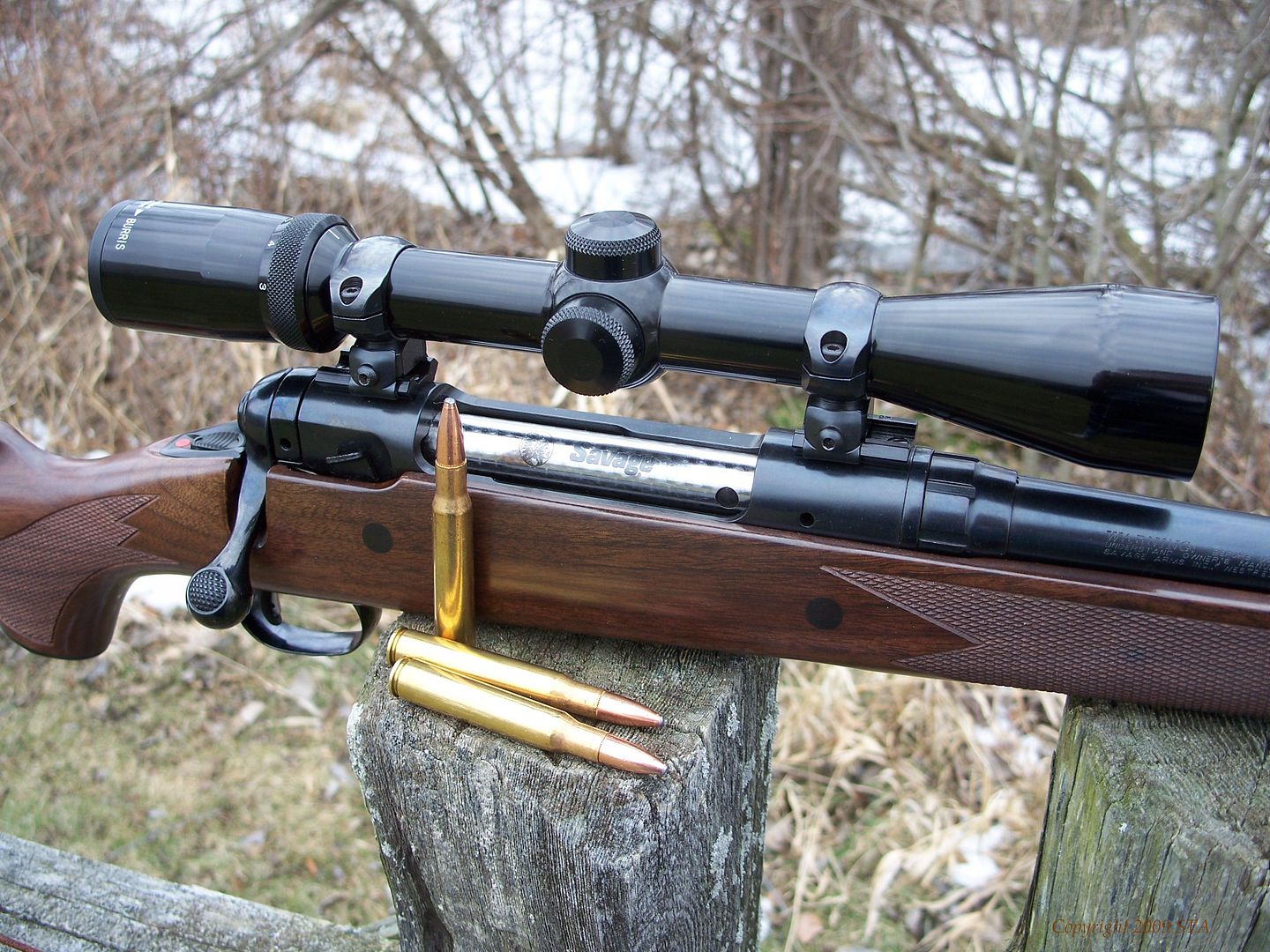 I think the Savage Classic line is one of the finest looking bolt action rifles around. They're very accurate right out of the box and their adjustable Accutrigger works great.
So here's the kicker - I was at the Gurnee, Illinois Bass Pro Shops store yesterday and they had Classic .243, 7mm-08, and .270 caliber rifles on close out sale for just $399!!!!
I mentioned this over on the Savage Forum and the replies came back that apparently many (maybe even all) of the nationwide Bass Pro Shops are closing out the Savage Classic rifles for just $399. There are three of them on GunBroker right now and the cost for me to buy them, have them shipped to my local FFL, and pay his transfer fee comes out to $609, $619, and $629. BPS' price really looks good, so heads up if anyone is interested in a heck of a deal on a terrific rifle!
-Steve