Discussion Starter
•
#1
•
Before I have someone local look at it, I was hoping to get some help with an inherited revolver:
S&W hand ejector .38 Special ctg (fixed sight/5" barrel). Serial number S 876693.
I believe the S puts it between '45 and '48 (probably on the later side based on the number)? I just need help confirming this.
I'm inclined to keep it, but a valuation might help me decide whether or not I want to put some rounds through it as it looks barely broken in.
If the attached pictures aren't enough I can post more if it will help that process. I also have to confess some ignorance related to ammo as all of my guns are decades newer. I don't want to assume that just because it says "special" on the barrel that it takes standard .38 special ammo. Is this ok to put through this pistol?
I was also curious about the larger '720' stamped on the butt near the serial number. Is this perhaps a lot number from a bulk purchase? I haven't seen anything about this in my (albeit limited) research.
Anything you can tell me will be helpful.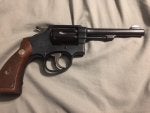 Thank you!