Discussion Starter
•
#1
•
Got the scope mounted on my Ruger AR 556 and some reloads to test. Buddy and I took out our M1's out to shoot steel as well. We had a great day.
We were shooting our M1's at steel plates put at 300yds. shooting off sandbags and in the sitting position
Tested couple reloads out of my new Ruger AR. Best reloads were H332 powder with the 55gr Sierra BTSP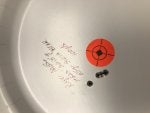 Great accuracy potential out of this rifle. Definately going to put a much better trigger in it. Probably the triggers Ruger put in their 556 MPR.......