Discussion Starter
·
#1
·
by
T.R. Hendrick
| Jul 2, 2020 |
LIFESTYLE
,
PERSONALITIES
,
Slider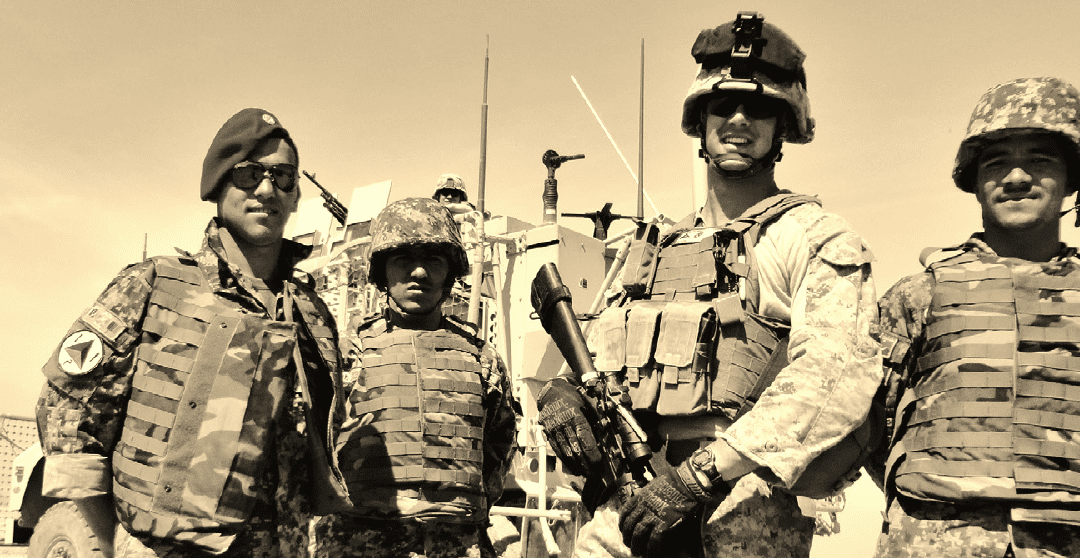 LCPL Russo conducts an overwatch with Afghan National Army soldiers at a .50-caliber firing range.
Even as a Marine stationed in Afghanistan, Alex Russo never stopped dreaming of becoming a waterfowl guide.
If there are any two places on our diverse planet more dissimilar than Kabul, Afghanistan, and Aberdeen, South Dakota, I can't imagine where they could be. The only similarity these two segments of earth have in common is the snow that falls in January.
Aberdeen is a small town in northeastern South Dakota, its population barely breaking 25,000. The town is scarcely 150 years old and is one of the safest cities in the U.S. Their murder rate, for example, is a scant 0.1 percent over the past ten years. Kabul, on the other hand, has a population of more than three million and it's 3,500 years old. The Afghan people have been at war with someone almost all of those years, and their homeland is one of the most dangerous places in the world. Needless to say, it's not the kind of place a young man still wet from the pool at Aberdeen Central High School should find himself for any reason other than to protect his country—and that's exactly why this Marine was there.
The year was 2012, and Operation Enduring Freedom was in full swing. The war was already the longest the U.S. has ever been involved in.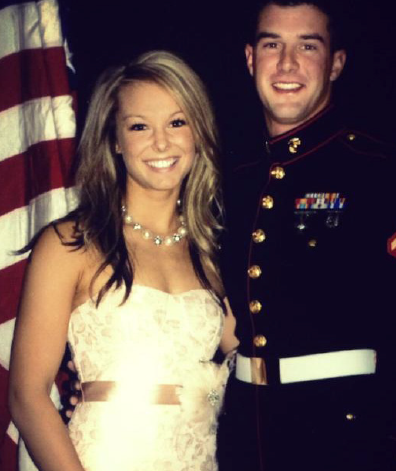 LCPL Alex Russo and his wife, Megan, at the 2012 Marine Corps Ball, which celebrated the Corps' birthday—November 10, 1775.
Russo's MP Company Support 4th Marines division was deployed in-country to train Afghan soldiers, protect civilian contractors and neutralize any threats that might arise during their rotation. The troubling thing was the training, which was the most dangerous of these directives.
Even the most experienced Marines in his unit hated to pull that duty because the bad guys were all but impossible to distinguish from the legitimate Afghan soldiers they were training. The Taliban was notorious for infiltrating the ranks of trainees and turning on their instructors. NATO forces were fighting a war with rules, but the Taliban most certainly were not. "Watch your back" was the mantra of every soldier in this God-forsaken desert, and even more so here at Black Horse.
Each morning as Russo lined up his Afghan Army trainees at the firing range, the smell of gunpowder from the first volley of M16s would trigger his memory and transport him back to frosty fall mornings and
goose hunting
with his dad from hill pits overlooking Sand Lake National Wildlife Refuge in his beloved Hecla, South Dakota. As a child he watched every hunting video he could get his hands on and dreamed of someday becoming a professional hunting guide. It was during his time at Black Horse that he started to formulate his plan to open his own waterfowl operation in Hecla, where his family owned a small piece of land right on the border of the refuge. The seed of Flatland Flyways began to bloom in his mind. It was these plans that helped him handle the stress of his current role, and surely aided the young leatherneck at keeping any PTSD at bay.
The string of events that placed the Aberdeen Central star swimmer in this chaotic sand pit was not uncommon. Similar stories in some form or another could be told by thousands of patriotic young men and women who serve our country. Alex was sitting in Mrs. Webb's 4th grade geography class when he first heard of the sucker punch thrown on 9/11; it was his first awakening that evil people wanted to do harm to his country.
This feeling continued to brew through his formative years, and then, while sitting in a movie theater as a teenager, a commercial for the Marines appeared on the big screen—they were looking for a few good men! The boy knew right then and there he would be one of those few good men someday, and while still a senior in high school he enlisted. His family went through the roof when he shared his decision, but Russo had turned 19, so there was little they could do to stop him. They had hoped he would choose to work with his father in his own successful business, but the boy was determined to be a "devil dog" and serve his country, and there was no talking him out of it.
Right from the start Alex was at home with weaponry in the Marines. He was a natural-born marksman, toting his double-barreled cap gun as early as he could fit into boots and following his dad on hunting jaunts. He was shooting a shotgun by age eight and as a teen picked a goose out of the air with a .22.
Other than his size, he was the perfect recruit to be a turret gunner. Russo quickly became one of the "few good men," and before he knew it the South Dakotan had landed in Bagram Air Base in Afghanistan and was loading up for Kabul to start his indoctrination to Islamic culture. It was the impact of this culture shock that made things back home even more important to him. Family, friends and his love of hunting became all the more cherished during his tour in this angry desert.
The Western footprint in Kabul over the last decade had still not settled well with the Afghan people, and the young Marine felt it quickly. But he was here to do a job and determined to do his best. The Marine had more than 500 Afghan soldiers to train, and that's what he did.
Russo's Afghanistan deployment was a blur, and before he could get the sand out of his boots, his eight-month rotation came to an end. During his tour the turret gunner had become so good at watching his back he could make an owl jealous; he was in the best shape of his life and as tough as woodpecker lips. The Marine was proud of his job and felt there was still more to be done.
Unfortunately, on his return stateside for demobilization, physical examinations by his military doctors found nerve damage in his back; his L4 and L5 discs had been ruptured. The injury most likely resulted from stuffing his tall frame in the small turret compartment of his M-ATV and rocking down those rugged desert roads. Much to his disappointment, his back problem forced the young patriot to cycle out.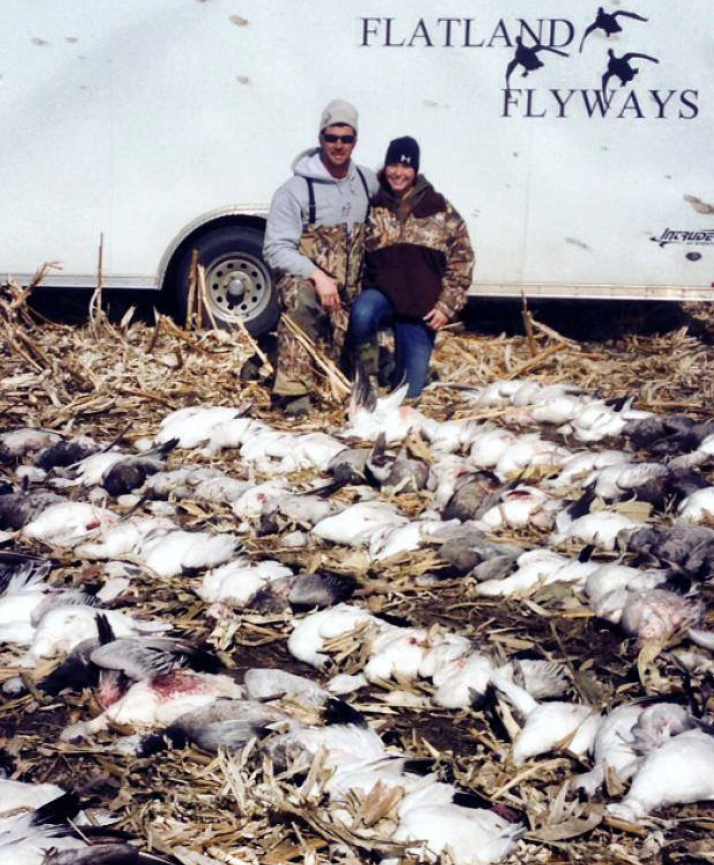 Alex and Megan after a spring snow goose hunt at Flatland Flyways.
As disappointed as he was, Russo realized it was now time to change gears and pursue his dream of becoming a waterfowl guide. After returning home to Aberdeen for a short time, Alex went to work as a guide at Habit Flats in Missouri for a season. He knew they were the top waterfowl outfitter in the Central Flyway, and he wisely wanted to learn all he could before returning to South Dakota to start Flatlands Flyways. The job was an eye-opening experience, and he came away with a book full of notes. Alex saw that Habit Flats was great at killing birds, but his dream was to offer a more complete package with luxury accommodations and a vacation-like atmosphere. The Marine (once a Marine, always a Marine) put his military training together with his experience at Habit Flats to work on his dream: an elite waterfowl hunting operation.
I stepped into that dream as I swung open the handsome oak doors and entered the beautiful lodge at Flatland Flyways. It was back in November of 2015, the company's third year, and it was already one of the top waterfowl hunting operations in South Dakota. The lodge itself was just a year old, but Alex had hosted some clients out of his father's small camp starting in 2013. Their nicely furnished five-star lodge sits like a jewel on a hill overlooking 21,498-acre Sand Lake National Wildlife Refuge. At times the refuge harbors up to a million snow geese and 1.5 million mallards, making it one of the foremost waterfowl staging areas in the Central Flyway.
Flatland's property borders this waterfowl mecca so closely you can lie in bed in the lodge at night and listen to the music of snow geese flying into the refuge. This of course spells great waterfowl hunting. Flatland's clients harvest well over a thousand snow geese each spring and enjoy fantastic mallards, Canadas and snows each fall.
As great as the hunting is at Flatland Flyways, it takes a back seat to the family atmosphere that shines at the place. I was hunting with Ben Cade and Bailey Oakley of Avery Outdoors. Actually, it was Tommy Atkin at Avery who first brought my attention to Flatland Flyways and the Marine's interesting story. It didn't take us long to feel the warm, welcoming vibe at the lodge.
We were greeted by Megan, Alex's new bride of only three months. As the manager of Flatland Flyways, Megan is the one who makes it all work. She introduced us to Maggie and Art, Alex's parents. Maggie is their amazing chef and Art does it all, from setting the table to backing the start-up finances. It's the quintessential family business.
Most of our hunting was in the afternoons, so each morning Art and I would sit together and solve the world's problems over java while watching the refuge come to life through the grand picture windows. The lodge was constructed to take advantage of the fabulous view, and each morning we enjoyed watching the snow geese lift off the refuge and head for the surrounding grain fields. The spaciousness of the South Dakota prairie overwhelmed me as I watched the matinee performance.
The meals that Maggie prepared would impress an Iron Chef, and when we hit the field in the afternoon, we were all moving a little slower due to over-indulging.

The lodge offers a fabulous view of Sand Lake National Wildlife Refuge. Here you can enjoy a front row seat to one of nature's greatest wildfowl spectacles.
Adding to the family feel, Alex was able to hire some of his buddies and fellow guides at Habit Flats to help with the outfitting. These young dudes worked hard and could play the hell out of a duck or goose call. All in all, Flatland Flyways has certainly surpassed the ex-Marine's wildest dreams while at Camp Black Horse.
The love of hunting and the outdoors can do many things. It can bring families closer, bond friends tighter and its memories and romance can help a soldier through some demanding situations.
What Alex Russo was fighting for in Afghanistan is alive and well at Flatland Flyways: family, friends and our American heritage of hunting. It was this American's dream that kept him sane while in an insane place—and not a day goes by that he isn't grateful for that. Now he gives back by sponsoring several veteran and youth hunts each year. Indeed, Russo has turned down deep-pocketed clients to keep prime hunting dates open for his youth and veteran hunters.
Some 2,500 U.S soldiers have been killed in Afghanistan and Iraq to date. They died so we could enjoy the freedom this country affords us…freedoms as simple as the opportunities we have to enjoy the outdoors and hunting. It should never become a cliché to thank these young men and women and their families for their sacrifice, which enables us to enjoy our independence. To Lance Corporal Alex Russo: Thank you for your service; and thank you to the Russo family for supporting this Marine while he did his duty. The fabric of the Russo family is the cloth with which this great country was sown.