Discussion Starter
·
#1
·
Or perhaps under the radar...
Made a trip up North today, good ways from where I live. Been in contact with a older couple that were living historians. They actually built a fort and fully stocked it many years ago. Full scale cannons, sutlery store, etc...and made a living from making period correct clothing and other items. Were at the beginning of the Maine renaisance of Black Powder but were mostly in the times before the 1820's.
Found them, and over a period of weeks finally made a trip for visit. Unbelievable for me. They still had boxed up some of the period gear that the wife had made 10-20 years ago. She is a wonderful pattern clothing maker. I ended up with wool and linen shirts made as the originals from the 1700's. A haversack was brought out and looked to be 250 years old. Canvas, and aged to perfection...the beeswax was done decades ago. Found a brazier..
Then the best part...the gent walked me out to a back part of the property and I was transported to a Maine hunting camp from about the period of 1800....fully stocked and equiped, and built into a hillside as was the traditon. Whisked me back in time. And truth be told...you were there at that period. Nothing would have been different. You were there
Going back next week to have them help me with my persona. They are digging out a period tent, a fire iron set...and other acoutrements that I will need for this fall...
Great day! Could have spent all day there....
Here is the haversack or could be used as a true possible's bag. This is brand new, but could pass as a original. Just to show how high quality their work was back in the day....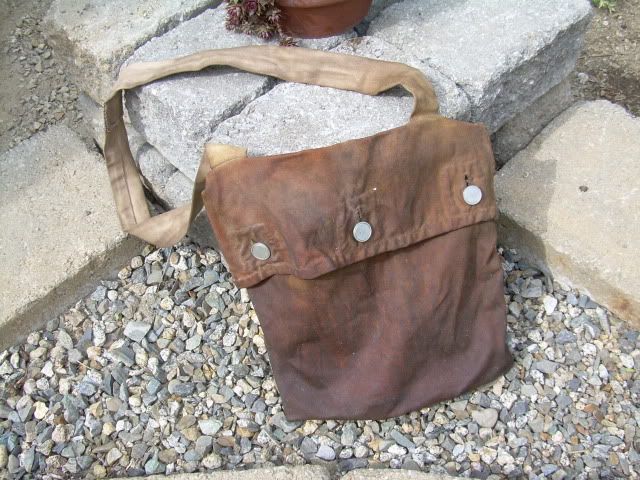 Been thinkin' of going off the grid for awhile myself
Maybe for the Summer. Nice to see this forum gaining strength everyday, with new and interesting members. Might have time to work on the FAQ's for this section of the board and have a chance to devote some time to that and do a quality job.... Summer has been my time to devote to the black powder guns, and I get a chance to truly focus on them. Centerfires are for the other 3 seasons.... :mrgreen:
giz