Discussion Starter
·
#1
·
Sorry if some vets of the other place have seen this one before, but I thought it was time I actually started a thread here, and this old warrior seemed like a worthy topic.
This magnum left the factory on Valentines Day, 1940, one of several guns sent to the St. Joseph, Missouri, Police Department. According to their records it was first assigned to a Captain, then a Lieutenant, then a Sergeant, then a Patrol Officer, and finally it was relegated to the vault as a reserve gun. One of the men who carried it killed a Mexican fellow in the fifties, but they couldn't say for sure he used this gun. In the early 90's it was traded with some others to J&G Rifle Ranch for some Glocks.
I came out of the Air Force right after Desert Storm and wound up in the FBI. Though the transition to semi-autos was well underway, almost all Smith and Wesson .38 and .357 Magnum revolvers with steel frames and barrels of four inches or less were approved for carry if you wanted to buy your own. Almost everyone had some kind of J-frame (known in Bureau-ese as a "five shot") on their carry list, and lots and lots of guys still carried Model 10s and Model 13s as their main gun. (The real salty dogs carried Colt Detective Specials and Pythons) I was suffering revolver envy and set out to find a gun that would score me some cool points. I had an FFL and a phone - a call to J&G asking if they had any 3 1/2 in Model 27s netted this reply - "We just got some old ones in. Want one of those?" I paid $449 sight unseen and this one was on the way.
I was actually a little disappointed when I got it. I thought the way the front sight was set back from the muzzle and the funky hammer detracted from the looks of the gun. But, I qualified with it and put it on my carry list - by a quirk of Bureau rules, the only pre-1958 guns allowed were N frame Smiths. At that point, I'm pretty sure I was carrying the oldest gun on active duty with the Bureau.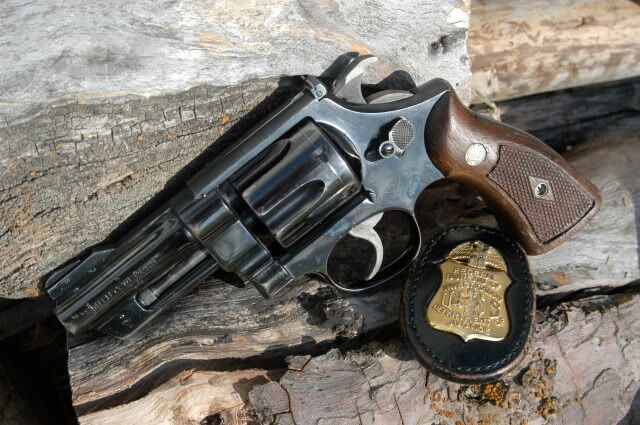 A year or so later I managed to get picked to be a firearms instructor, and was off to Quantico for the school. Prospective instructors had to shoot 90 or above on the various quals, and 240 on the dreaded bullseye course. I found I could breeze the bullseye all day at home, but with the instructors breathing down my neck and the thought of taking the walk of shame if I didn't make it looming large I missed it the first two times. I had been using my brother's 686, so I switched to his old fella for my last go and made it with points to spare.
I was in the New Orleans office at the time, working on a violent crime/fugitive task force. My partner was an NOPD homicide detective, and we spent our days roaming the city bagging felons wanted for murder, attempted murder, agg batt, armed robbery, and rape. My partner, who had been in a couple of shootings, was notoriously lackadaisical about carrying his gun. We were heading into a housing project looking for some turd when he said, "Hey, man - my guns in the trunk, loan me one of yours." I tried to give him the Chief off my ankle, but he laughed and said "How 'bout the big one" He was giggling like a kid as we went up the stairs, and just before we knocked on the door he said "Man, if I shoot this guy with this cannon, I'm gonna get him AND the a-hole in the next apartment".
I alternated carrying this revolver with my Sig P220, until the Bureau disallowed all revolvers for carry in 2003. Now it sits in my gun safe, retired again.