Discussion Starter
·
#1
·
Clouds hung low, cold, and humid. The back yard gave full view to
the black walnut trees and the clearing sky beyond. My partner and I wandered past the walnuts, and to our surprise
found tracks beyond them. I thought that the dogs barking in the yard would have frightened any deer away, but obviously they had not. We decided to move the trail camera to see what kind of pictures it could give us.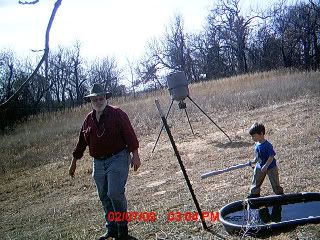 As we approached the camera, he covered me with his war-weary but elegant sword. Just the night before, that camera had earn its due by capturing this
and other shots like it. But now it was time for that never-sleeping soldier to change his post. As I reached for the camera, I noticed something on the case. Touching it, I felt something sticky that left a trace of red on my fingers. Then I looked up.
This tree that held the camera had been the scene of some bloody deed. Since it was still sticky, it must have been the night before. Ten feet up, I saw a wash of red nearly 15 inches long
trailing down the tree to the camera.
What bloody deed had transpired in the darkest night? Who could have committed such a heinous murder? Was the killer still in the area? Could he have been watching us even at that moment? Fortunately, my partner had his sword. We took the camera and quickly left the scene.