Hello everyone. This is my first post, so please be gentle! I was presented with an opportunity this evening to acquire what appears to be a good condition Chiefs Special dating to 1955. I'm far from a S&W expert, so I'd really appreciate your opinions regarding this pistol.
It shows serial number of 595xx, which by my quick research shows to be made in 1955, which lines up with the current owners story. He said this thing was bought new by his grandfather in 1955, and sat in his nightstand for over 50 years. There appears to be a very slight turn mark on the cylinder. It has the standard (non flat) cylinder latch. The bluing looks good from the pictures I have (same pics posted here). It has the diamond checkered grips and half moon sight.
I've always been a Colt fan, and would always reference the blue book for info and values when I was researching a pistol before purchasing. The blue book on this one says to add 400% for a half moon front sight! I'm not sure what is so special about it, but this revolver appears to have one.
What I'd really like is your more seasoned knowledge regarding specifics of this pistol, and it's possible current realistic value.
Thank you for your time.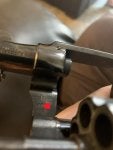 FYI - I don't know what the red circle is for. It was on the photo when it was sent to me.