Discussion Starter
•
#1
•
I just got back from another enjoyable, and successful Maine moose hunt. My brother-in-law drew a tag this year (one of the 3015 moose tags handed out by the state.) He was lucky enough to draw the zone just north of his camp and invited me along to do the calling and run the video camera as has been our tradition the last several years.
The mighty hunters: Cush, my brother-in-law and father-in-law.
We didn't have as much time to scout this year as we have in years past and I think we both felt behind the eight ball as the opener loomed. We scouted hard all day Sunday, the day before the hunt and just at dusk I found a nice hill with a good deal of sign. The wind was blowing 15-20 mph, but just before we left I heard a return grunt to my call. That sinched it. We had found our spot.
Monday was opening day and the weather was cold but sunny with a steady breeze. We walked into our spot just at first shoot and got situated. I hadn't even got comfortable when we immediately had a moose in front of us coming to the call. I got the video ready and could see the back form just 30 yards away but hidden from a good shot by some fur trees. Everything was happening fast...too fast in fact. Suddenly, he hung up behind the furs and wouldn't come any closer. It was still not completely light out and it was tough to see through the lens what was happening. To make a long story short, he must of winded us and silently slipped back into the safety of the woods. We hunted all the rest of the day and saw nothing until about 5:30 pm when we heard a moose coming through the woods in the direction of us and the call. With hunters on high alert and waiting to see the moose any second, he again found something he didn't like and crashed off (very noisily this time) through the trees. All we could hear were crashing and the noise of antlers going through the woods. We were concerned, but also filled with anicipation...we were on the moose.
Tuesday morning found us waking to a steady snow fall, but no wind. I was concerned that the moose might be bedded down in this weather. We got to the spot early to make sure that we were the only ones there, and I caught a bit of a nap in the truck before opening shooting time. As we carefully walked into the spot we were exited to see a heathy cow moose run across the tote road in front of us. The moose were still on the move after all! We set up in the same spot as the morning before and called for 30 minutes or so. We ended calling the same cow back in as it appeared that she wanted very badly to return from were we jumped her. At about 8:00 we moved another 150 yards up the road to were I heard the initial grunt on Sunday night. We called for another 45 minutes and got up to stretch. At that point I realized that I had video, but no pictures. I asked one of the guys that was tagging along to snap a couple pictures of us and jokingly said, "make sure you get the moose in the background." After a few photos and some discussion of our next plan of attack my father-in-law turns around and says, "Look, right there." Sure enough a moose had walked out about 100 yards behind us. I looked for a second and announced as quietly as I could, "It's got horns!" We all crouched down and waited for the bull who was beautifully silouetted against the white back drop. We waited for what seemed like an eternity but he finally stepped into the open. Jason let loose with his Browning BAR in 7mm Remington Magnum and I heard the tell tale "thwap!" as the bullet found its mark. The moose ran about 10 yards and Jason fired again. This time the 150 grain Remington Core-Lokt bullet ended the run. We had done it again! This is the third hunt I've been on with these guys and every one has been a success, in more ways than one. We knew this big guy was going to have to make a mistake for us to get him, and he did. We were lucky enough to be there at the right time.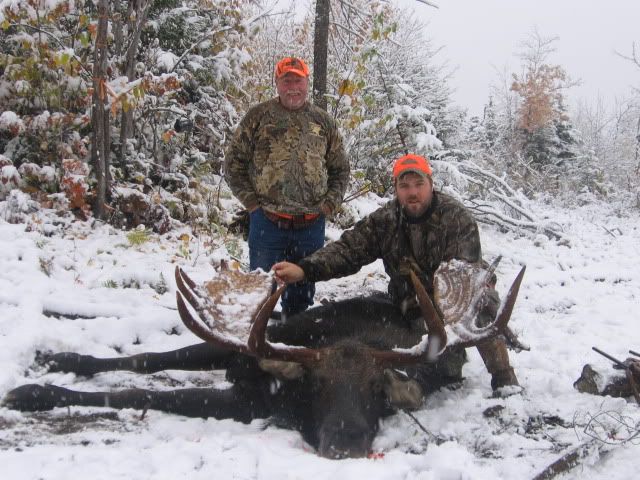 Jason's 810# bull moose taken 10/13/2009. Antler spread 54".