Discussion Starter
·
#1
·
These days of "Social Distancing", Limited Mobility", "Politics", "Personal & Loved Ones Health Concerns".............how about a diversion. Let's spend a little of our attention thinking and talking about guns (primarily S&W's). Let's make stainless guns our topic.
Someone once said, "Stainless guns just don't have soul". Personally, my heart is with Blued Steel........I also like Bright Nickel. However, being a practical sort. the benefits of stainless steel make them superior especially in close carry situations or humid, moist, dirty conditions........They are easier to keep clean & require less cleaning maintenance.........The finishes don't deteriorate as easily as blue or nickel.
But blue (especially "Bright" "Shiny" "Deep") makes me sigh, roll my eyes, shortens my breath and can make me drool......as in lust. Conversely, Nickel (Especially "Bright & Shiny") wearing some pearls or ivory can be sexy as all get-up and just screams, "Here I am".
My daily pocket carry is an "All Business" Model 640.....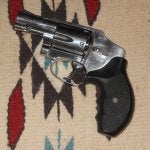 This past Fall, I ran into this 4" Model 625-9 Mountain Gun in .45 Colt.........I really like the gun and I also like the caliber, sao it joined the stable.....
Just a bit of diversion from stainless steel, how about a pair of "Sexy 'Ole Broads" (2nd Models Military & Civilian, 6" & 5", .44 & .45, Nickel with Pearls) both "batting eye lashes" and sayin, "Fondle Me Please".....
So what's your thought's about stainless guns and let's show-off some examples.