Discussion Starter
•
#1
•
This was sent to me by a friend.
Two pictures to give you some perspective to a modern day false narrative.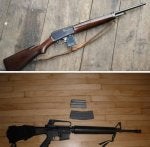 A hundred and twelve years ago, in 1907...our great grandparents were first able to buy the first rifle pictured: The semi-automatic Winchester Model 1907. It remained in production until 1958.
This is a gun they could buy from a Sears catalogue and have delivered via US Post. Without any sort of background checks - the HORROR! It was/is a semi-automatic, high powered centerfire rifle with a detachable, high capacity magazine (5 -, 10- or 20-rounds).
About 400,000 of these were produced and sold before World War II. Civilians had hundreds of thousands of these semi-automatic rifles for 40 years, while US soldiers were still being issued old fashioned bolt action rifles.
The 1907 fired just as fast as a modern AR-15, the second rifle pictured, or semi-automatic AK-47. The "bullet" (.351 Winchester) was actually larger than those fired by the more modern looking weapons! (The AR-15 fires a round of either .223 or 5.56mm, which is smaller, while the AK-47 fires a 7.62mm round which is roughly the same size). By the way, the "AR" in AR-15 stands for Armalite Rifle, the company which first manufactured it. It does not and has never stood for "assault rifle."
The two rifles are functionally identical. The only differences between the 1907 and the controversial and much feared AR-15 is the modern black plastic stock, the carrying handle above the upper receiver, and a pistol grip behind the trigger housing, which aids only in steadying the weapon. It does not in any way increase the lethality of either the rifle or the round it fires. Cosmetics, in other words.
To summarize:
The semi-automatic so-called "assault rifle" is 110 years old. It isn't new in any way. The semi-automatic rifle was not a weapon of war. The government MADE IT a weapon of war 40 years after civilians had them, but added a fully automatic feature for military use - a feature which is unlawful and unavailable to civilian owners, and has been since 1938.
The semi-auto can be safely owned by civilians. The proof is that literally 3+ generations of adults owned and used them responsibly since the early part of the 20th century and no one ever even noticed. Or cared.
Want to fix the horror of mass shootings? Fix the things that have changed for the worse in the last 50 years because the rifle technology in question was here long before this insanity. It's not a problem of firearms. It's a problem of the heart, the person without conscience, the person without any moral compass. The person who is evil for lack of any other accurately descriptive term.