Discussion Starter
·
#1
·
APRIL FOOLS DAY IS OVER SO DON'T FALL FOR MY PRANK!
My 624 is perfectly fine in my custody!
I've made a colossal blunder. I sent my engraved 624 in to S&W about three weeks ago because I had bought it used and it didn't come with a box. I had the birdseye maple Bear Hug Grips made by Deacon Deason (may he rest in peace) around 1989. Michael Gouse engraved my .44 Special as a tribute to Skeeter Skelton and I had him engrave Skeeter's cattle ranch brand on the backstrap. I even put a gold bead front sight on my revolver to match up with the Weigand Combat rear sight. I put tons of rounds through this, my favorite, revolver.
I guess I should have paid more attention to the recall posts I remember passing by on the forums. S&W called me today and said my 624's cylinder did not pass their "test." The gentleman on the phone said that since there are no more 624 cylinders, they could not ship me my gun back since it was now a proven "liability."
We "discussed" this for about 20 minutes on the phone. He wouldn't budge on S&W's position. He told me that they would send me a new Model 24 Classic in my choice of blue or nickle. I was so angry by then, I asked if it would be engraved? He stated that it would not. I asked in a sort of smart aleck tone if S&W would pay for Gouse to engrave this Model 24 to match my 624. He said no. I asked if they would send me my gold bead front sight and my Weigand Combat rear sight back? He said that it was their policy to not return any aftermarket items. Thank goodness I had removed the birdseye maple grips from Bear Hug before sending my 624 back to S&W (I sent it with Pachmyers) or I would have lost those too!
The S&W rep said I could have a Performance Center Model 29 or some other gun similar to a 29 or a 24. I have a week to decide what to do. I just can't believe they won't just send me my 624 back. Even without the cylinder, at least I could do something extreme like buy another 624 used and have Gouse engrave the cylinder to match my old one and then put it back into my 624.
I think S&W is being totally unreasonable about this. I never should have sent my 624 in to them. I had no problem when I sent my 686 for the recall on that gun. I fired tons of rounds through my 624 so I should have known better. Even if they say there was a problem with the stainless steel in the cylinder, it never failed me when I fired it. Geez, I even went so far as to tell the guy I would sign an affidavit that I would never shoot the gun again if they would just sent it back to me the way I sent it to them.
I don't know what to do.
So here's the photographs I have of my engraved Skeeter Skelton 624 .44 Special, apparently as my only memory of my wonderful revolver: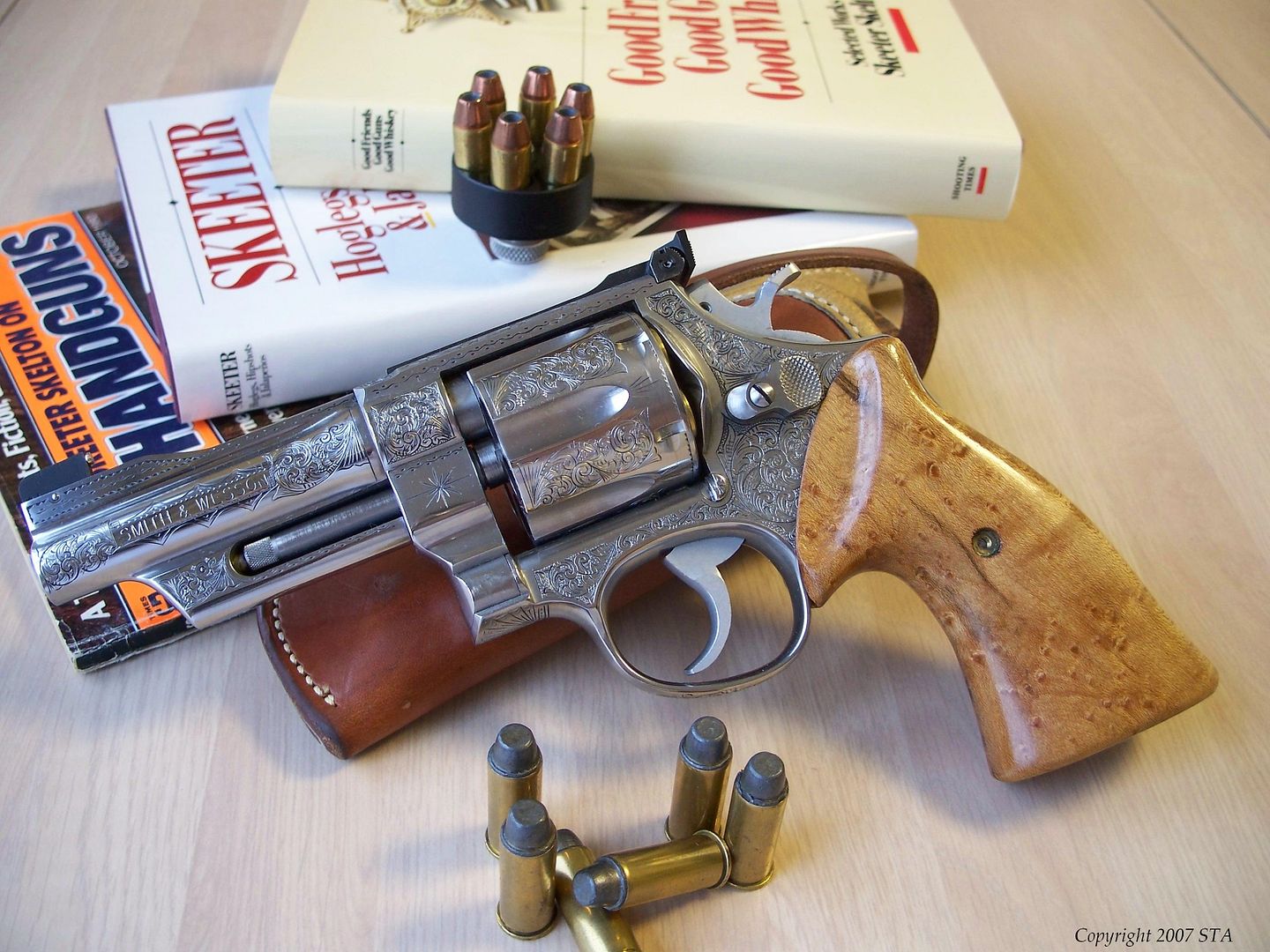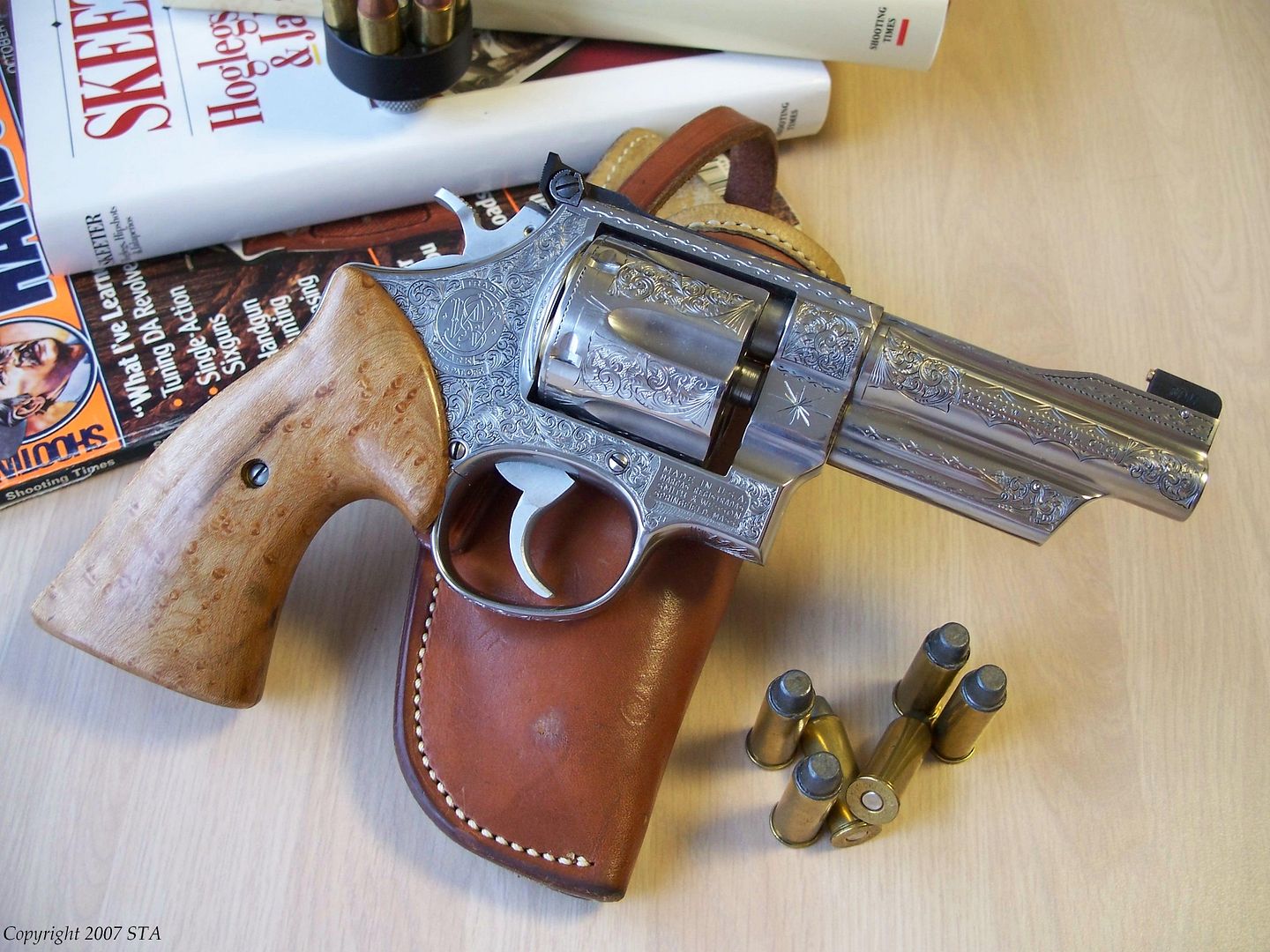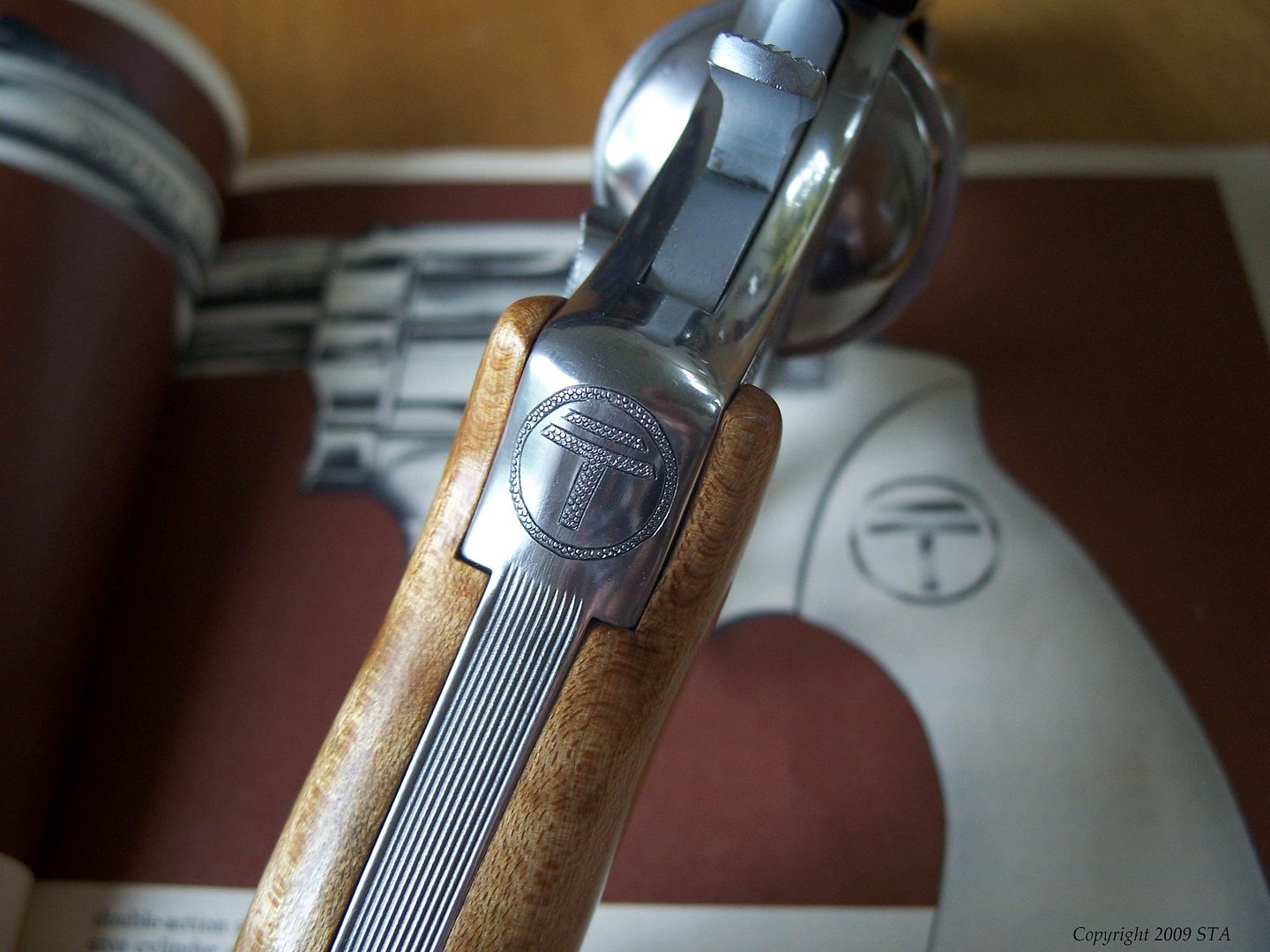 -Steve
.
.
.
.
.
.
.
.
.
.
.
.
.
.
.
.
.
.
.
.
...by the way, Happy April Fools Day everyone!