In many cases, we've seen em before (once upon a time you and I already posted these pictures) butt "Gun Porn" can be viewed & appreciated over 'n over again. More specifically, we've also done N-Frame strings before, however can we ever really get too much of a good thing......?!?! Politics and world events are important, yet I love revolvers. 2A considerations have a direct influence on our hobby, still I can't get enough about wheelies. Jokes can make us smile & lighten our mood and I still gotz to see handguns...................
I wanna see em some more.......Let's flash our N-Frames........!!!!
I'll start out with a few .357's, Model 27's.
Nickel 3 1/2 Inch 27-2 & 4 Inch 27-3.....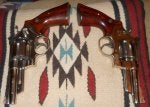 Pre 27 Blue 5 Inch.....
Nickel 27-2 6 Inch.....