Discussion Starter
·
#1
·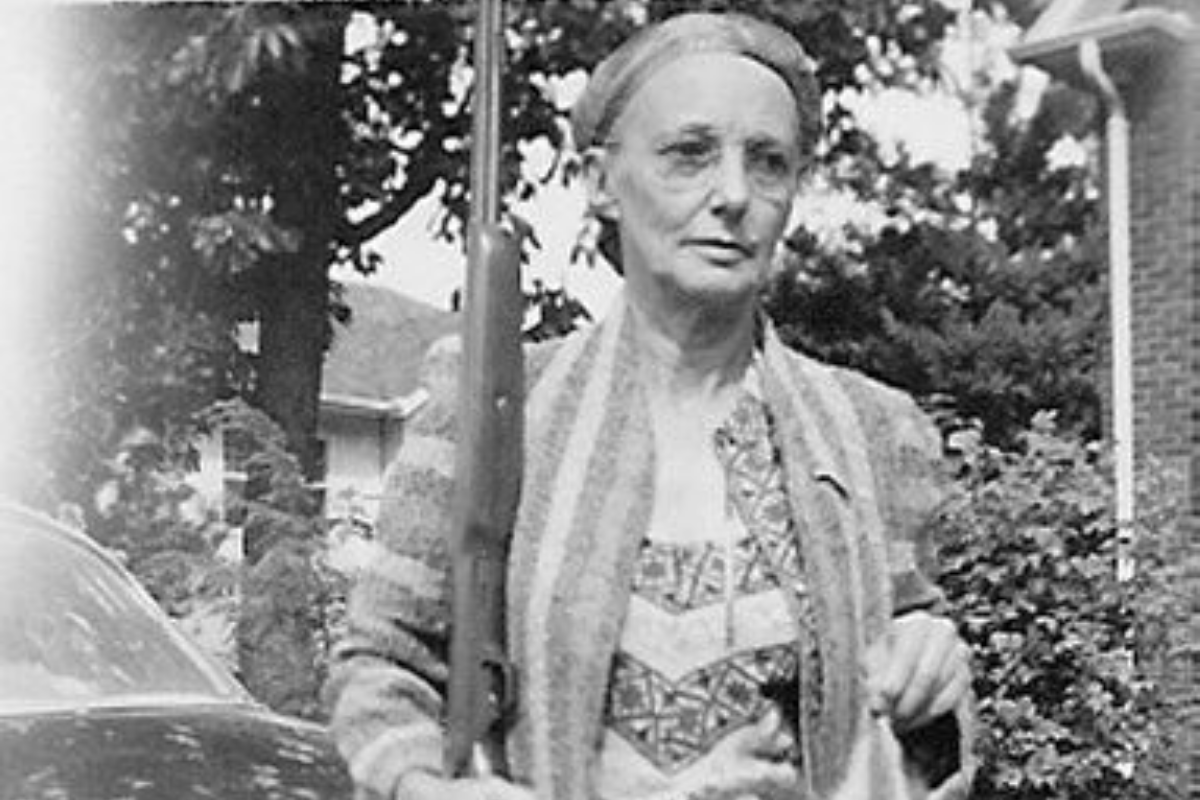 It's not every fellow who can say he grew up under the tutelage of an extraordinary grandma who was a squirrel hunting fool.

sportingclassicsdaily.com
by
Jim Casada
| Feb 14, 2021 |
HUNTING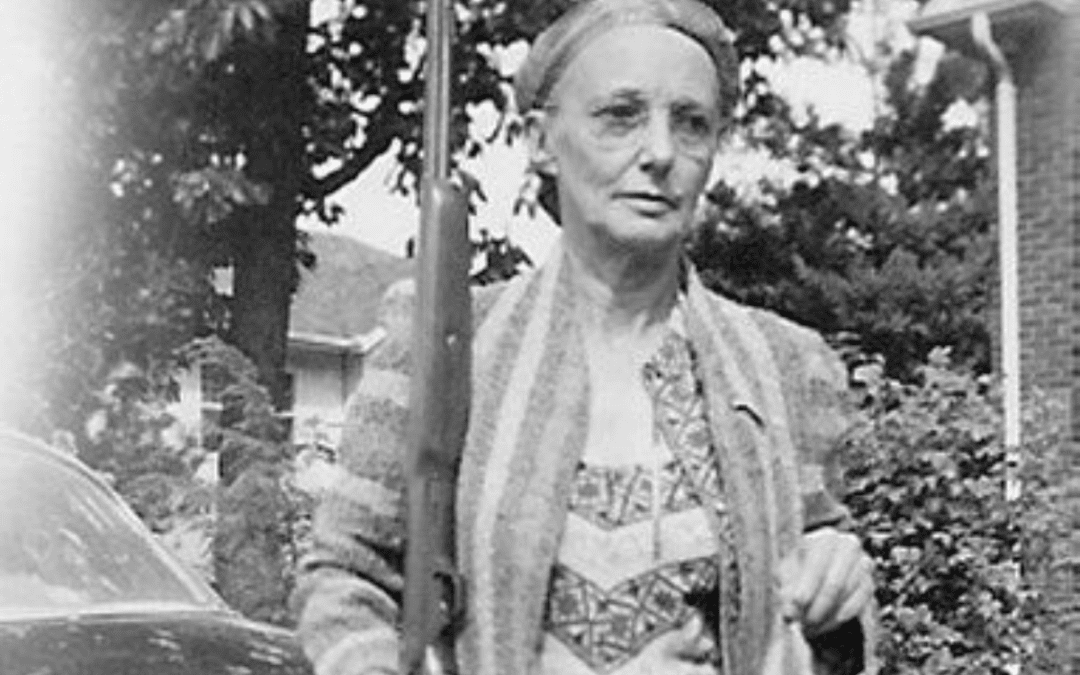 It's not every fellow who can say he grew up under the tutelage of an extraordinary grandma who was a squirrel hunting fool.
As a youngster, I was fortunate to spend considerable time around both of my grandmothers. Each, in her own way, was a genuine character. They shared a fair amount in common. Both had weathered the hard times of the Depression and certainly knew the concept of "make do with what you've got," and what they had wasn't much. Both were diminutive, hardworking, resilient, tough as seasoned hickory and unchallenged matriarchs of their respective domains.
My paternal grandmother, Minnie, and her husband raised nine children on little more than gumption, a few acres of hardscrabble mountain farmland and indomitable wills. From her earliest memory her life had been one fraught with more than a fair share of trouble, because she was raised in bondage. Most folks think slavery ended with the Emancipation Proclamation, and to a degree that was true. But if you look at census records well afterwards, you will see the cryptic notation beside a person's name: "Bound." That was the status of my Grandma Minnie as a child, and she wasn't even born until 1885, a full generation after slavery became illegal. Still, she was equal to seemingly anything life threw her way. On one occasion a copperhead dropped out of the rafters of her home into a dish pan. She dispatched the snake with a stick of stove wood. Another time she chopped a rattlesnake into pieces with a hoe as it neared a crawling child. She had a 300-pound temper in a 90-pound body and a tongue so sharp it could have flayed the hide off a razorback hog. Her cooking skills were remarkable, and she could work wonders with wild game. To my knowledge, however, she never hunted.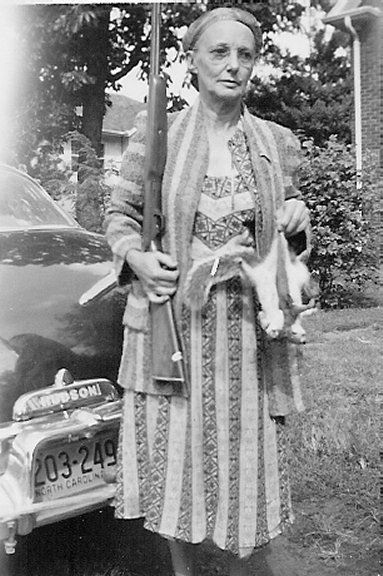 Grandma Ledford, the "squirrel hunting fool"
It was my maternal grandmother who was a hunter. In particular, Grandmother Ledford (we never called her by her first name, Nettie) enjoyed squirrel hunting. That was the product of them being plentiful and ammunition being cheap (.22 long rifle shells sold for a penny apiece and cost even less if you bought them in large quantities). She was tight as a miser's purse and maybe that was one underlying factor in her marksmanship. At any rate, she didn't want the word "miss" in her shooting vocabulary.
I have no idea when she began squirrel hunting, although it was long before I was born. Chances are she started during her girlhood growing up in Clay County, North Carolina. Bushytails were incredibly abundant then, thanks to vast groves of American chestnuts gracing the area's steep hills and deep hollows. For decades hunting squirrels was, at least in that area and over much of the eastern United States, the most popular of all shooting sports. Of course it was reserved primarily for males. That didn't bother Grandma because she was never one for letting tradition or social barriers stand in her way. In later years she drove a sleek Hudson Hornet with a verve which netted her numerous speeding tickets, and Lord help the poor soul who got on her wrong side for some real or perceived piece of misbehavior.
Whatever the exact nature of her squirrel hunting apprenticeship, Grandma Ledford had mastered the sport long before my birth. She adamantly insisted that the only suitable shot placement was in the squirrel's neck. That way no meat was damaged and the head was left intact. Where I grew up, squirrel brains were considered a delicacy, and damaging the head was almost as unacceptable as a shot through the hams.
As far back as my memory stretches, probably to pre-school age, I recall tales of her squirrel hunting prowess. She took to the woods at every opportunity and during the autumn and winter months, squirrel and dumplings, fried squirrel or squirrel stew regularly graced her table. I remember asking Grandpa Ledford about his spouse's unusual love of squirrel hunting (he had heart problems and seldom accompanied her afield). He just smiled, shook his head in a bemused fashion, and said: "Well, your Grandma, she's just a squirrel hunting fool. Always has been and I reckon always will be."
Beyond pure passion for the hunt and the intense practicality associated with food on the table when victuals were scarce, Grandma absolutely loved
the taste of squirrel meat.
More than once, when she was dining on fried squirrel, milk gravy made from the drippings, baked sweet potatoes, cathead biscuits and maybe a bowl of turnip greens, she would comment: "A body couldn't ask for anything finer."
The deeper truth of the matter is that Grandma loved to be in the woods. There she escaped the burdens of daily life and could enjoy the splendor of solitude. She took pride in her woodscraft and opined "I'm about as much at home in the woods as any man in these parts." Few would have argued with her.
Her husband died decades before Grandma Ledford, and from that point on if anything squirrel hunting loomed larger in her life. She continued to venture afield, almost always alone, until well into her eighties. Even after the toll of years and a life filled with hard work mitigated against being in the woods, she continued to fish and loved to talk about the good old days and some of her more memorable hunts.
Grandma's health gradually failed in her nineties. In particular, she seemed to lose her appetite. One day I was visiting my parents and brought home a mess of squirrels. In a moment of inspiration, Momma said: "I bet your Grandma would eat it if I cooked up some squirrel for her." She stewed the squirrels until they were so tender the meat easily pulled from the bones, then picked it off and mixed it with milk gravy. Grandma ate like nobody's business and then asked for seconds.
From that day forth until her death, the surest was to get her to eat was to offer up a meal of squirrel and gravy or squirrel and dumplings. Whenever I visited in season she not only feasted but also insisted on knowing about my latest "doings" in the squirrel woods. Periodically she would say: "Squirrel hunting was always a big part of my life, and in my prime I reckon I could hold my own with any man in the mountains when it came to bringing home a bunch of bushytails." She spoke nothing more that the unvarnished truth.
As she moved into her final months then days, I realized I had been blessed with a grandmother who was in one way at least an extraordinary woman. After all, it's not every fellow who can say he grew up under the tutelage of a grandma who was a squirrel hunting fool.