Discussion Starter
·
#1
·
Hi all,
I've been looking for a nice kydex rig for my Third Issue DS for some time now, ever since Tom/CRebralfix got me hooked on my Shotist kydex deep IWB holster for J-frames - perfect for carrying appendix-style. You can't get much more concealed than with one of these holsters - virtually no printing at all, but the gun is easily accessible. I've got a Shotist for my J-frame snub and for my 3" K-frame; here's a pic of the K-frame 3" IWB using the Shotist: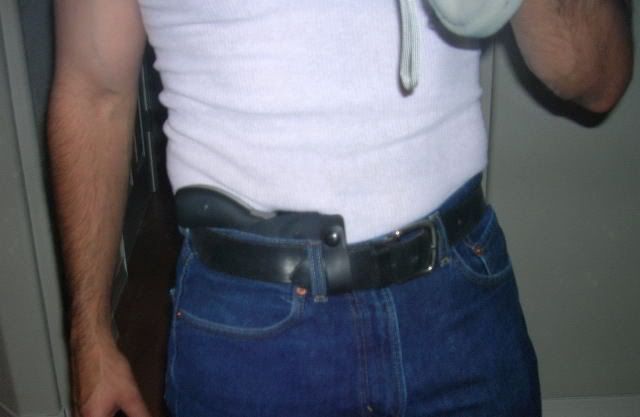 Tom offered to make me one for my Detective Special, but this would have required sending the gun to him and back, so we'd be looking at a $100 minimum mailing bill, plus FFL fees. Not a starter. I like a hard-shell holster for a revolver, though, because it keeps the cylinder from rocking back and forth as I move throughout the day. I feel this is especially important with the Colts and their voodoo lockwork -
I
can fix a S&W, but a Colt is another story!
Anyhow, I saw that Grandfather Oak advertised that they made kydex holsters for the Detective Specials. I called and talked to them about a
deep
-sitting holster for my appendix-carry for my DS, and they told me about a new, as yet unnamed holster they'd developed.
http://www.grandfatheroak.com/
David told me that it was a tuckable, and that it only had one clip. I liked that, as the dual clip IWBs strike me as
way
too wide. I'm not usually big on the tuckable option, but figured that I didn't have to use it that way. I gave them my credit card number and they billed me the amazingly affordable $45 - that INCLUDES shipping, folks.
Grandfather Oak said that they were running about 8 weeks out when I ordered April 13th, but that they hoped to get it to me sooner. When the eight weeks came and went, I called them and learned they were a bit behind (partially because the brand-new holster style required some attention from a seamstress). Anyway, it came today (June 29th). So, here's what showed up in the mail (not the gun, of course).
Front side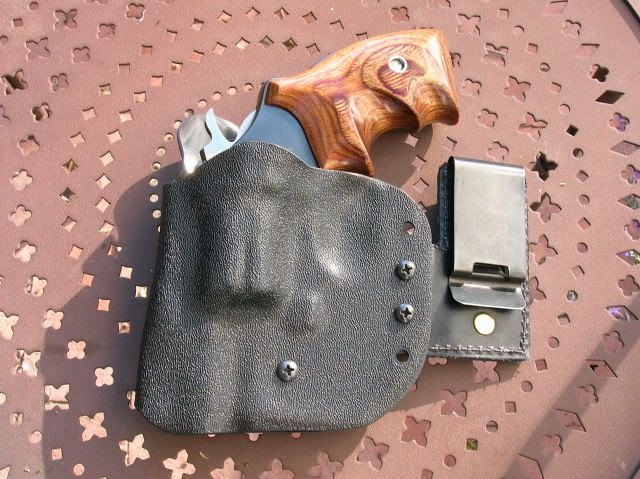 Back side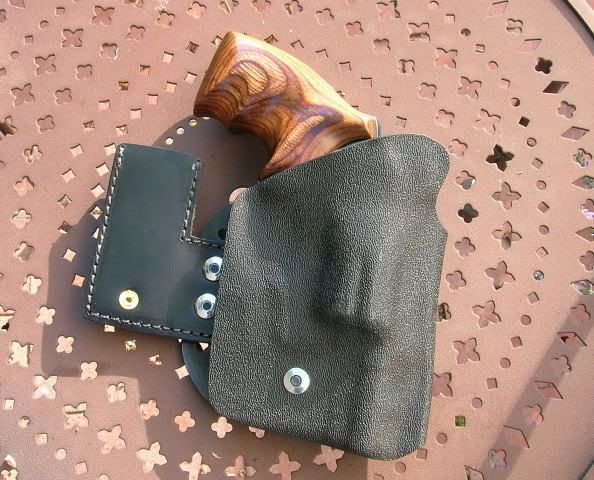 Showing how the tuckable option works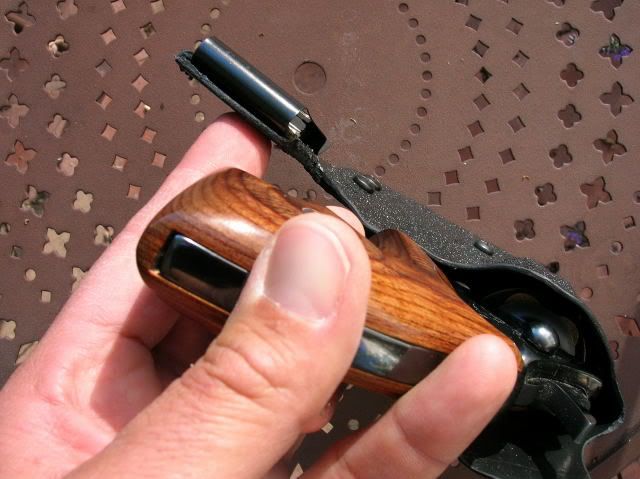 Notice that the screws are adjustable for three different carry positions. I put it on the middle, and am pretty happy with it - nice and deep, and I can still get a grip for a fast draw.
The kydex is of regular thin grade - plenty stiff enough. The holster is molded well enough that a fully-loaded DS doesn't fall out when held upside-down. There's a bit of a sweat shield, which I appreciate, as I really like the way this revolver's bluing looks.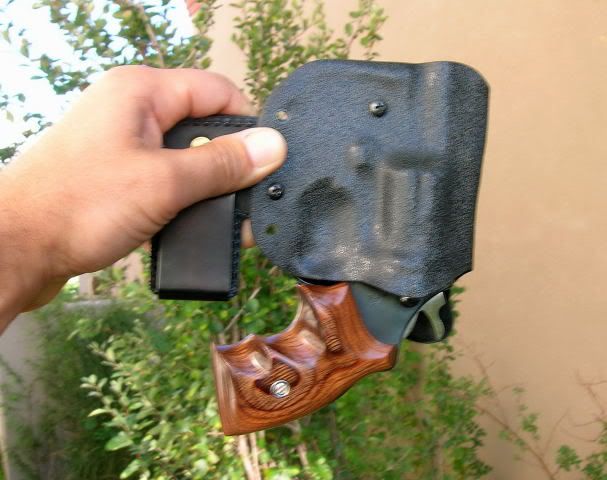 Here's how it looks. First, the way I usually carry it, appendix IWB. I usually put a cover garment over it - I don't mess with tucking.
But I got a wild hair, and thought you guys would like to see what it looks like tucked. So I gave it a shot. I was really pleased; quite surprised, really.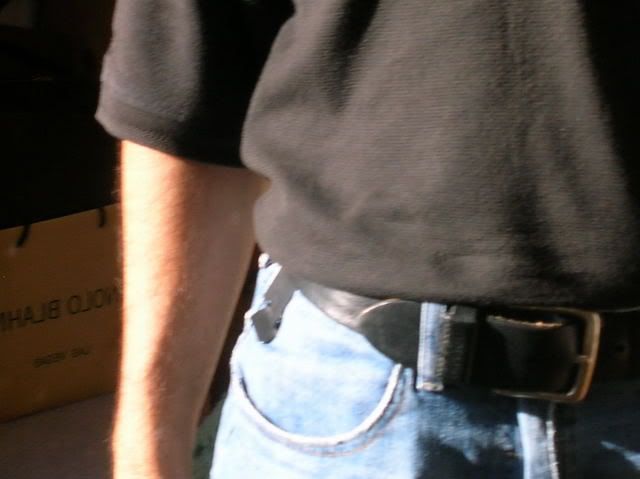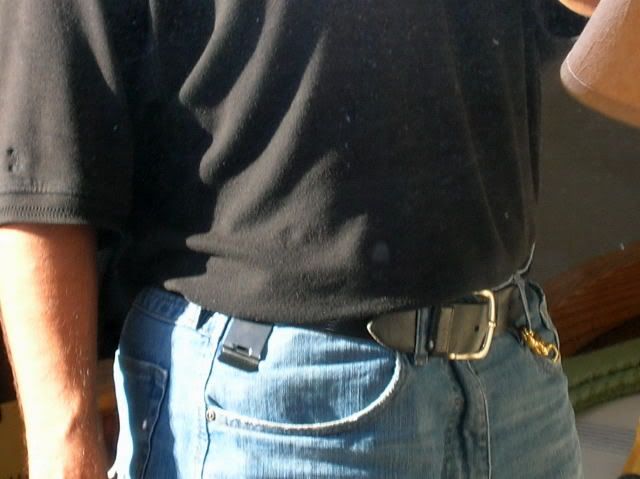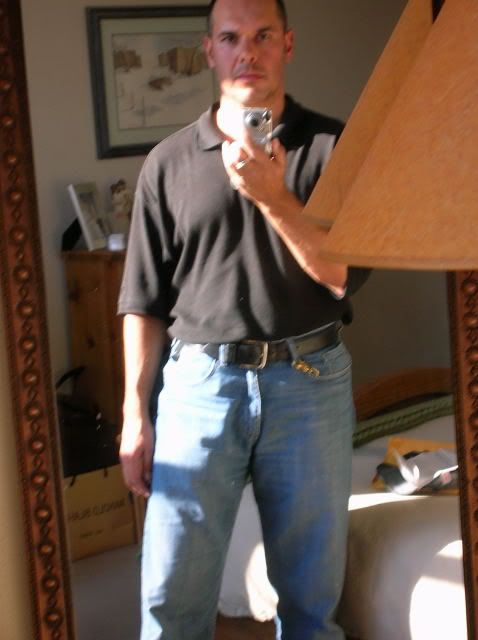 Gina, who knows how and where I usually carry, looked carefully and could not see that I had a gun on. Not bad. Darn good, in fact. Way better than I'd hoped.
Caveat: this holster definitely relies upon friction from the body and the waistband/belt to keep the heavy gun properly situated. It does not seem like it would work perfectly through strenuous activity. I would definitely want to have a solid belt strapping this rig in, pressing the holster and gun into my abdomen, to ensure that it stays placed properly. The clip and the extension that connect it to the holster will allow the gun to dip down on a diagonal otherwise.
The clip is super, BTW, and is a bear to remove from the pants. It's just that a heavy gun like the DS, loaded with six heavy rounds, is a little more than the connector can handle - the loaded rig
will
rotate in the waistband without some sort of compression from without.
I will try it out for a while, but think it'll work. It appears that I can adjust the holster from the outside of the pants if it should start to tilt. It also seems that a decent amount of attention to properly tightening the belt should make this not a big chore. Nevertheless, I suspect that repositioning the thing (just sort of involves a slight scratching motion in the pocket - doesn't look like I'm scratching anything untoward and can be entirely concealed w/i the front pocket) will be periodically necessary with this rig.
Heck of a deal for $45.