Discussion Starter
·
#1
·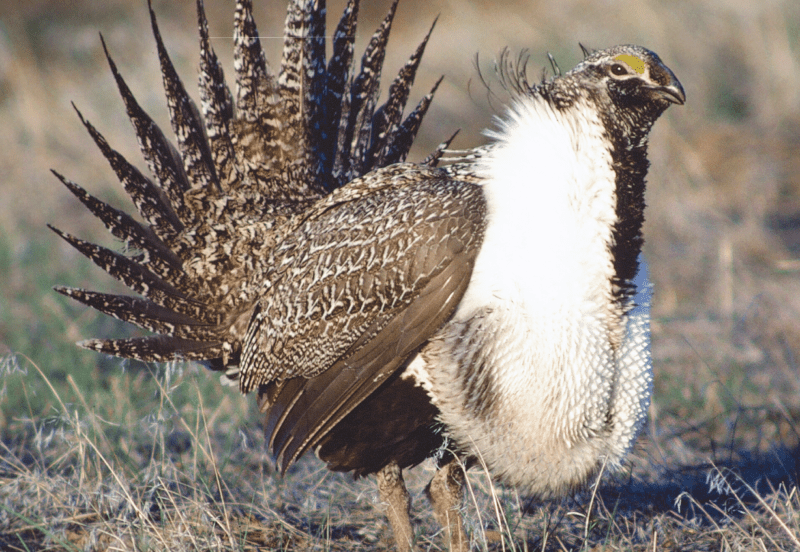 A symbol of the iconic West, the sage grouse fed pioneers and homesteaders and now provides challenging sport for hunters.

sportingclassicsdaily.com
by
Dave Books
| Jul 9, 2020 |
BIRD HUNTING
,
HUNTING
,
Slider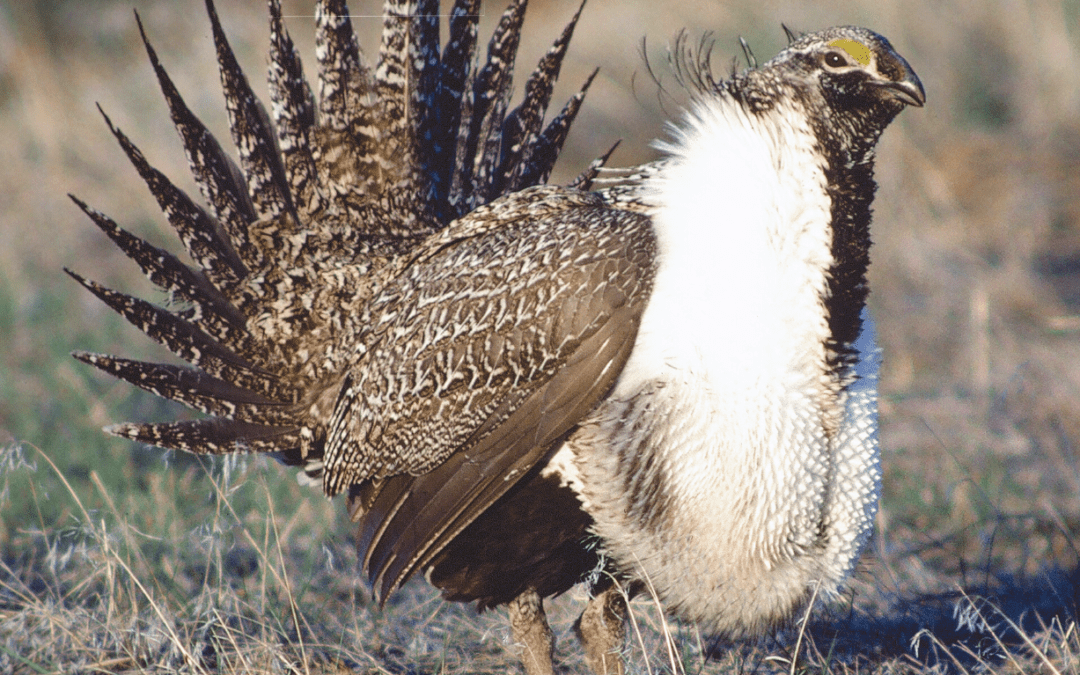 A symbol of the iconic West, the sage grouse fed pioneers and homesteaders and now provides challenging sport for hunters.
It started with a wisp of a Brittany puppy that didn't weigh much more than a sage grouse. My go-to bird dog, a wonderful, wacky male Brittany named Ollie, had just turned 11, and I figured it was time he had a protégé. Ollie's breeder was no longer in the puppy business, but he steered me to his friend Bruce Ristow, who operates Tainter Creek Kennels out of Soldiers Grove, Wisconsin.
The litter would be whelped in July and ready to go in September, which would serendipitously coincide with Montana's sage grouse season. Bruce offered to bring my puppy, a little female named Tess, with him on a trip west to hunt grouse with a couple of friends, saving me the long drive from Montana to pick her up. Coming with Bruce would be Dave Carlson, host of
Northland Adventures
, a popular TV show that aired throughout the Midwest for many years. Dave was getting ready to retire from the grind of producing a weekly show and wanted to do an episode on the
sage grouse
, a bird he had always wanted to hunt.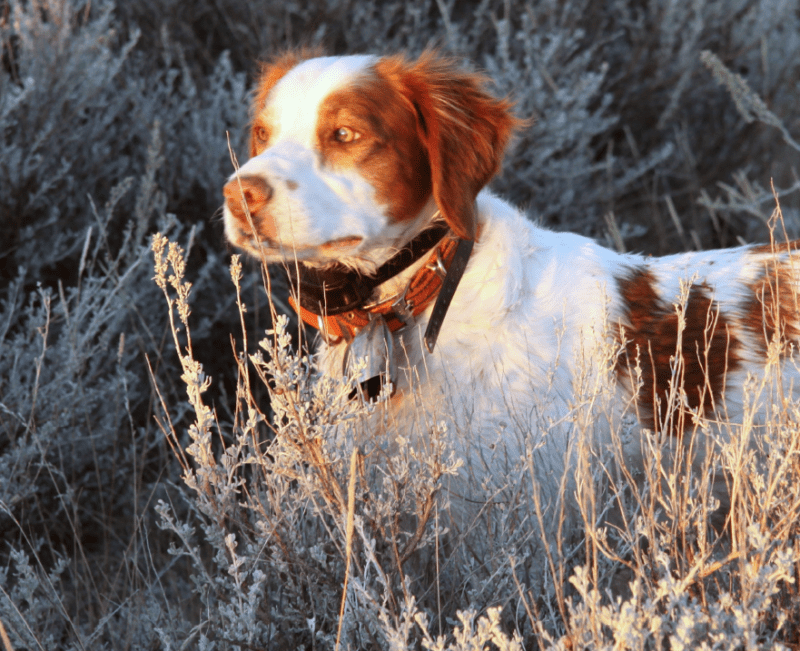 An intense Brittany gets a whiff of America's largest grouse and locks on point.
We hatched a plan to meet in north-central Montana in late September and hunt a mix of private and public lands north of the Missouri River Breaks. We'd bunk in the Tallow Creek schoolhouse, now converted to a rustic bed and breakfast. The one-time country schoolhouse sits on land owned by Leo Barthelmess, a conservation-minded rancher who has worked hard to make his spread a better place for wildlife.
While we were there, Dave would be able to interview Leo as well as local agency folks involved in sage grouse conservation and, with luck, we'd shoot a bird or two over the Brittanys Bruce had brought along on the trip.
Once a popular and abundant gamebird throughout the West, the greater sage grouse has suffered major declines across its range. The bird's population now stands at less than a half-million, down from an estimated 12 million when Lewis and Clark headed West in 1803. Like the bison they once co-existed with on the western plains, sage grouse need wide-open spaces to survive. More to the point, they need sagebrush, and, over the last century, sagebrush has been plowed, poisoned and burned to make room for cropland, condos and energy development.
In recent years, the greater sage grouse has narrowly escaped being placed on the endangered species list, a designation that would curtail a number of activities, including hunting. In 2015, the U.S. Fish & Wildlife Service decided not to list the bird, concluding the species remains relatively abundant across much of its range and is not threatened by extinction. Leo Barthelmess and thousands of other folks who make a living from the land breathed a collective sigh of relief. So did many hunters.
While the number of sage grouse hunters has declined in recent years, state wildlife agencies feel it is important to maintain the tradition. According to biologists, the effect of hunting on sage grouse is barely measurable. Holding a hunting season where healthy numbers exist keeps hunters—the birds' staunchest advocates—connected and willing to provide the political support needed to fund habitat conservation.
The threat of listing has galvanized efforts to preserve the sage grouse, but even with the recent conservation blitzkrieg, the future of this ancient bird is uncertain, despite the millions of dollars that have been spent to protect its critical sagebrush habitat. At the federal level alone, a USDA Sage Grouse Initiative established in 2010 has provided private landowners with more than $700 million to conserve grouse habitat across 11 western states through 2019.
Destruction of sagebrush grasslands is not the only culprit. Roads and noise from energy developments like coal bed methane and windfarms can drive grouse from ancestral strutting grounds. Simply put, the big birds don't like human disturbance. Wildfires, too, pose a problem to sagebrush survival, as does invasion by junipers and other trees. Predation by crows and ravens takes a toll on newly hatched chicks.
On the drive to the Barthelmess ranch, we noticed shiny reflectors attached at regular intervals to the barbed-wire fences in some areas. Leo later explained that sage grouse often collide with fences while flying to and from their dancing grounds, and these reflectors help mitigate these losses.
Historically, many Native American tribes used the sage grouse for food as did the soldiers, miners and homesteaders who streamed west in the 1800s. Breasted out and grilled to medium-rare perfection, the birds make good table fare, especially in early fall when their diet consists of green plants and insects. Sage grouse should be field-dressed promptly and iced down as soon as possible. A bird that spends several hours stewing in its own juices on a hot day won't win any James Beard culinary awards.
Their preference for green plants turned out to pose a problem for our little band of sage grouse hunters. According to Barthelmess, the birds normally gravitate toward his alfalfa fields in September, but recent heavy rains had led to a widespread green-up across the arid landscape. Because the birds could find food and water everywhere, they were scattered across the prairie and not in their usual haunts.
When sage grouse are spread out, locating them can be difficult. Actually, it can be damn near impossible, especially if you only have a few days to hunt. Consider that the C.M. Russell National Wildlife Refuge alone, a few miles south of where we hunted, encompasses almost a million acres. When you look out at an ocean of gray-green sagebrush rolling away in all directions, you wonder how you'll ever find the birds. The amount of ground foot hunters and their dogs can cover, especially on a September day that may reach 70 degrees or higher by noon, seems pitifully small.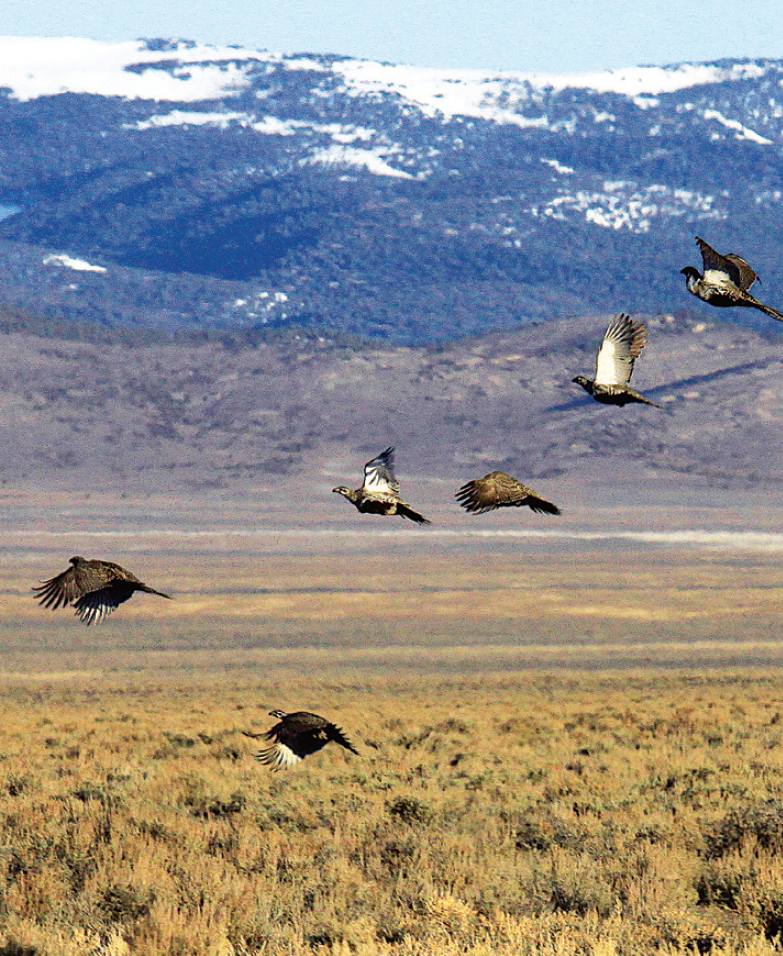 Slow and ponderous on take-off, sage grouse are fast fliers once up to speed.
The first morning of our hunt dawned cool and clear, with a light breeze that ruffled the grass and filled our nostrils with the pleasant scent of sage. Nothing defines this country more than that smell, except perhaps the immense sky, the limitless stars, the solitude and the quiet. After fortifying ourselves with coffee and a breakfast quiche prepared by Leo's wife, Darla, we set out to look for birds.
I took a drive to look at a few places Leo had suggested while the rest of the crew explored a drainage within walking distance of the schoolhouse. I hadn't gone far down a bumpy rutted track toward an alfalfa field when three big birds materialized just off the road: standing nearly two feet tall and weighing up to seven pounds, sage grouse are hard to miss. They were moving along a fence line, plucking a green dandelion leaf or a grasshopper here and there. While I had seen only three, I figured there might be more. I backed up, turned around and went to find my hunting partners.
A half-hour later we were back where I had seen the sage grouse. The grouse were nowhere in sight, but that's why we hunt with bird dogs. Dave Carlson's cameraman, Dave Roll, shouldered his video camera while the rest of us loaded our guns. Bruce turned out two eager Brittanys and we set out in pursuit, hoping we'd catch up with the flock somewhere in the vast, sun-baked grassland.
We hadn't gone 300 yards when the dogs swung their noses into the breeze and stretched out on point, the smaller female backing. Bruce motioned us forward and, a minute later, a dozen sage grouse flailed skyward. Bruce knocked down a bird, while Dave took a long poke at one but didn't connect. I watched the birds closely as they flapped and sailed into the distance, hoping to get a line on the direction they'd gone. Sage grouse are strong fliers and once airborne they often fly out of sight. They don't have the explosive takeoff of other grouse, but when they get up a head of steam, they fly just as fast—they've been clocked at close to 50 miles-per-hour in sustained flight.
We gathered around to take a closer look at Bruce's bird, a big male "bomber." There are 12 species of grouse in North America, ranging in size from the sage grouse—the granddaddy of them all—to the diminutive white-tailed ptarmigan, which weighs a mere 12 ounces. Bruce's bird had a jet-black abdomen, pale yellow eye combs and legs feathered down to the toes.
After our auspicious morning start, we had visions of easy two-bird limits by lunchtime. It didn't work out that way. By late afternoon, Bruce had his two birds, but Dave still hadn't connected. He had interviews scheduled for the next morning and, due to other commitments, had to be on an Amtrak train back to his home in Wisconsin the following day. That didn't give him much time to fulfill his bucket-list dream.
By the end of Dave's last afternoon of hunting, we'd seen mule deer, antelope, sharp-tailed grouse and even a few out-of-season pheasants in a creek bottom—but we hadn't been able to drum up a sage grouse. Driving back toward the schoolhouse down a lonely gravel road through miles of sagebrush-studded BLM land, Dave and I chatted about past hunting trips, successes and failures.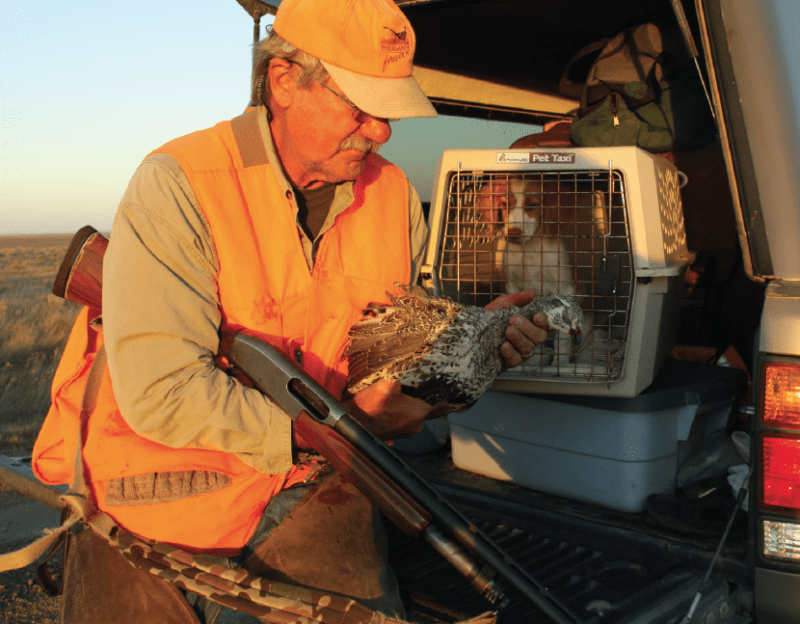 Dave Carlson admires his first sage grouse while puppy Tess watches from her travel crate.
I told Dave this trip was shaping up to be a failure, since I hadn't been able to help him bag his first sage grouse. Dave reminded me that no hunting trip is a failure, because it's not just about the killing. He'd seen birds, had a few shots, and thoroughly enjoyed the scenery and the wildlife. His interviews had gone well, and his cameraman had gotten enough footage to make the sage grouse segment a success.
We grew quiet for a time, admiring the onset of a golden prairie sunset, when Dave jolted me from my reverie: "There they are!"
Lost in thought, I hadn't seen the covey of sage grouse standing a stone's throw off the road. I kept driving for a ways, then pulled over. Bruce and cameraman Roll soon pulled up behind us in their truck. We quickly decided this would be Dave's show: Bruce would handle the dogs, Dave Roll would man the video camera and I'd take my still camera.
It all worked out like it does in the movies—at least the old-time John Wayne movies where the hero wins in the end. The dogs performed their magic, the grouse flew and Dave's shotgun barked. Sage grouse fell—two beauties as I recall—and a pair of big-eyed Brittanys struggled to bring them to hand. I swear Dave had tears in his eyes when he held up his birds for us to admire.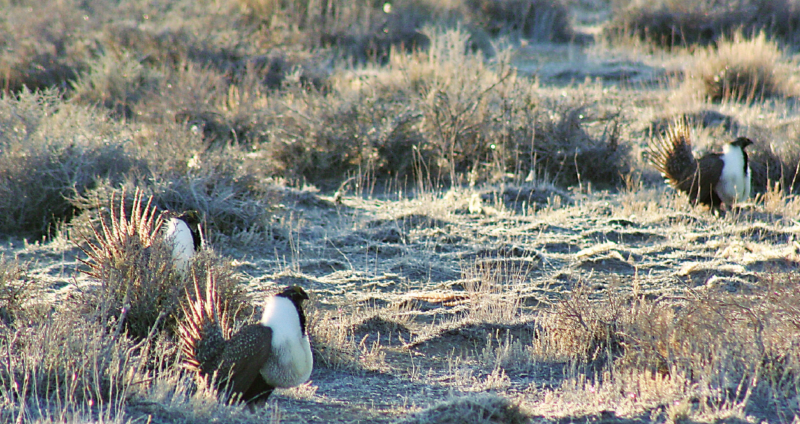 Male sage grouse engage in an elaborate courtship dance each spring to attract mates.
A few weeks later, I received a letter and a CD containing the sage grouse program that had aired on
Northland Adventures
. Beautifully done, it explained sage grouse conservation, the existing threats to these iconic western birds, as well as the important role of hunters. Toward the end of the segment, an emotional Dave, speaking as a hunter-conservationist, closed with these haunting words: "I can hear the sage grouse clock ticking, along with every beat of my heart."
My heart, too, beats—and aches—for the plight of the sage grouse. The puppy Bruce brought me is grown now, big enough to hunt these amazing birds, and I hope to see her do that soon. While the clock is still ticking, let's hope government agencies, landowners, conservation groups and hunters, working together, can succeed in saving the granddaddy of them all.