Discussion Starter
·
#1
·
Nice drive today to Globe, Arizona. I haven't been to this show in a few years and saw a few sellers that I know from other venues. Globe is a small town (copper mine) that's adjacent to the Apache Reservation and as expected, this is a relatively small show.......I'm not good at estimating table numbers, maybe a few hundred........I didn't see a whole lotta dealin goin on and almost came home empty handed however, as I was leaving one of the sellers who I had previously tried to negotiate with waved me back over and accepted my earlier offer.
I picked up a 4 inch stainless Model 625-7 Mountain Gun in .45 Colt.....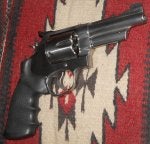 It came with the box, docs, two additional front sights (Baughman Ramp & Target Sight without brass dot) and a Galco leather holster.
I think the Uncle Mike's rubbers are factory correct and it will probably wear em when I shoot it, but we'll see what kind of dancin shoes show up.