Discussion Starter
•
#1
•
Stopped in to my LGS today and there under glass was the Colt Gold Cup I've been looking for in the last few weeks.
It's a Series '70 and in nice condition, no holster wear, just some signs of being fired some, probably someones range gun.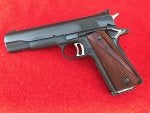 It came with two satin nickel magazines and had aftermarket laminated wood grips that I didn't like so I put these Rosewood grips on it from my woodpile, until I can find something more suitable. Colt serial number lookup says it was built in 1980.
I'd been surfing the web at all the usual suspect sites and couldn't find a nice Gold Cup at a fair price. Sometimes patience pays off, or as I sometimes say I'd rater be lucky than good....