Discussion Starter
·
#1
·
I was fascinated by the Colt 1872 Open Top revolver used by Tom Selleck in his tv western
Crossfire Trail
. I had never heard of this cartridge revolver made in 1871-1872 just before Colt's 1873 Peacemaker came out. Real Colt 1872's are very rare.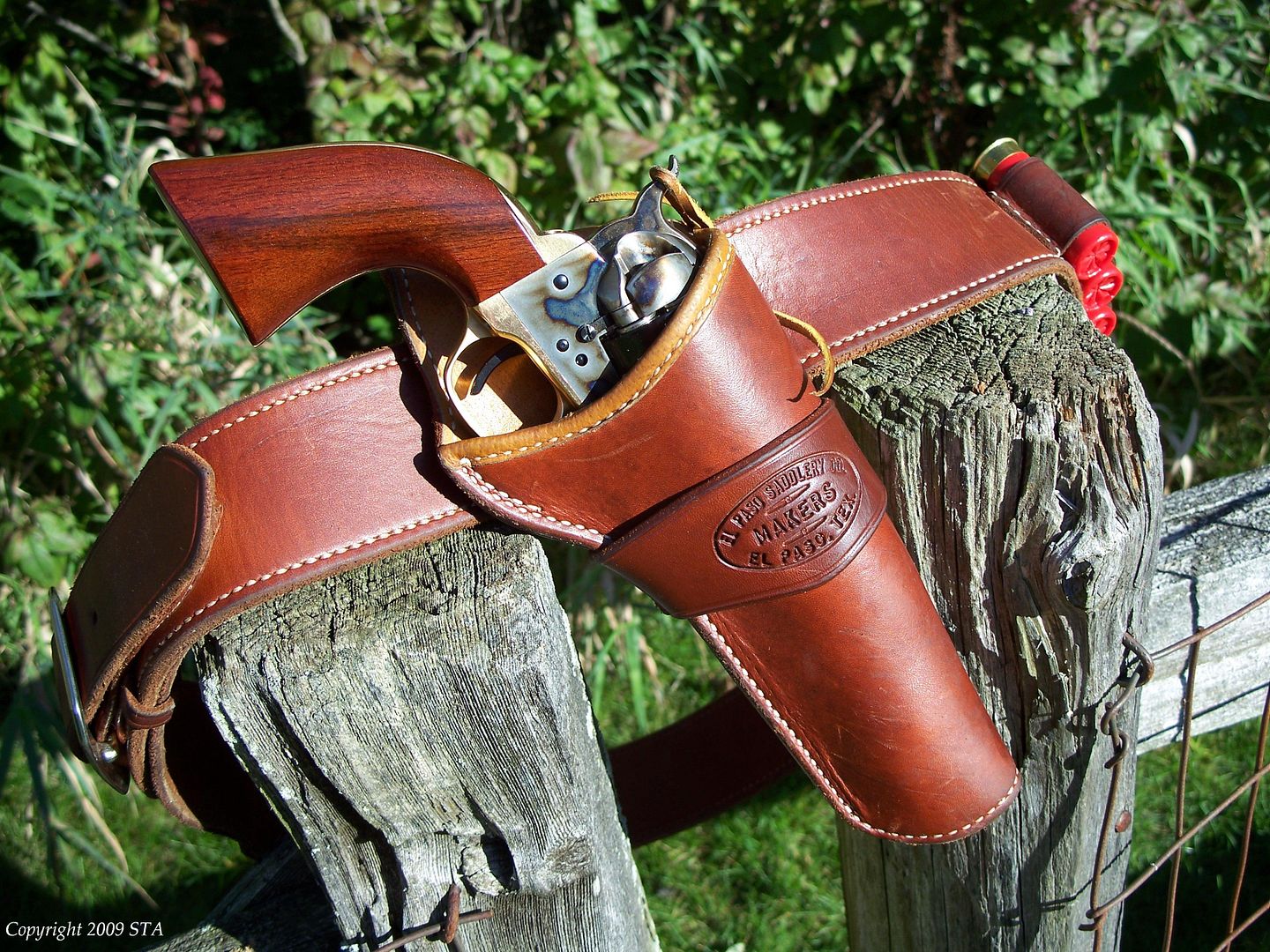 Uberti has been making replicas of the Open Top but they were .38 Special versions so they didn't interest me much. Then Cimarron came out with an Uberti made 1872 in .44 Special. I love the .44 Special cartridge and I reload it for Cowboy Action Shooting. I knew the Cimmaron guns were well made, but their actions are usually very hard sprung and their trigger pulls are terrible. But I still wanted one badly. So I ordered one up from my local gunshop. I decided on the 5 1/2" barrel version with the dark blue finish and brass grip with one piece walnut on the Navy grip (instead of the larger Army grip). It arrived pretty quick. The trigger pull was over 8 pounds and I had to hook the hammer with the crook of my thumb to cock it.
My dad and I used to watch Bob Munden on the tv shooting shows years ago. I've always enjoyed his trick shooting. I bought one of the 50 cent pieces that he shoots in mid-air with his .45 Colt. He sells these bent up coins on his website,
http://www.bob-munden.com
and I framed it along with an autographed photo of Munden. My dad had the pleasure of seeing Herb Parsons shoot live back in the 1950's and we both always enjoyed watching trick shooters and fast draw. I think most of us "gun guys and girls" enjoy seeing skilled men and women who can put on a terrific shooting exhibition. My dad and I also got to see Tom Knapp a few years ago live and he was amazing.
Bob Munden was always a favorite of mine on
Shooting USA
and I recorded all of the new
Impossible Shots
episodes on The Outdoor Channel that play on Wednesday nights. While there are many gunsmiths that could slick up my new Cimmaron .44, only Bob Munden is on tv every week.
I sent my Cimarron to him and he received it last October. They say "patience is a virtue" so I guess I'm a virtuous man. The FedEx man came to my door on Friday (7 months) with a package from Butte, Montana.
I had Munden's Option #1 ($185) performed which (reading from his brochure) is: "I customize the main spring and replace the flat bolt and trigger spring with a dramatically superior system of my own design. I also make the main spring on the Colt-type guns adjustable. I do not use spring kits. I also improve the heart of the gun by centering, timing, undercutting, fitting and crowning the locking bolt. This dramatically speeds up the lock time, ensures positive lock up and protects the locks on the cylinder from rollover damage."
I also had Munden hone the forcing cone ($45) and engrave "Custom by:
Bob Munden
" on the barrel ($40)...I figured that if I'm having him do the work, I wanted the revolver permanently marked as such!
The wait was well worth it. It's a night and day difference. The hammer on my Cimarron can now be cocked easily with just the tip of my thumb. I've been working the action alot since getting the gun in my hands. There is no turn line etched into the blueing on the cylinder because the bolt comes up into the notches perfectly. The trigger pull is astounding. Several of my co-workers tried the trigger and they were all blown away with how good it is. It breaks right at a pound and a half.
I can't wait to shoot it! If I'm lucky, I'll put some rounds downrange this Friday. I plan to use this .44 Special for Cowboy Action Shooting. I have two Colt SAA .44 Specials that my dad did the action work on. They're great guns with 2 1/2 pound triggers and perfectly timed. My dad was a very good basement gunsmith, but he only worked on his own guns or mine. I wish he was still here today because I know he'd really like my Mundenized Cimarron! I also occasionally shoot my S&W Schofield 2000 in CAS and I will have quite a pair when I pack my S&W on one hip and my Cimarron on the other!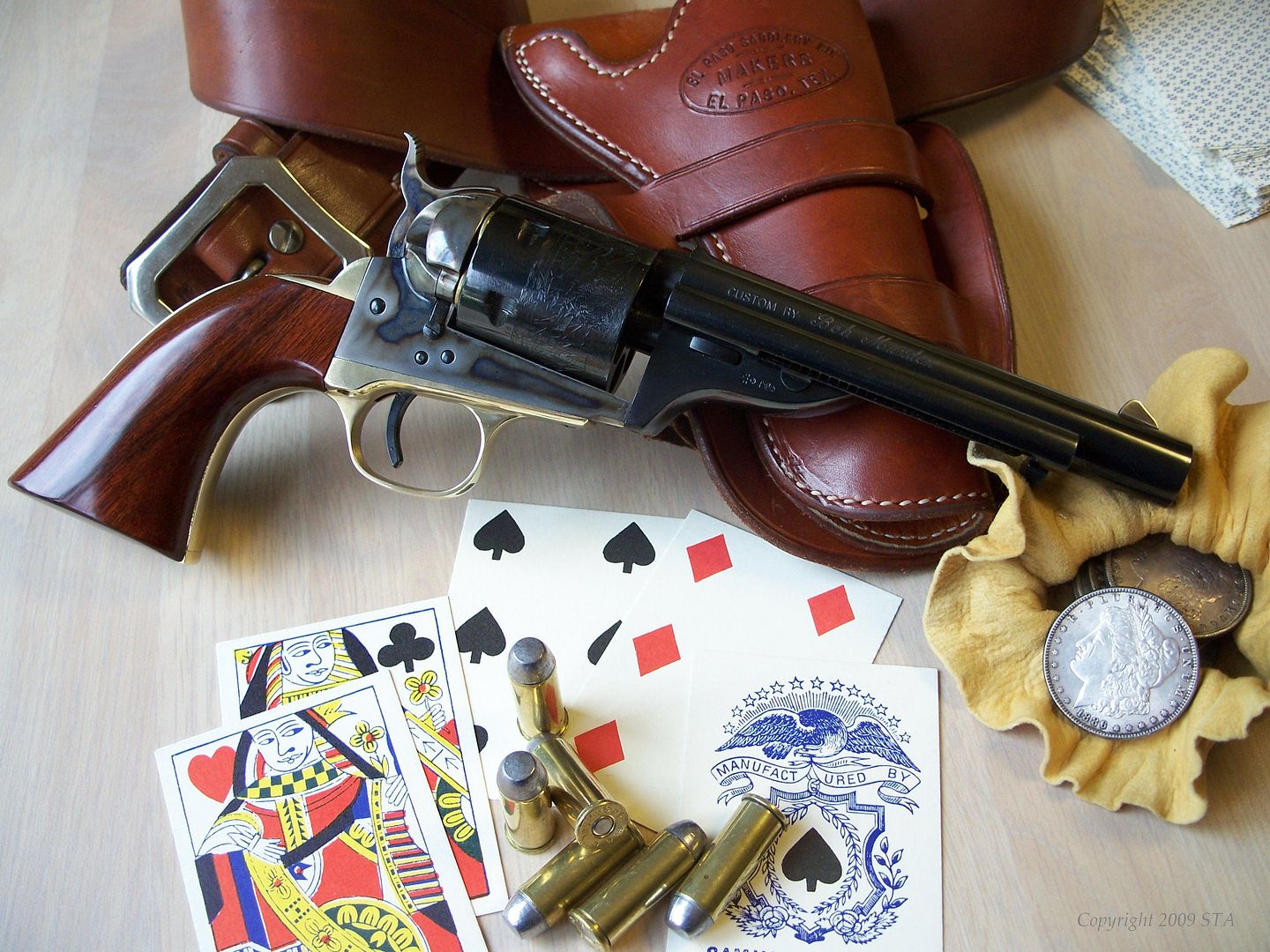 -Steve
UPDATE! I shot my Cimarron yesterday. I put about 70 of my Cowboy Action reloads through its barrel. Meister .428 200 grain hard cast bullets over 4.0 grains of Bullseye with CCI Large Pistol Primers. Every round went off without a hitch. The trigger pull is amazing.
The outdoor range I shoot at has target stands at 7, 25, and 50 yards for handguns. The sights are so fine on this 1872 model revolver that I shot at 7 yards, standing, one handed. The gun was amazing! I am excited to shoot it in a CAS match.
A couple guys at the range handled the Cimarron and they knew who Munden is. They were all amazed at the trigger pull and action. They admitted it was the finest they've ever tried.