Discussion Starter
•
#1
•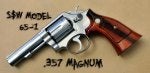 Black bear vs. .357 Magnum
Our trip was planned, but my buddy called off, so I went solo into opening day at south Sequoia National Park 1979.
I had backpacked in about 4 miles when I found a disturbing sight. It was a campsite that was torn apart and it seemed the humans made a hasty retreat. There were expensive sunglasses, knives, and parts of a tent and food wrappers. Hmmm?
I had always taken my trusty S&W Model 65 .357 Magnum with me on trips into the outback. This time I had 158 gr. JSP factory PMC ammo.
Another 2 miles and I had found my spot to camp. In those days I did not have a tent. My stay was peaceful for the first 3 nights, but on the fourth evening as I started to cook dinner, laid down to read waiting for my water to boil. I smelled something different.
I sat up and there was a big black bear with a radio collar around its neck with my food bag in its mouth. I jumped up yelling and blowing my whistle as I chased the bear across a creek. It went up the hill with my food bag, dropped it and came down after me. I stood my ground, bear on one side; 12 feet of creek, three feet deep, and me on the other side.
Well it was very angry with me and stood on it hind legs growling. It grabbed a small tree and shook it apart and pacing back and forth. I chucked rocks and sticks at it until there was no more. It was 5:30 PM and getting darker.
The black bear finally started to cross the creek, it cautiously stepped on the boulders to cross as it watch my next move. I drew my S&W .357 Mag and fired a warning shot into the soft creek bank. Click and nothing, It was a factory dud! My next try would be lethal. The bear was at the 10 foot mark and coming across. I took careful aim into the bears left ear, thinking it was the softest spot into the brain, next shots would, if lucky, be the nose. I knew I was under gunned.
I am not a hunter, it's not my thing, but I would not be the hunted. With five more shots and my K-Bar knife there was no place to go but hand to claw fight if it came to it.
I said, "I am sorry I have to do this." And readied my first shot. The big bear stopped and backed off, went up the hill to eat. I ran back to camp and put everything into my sleeping bag and ran up the hill. I stopped and looked back and saw the bear running down the hill to the creek. It was now a foot race, about six miles in the dark west.
I lost the trail twice and crosses several streams that I had forgotten about but made it back to my car at 11:30 PM.
I now carry into the outback my .44 Magnum, Ruger or Smith loaded with 310 gr. Hammerheads. Thanks for reading my story. (It's true too)