Discussion Starter
·
#1
·
by
Doug Painter
| May 22, 2020 |
BIG GAME
,
HUNTING
,
Slider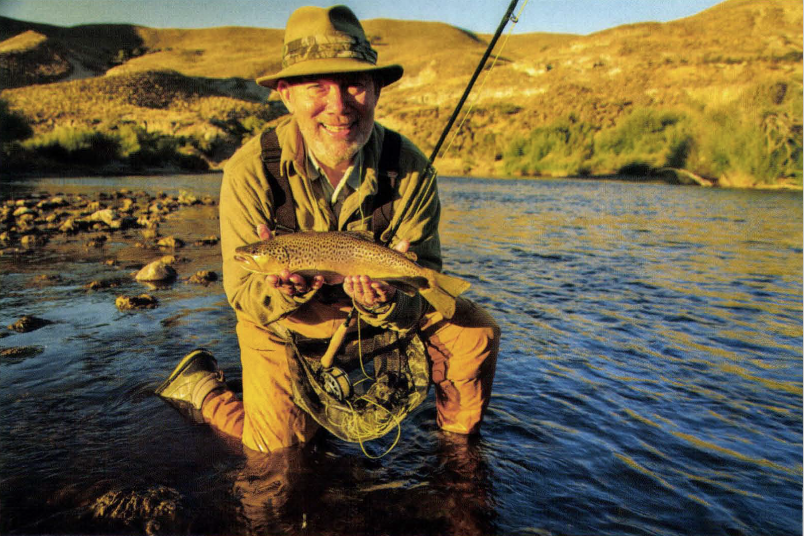 In a three-day span I'd stalked a red stag, fished for browns and rainbows, then ended up with an exciting hunt for boar. I enjoyed them all at Tipiliuke.
Sam Nede arrived at the beach well before daylight. Here on Captiva Island the shell hunters would soon be out in droves. Just a few years ago, Sam had hardly ever spent time at the beach. For more than a decade he had skillfully ridden the wave of Florida's real estate boom. "Just a few more years," he had often told himself, "and I'll be set for life."
Nearing 65, all he really wanted to do was hunt and fish, to find his own honey hole and escape the crush of snowbirds and suburban sprawl of southwestern Florida. When the market crashed in the fall of 2008, so did his dream. Overextended, he sold what he could and abandoned the rest. No different, he mused, than the mollusks that had abandoned their homes, leaving only empty shells washed at the water's edge.
When he first saw it, he thought it was the slender stem of a whelk shell protruding from the sand. As he pulled it out, he realized it was a small teapot. Brushing away the grit, a mist suddenly rushed out of the spout and there, standing in front of him, was a young man dressed in a jeweled vest and red turban.
"I'm your genie," he heard the young man say. "But I'm still in the apprentice stage, so I can grant you only one wish."
Sam stood dumbfounded.
"It doesn't take a genie to see that you're a man who's down in the dumps. What would it take to bring back your smile?"
"Well," Sam began, "I had hoped to spend my retirement years hunting and fishing. It's not that I haven't had some good trips, but my dream has long been to step it up a notch or two, really go out with a bang. I'd like to shoot a red stag and maybe a Russian boar. Now
that
would be something!"
"Anything else," the genie asked. Sam didn't want to sound greedy but, hey, if you're going to dream, dream big.
"Well," Sam continued, "I'm a wingshooter too. I can't think of anything finer than spending a morning after quail with a brace of great pointers. And I know I can't hunt all the time so that's when I'd like to grab my
fly rod
and head out to a crystal-clear river where I could catch a truly trophy-sized brown or rainbow. And to cap it off, I would want to stay at a fine lodge, where after a great dinner you can sit back with a glass of single malt and reminisce about the day with folks who share your passion."
The genie didn't seem phased and recalled the words of his favorite genie professor. "It is almost always easier to find a dream setting that already exists rather than to create one from scratch."
Soon, Sam woke from what seemed like a short nap. He was no longer on the beach but standing on a beautiful green lawn. Just ahead under a vined arbor, sat two tables, each draped with a white linen tablecloth with a bouquet of roses in the center. The sky was a cerulean blue and the air clear and crisp, suggesting a higher altitude.
"Sam!" he heard someone call, and he turned to see a man sporting a
boinas
, the gaucho-style beret, walking toward him. "I'm Kevin," the man said as he shook Sam's hand, "it's a great pleasure to meet you. Let me be the first to welcome you to
Tipiliuke Lodge
."
My arrival at Tipiliuke was, well, more conventional than Sam's. Delta non-stop to Buenos Aries and a night's layover in that charming city. The next morning a flight to San Martin De Los Andes in Argentina's Patagonia region and from there, just a 20-minute ride to the lodge. I, too, arrived just in time for lunch, a superb vegetable quiche, salad from the lodge's own garden, then a superb piece of steak hot off a wood-fired barbeque pit. To cap it off, a fresh fruit tart with just the right hint of sweetness. I was ready for a short stroll through the lodge's rose gardens and then a siesta. As I pushed back from the table, however, Kevin came by.
"Time to gear up," he said, "your guide Adrian is all set to take you out to hunt stag this evening."
A gourmet lunch followed by a red stag hunt? Not the typical pre-hunt routine of a soggy PB&J sandwich and a cup of last night's coffee before heading up the mountain at the crack of dawn. Little did I know this would be just the first step in a truly different kind of hunting and fishing adventure, all in one of the great sporting regions of the world.
In a sense, it's not hard to believe that a genie of old had his hand at work in making Patagonia a sportsman's paradise. In its more northern regions it is a land of vast steppes and rolling hills with great rivers cutting through the valley floors. Sparsely populated, the area has long offered excellent habitat for a variety of game and fish. For hunters and anglers, however, it wasn't until the early 1900s that a magical transformation occurred with the introduction of red stag as well as rainbow and brown trout by European settlers. Later, Russian boar and California quail were also brought in.
With relatively few exceptions, the introduction of nonnative species has, at best, a checkered history. Not so in Patagonia, where the red-stag population has become the largest free-ranging herd in the world and the trout fishing is among the best anywhere, both in numbers and size. Whether you're looking for trophy red stag, thick-tusked boar, jaw-dropping trout, or hard-flying quail, they're all in abundance on the lodge's nearly 50,000 private acres.
The lodge is set in the heart of Cerro de los Pinos Estancia at the foot of the Andes. The lodge is surrounded by a 15-acre tree-and-garden sanctuary with plant specimens from around the world. It's a lovely green oasis among the basalt hills of the countryside.
We headed out late in the afternoon, and I thought this would be no more than a cook's tour, a quick look-see that would give me a feel for the countryside before we got serious the next day. Boy, was I wrong.
After four-wheeling for about 40 minutes, we got out and began to climb toward a good vantage spot to glass for stag. In addition to my guide, Adrian, I was accompanied by Mike Baker, head cameraman for Tony Makris'
Under Wild Skies
television series. I had been asked to be the guest hunter for an episode on hunting and fishing in Patagonia and, of course, was happy to do so.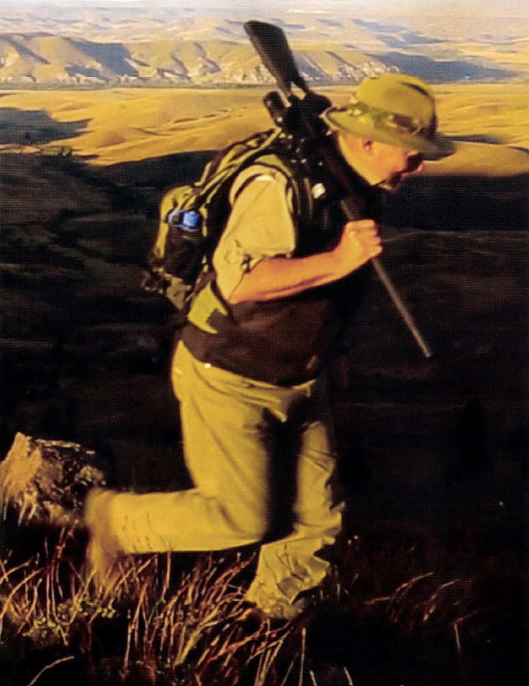 It was mid-March – autumn in Argentina – and the rut, what they call the "roar," was definitely on. Within minutes, we spotted two stags, each with a harem of 10 to 15 hinds on a steep incline two canyons away. I glanced at my watch. It was now 6 p.m., and I figured we would just sit there and watch the deer as the afternoon turned to evening. Wrong again.
Adrian hustled us up and off we went. First, down the hill and through the canyon. Then we began our ascent. No easy-going zig-zag route up the mountain, but straight up. We were in a race against the fading light.
As we crested the top, the wind hit us full force – a steady 30 miles per hour with stronger gusts pushing the tall grasses nearly over. My hat flew off, but we made it in time, and the two groups of deer were still grazing on the opposite hillside some 200 yards away. Adrian painted at the larger of the two stags. I steadied the rifle and took my shot, allowing for the strong crosswind. A third time wrong.
The great stag didn't bolt but began to walk away. I shot again, this time moving instinctively with the target. The stag hunched but kept going. The harem bolted past him and out of sight. Alone, he climbed to the top of the hill and stood rock still. The sun was directly behind him and he appeared as a breath-taking silhouette, his dark and regal profile crisply defined by the last rays of the evening light. I watched, transfixed, and then saw him drop.
Shootable stags at Tipiliuke are rated starting at
grande
. Put a
muy
, or two or three in front of the
grande
and you go right up the scale to a monster stag. My
grande
, the equivalent of our management buck, was nonetheless a great trophy. He will always bring to mind a memorable stalk where we pushed hard to beat the clock and made it just in time.
After caping out the stag, we started our long trek back to the truck. Adrian walked down the dark mountainside like he was strolling through his backyard. Mike and I stumbled along but with the surge of adrenaline that comes after a successful hunt.
We got back to the lodge shortly after 10 p.m. The good news, though, it's hard to be late for dinner in Argentina. We had time to clean up, have a cocktail or two, and then sit down to a lovely meal hosted by Kevin's wife, Mary Jo. Simply elegant, and a perfect way to cap off a great day afield.
Often called the Cathedral of Patagonian Fly Fishing, the fabled Chimehuin River comes out of Lake Huechulafguen and flows some 35 miles until it meets the Collon Cura. Made famous by legendary fly fisherman Joe Brooks, the Chimehuin put Patagonia on the leaderboard of top fly-fishing destinations in the world. A classic freestone river with pools and runs, the Chimehuin has the look and feel of some of our classic western rivers such as the Madison and Yellowstone.
The river has all the attributes that go into making an exceptional stretch of trout-fishing water as well as an added benefit that's increasingly hard to find today. Fully nine miles of the Chimehuin, plus seven miles of its primary tributary, flow through property owned by the lodge. The resulting low fishing pressure is not only a boon to trout numbers and size but also provides guests with, to say the least, an uncrowded experience. In two days of fishing on the Chimehuin I encountered one other angler floating the river with his guide. It's like playing 18 holes at Pebble Beach with no one else on the course.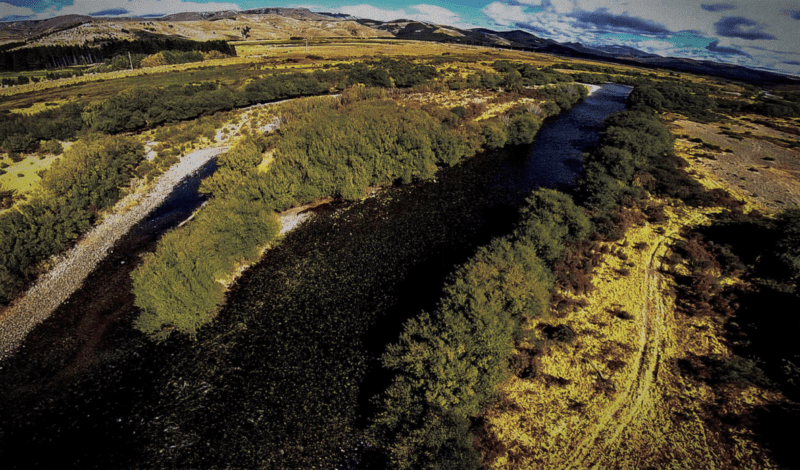 The river is rich with hatches of caddis and large mayflies, and Tipiliuke's guides emphasize dry flies as much as possible. Even though the water was quite low, my guide, Boris, steered me to some hotspots for both trophy rainbows and browns. I used a 9-foot 6-weight Loomis NRX, a great choice for big waters and windy conditions. It's a fast-action rod but with a smooth, easy-casting feel throughout the stroke.
A day of fishing at Tipiliuke begins with a made-to-order breakfast followed by a short drive to the river. I had a fly on the water no more than 20 minutes after leaving the lodge. With no one else around, Boris and I hiked up the shoreline, selecting a pool here, a run there. It was back to the lodge around two for a sumptuous three-course lunch accompanied by some stunningly good Malbec. We then headed back out for the evening hatch. Given full artistic license, it would difficult for me to concoct a more wonderful day on the water.
The second morning of fishing was as good as the first and, after another gourmet lunch, I sat down with Kevin to discuss the agenda. The quail season had yet to open but he suggested Russian boar for the evening hunt. That's one of the many charms of Tipiliuke. With the hunting and fishing so close by, you can create your own schedule from day to day. The lodge also offers scenic trail rides, sightseeing in historic San Martin, and there's even golf nearby at a Jack Nicklaus-designed course. A fellow could retire right here.
It was good to be back out with Adrian, and about an hour's drive from the lodge we came upon a swampy patch of ground nestled between the hills – a perfect spot for the boar.
Our strategy was straightforward: hike up one of the hills and start glassing for boar down below. Easier said than done. Ranging from black to dark gray, the tuskers blended right in with the reeds and shrubs, especially in the late-afternoon light. More than once, a good-sized boar ended up being a good-sized boulder or a dark bush.
With evening fast approaching, I fretted about the time and wondered if we had enough light for me to shoot and Mike to get it on camera. Our luck held out. Minutes before sunset Adrian spotted a large boar about 130 yards down from our vantage point. I set up my sticks and steadied for the shot.
I hunted with a Blaser R8 Monza chambered in .300 Win. Mag. that featured a thumbhole stock and an attractive leather insert on the cheekpiece. Topped with a Swarovski Z6 variable scope, it worked perfectly on the red stag in fading light.
At the shot, I was confident I'd hit the boar well, but he had lunged forward into the tall grass. Adrian went down to take a look. As he got close to where the animal had stood, a boar jumped up and busted out of the swamp. Mike and I watched him run up the opposite hill at full speed.
Had I missed completely?
Mike had me turn to the camera to deliver my "that's why they call it hunting speech," but before I had finished my
mea culpa
, Mike motioned for me tum around. Adrian was waving us to down to the swamp and motioned us to follow him. The boar that we'd seen scamper off wasn't the boar I'd shot. My guy was some 30 yards ahead – hard hit but still upright. It was near darkness now so I approached to about 15 yards before shooting. At impact, the tusker didn't even flinch, but simply turned, walked a few feet and dropped. Russian boars are known to be tough customers, and this animal did nothing to diminish that reputation.
Keeping up with our tradition, we got back to the lodge just before 10 o'clock, in time for a quick cocktail and another great dinner. The Malbec flowed and so did the stories. In a three-day span I'd stalked a red stag, fished for browns and rainbows, then ended up with an exciting hunt for boar. Typically, one would have to travel to three different and, likely distant, locations to experience the sum of those hunting and angling adventures. I enjoyed them all at Tipiliuke and never had to venture more than a few hours from the lodge.
Just above the lodge bar is a small blackboard where Kevin chalks his quote of the day. Finishing up my paperwork as I got ready to leave, I glanced up to read what his words of wisdom for the day. He had selected a quote from Omar Khayyam: "
The grandest of things are achieved with a light heart: allow your soul to smile."
I guess I'm not enough of a poet to know if my soul was smiling, but my face sure was. On the way back to the airport, we rumbled over the wooden planks of the old Chimehuin Bridge. Downriver, a fisherman paused to wave us goodbye. I can't swear to it, but I'm pretty sure it was Sam.
(On MY bucket list of places to visit one day)