Discussion Starter
·
#1
·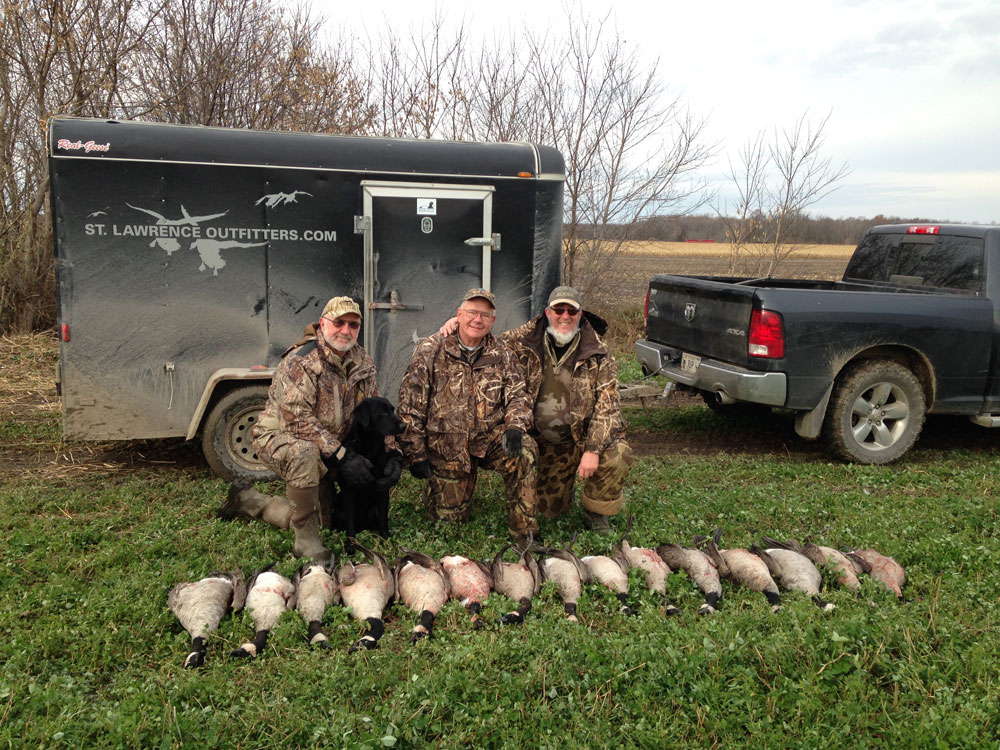 Hunting and shooting a Canada goose is fun, but watching a fine dog "put the finishing touches" on our downed geese was just plain joyful.

sportingclassicsdaily.com
by
Robert Sohrweide
| Feb 10, 2021 |
BIRD HUNTING
,
HUNTING
|
0 comments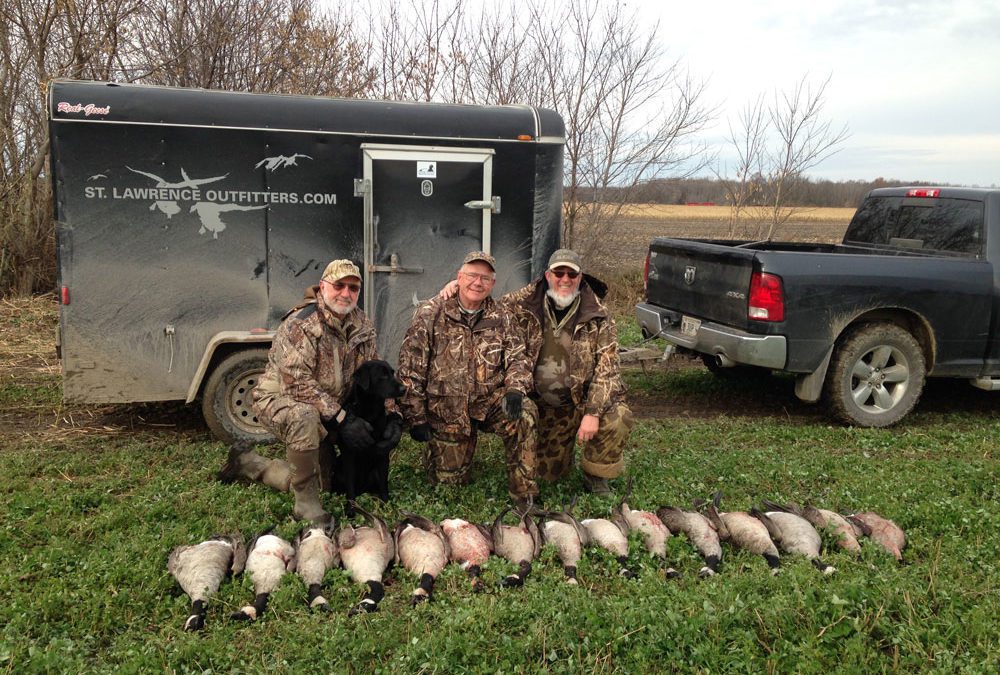 Hunting and shooting a Canada goose is fun, but watching a fine dog "put the finishing touches" on our downed geese was just plain joyful.
Dogs are incredibly eager and graceful creatures, ready to please their masters and bred to work. Beautiful to watch, muscular in action, graceful in the midst of their intensity – they've come to do business. Harley was no different on the day of his first goose hunting experience.
Ray and I are small waterfowl and goose hunting partners. St. Lawrence Outfitters teamed us up six years ago, and we've been gunning together in Ontario ever since. Ray comes from Maine; I come from New Hampshire. We make new friends and gunning partners every year. A few years ago, we met Ron and his black Lab, Harley.
David Roy, the head of St. Lawrence Outfitters, introduced us to Ron when we all met at 5 a.m. at Tim Horton's. Handshakes, coffee and muffins. Birds are in and
decoying
. Happy grins.
With our food and drink in hand and mouth, we followed our young guide, Will, down dark farm roads to our field. Then Ron let Harley out of his kennel in the back of the truck. A happy, sleek, muscular Lab moved around us, lit by our headlamps and eager to go. We all were introduced, appropriately sniffed, and Harley gave his approval with a lick.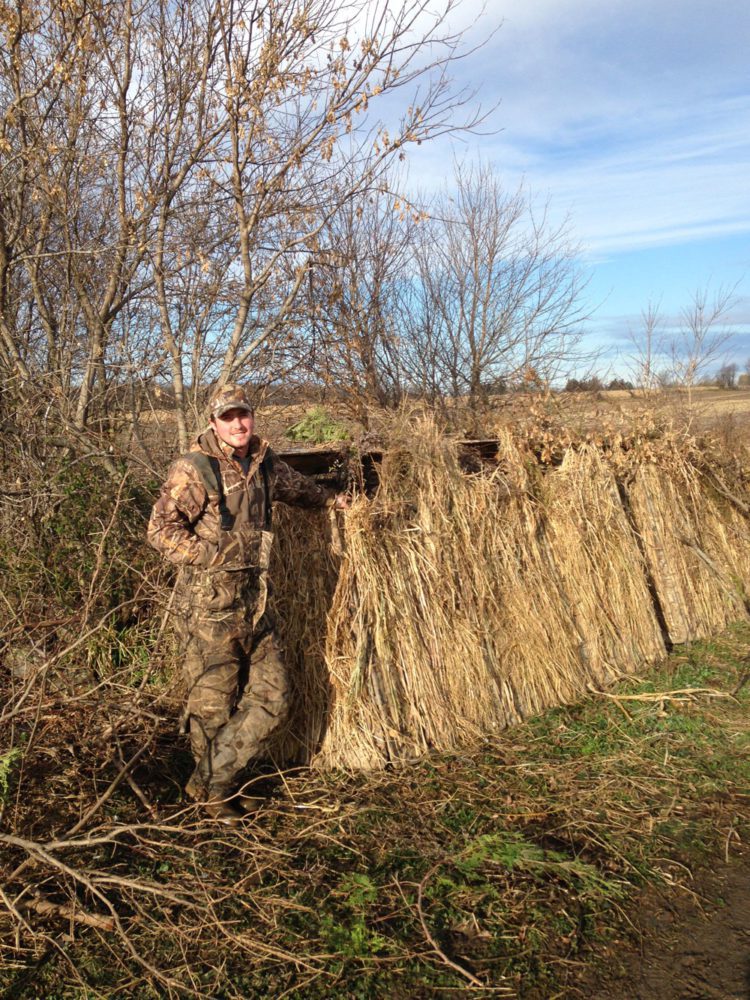 Will preps the blind for the incoming waves of honkers.
Ray and I looked at each other. Ray, a Lab owner, said, "I can't wait to see him work. Where'd you find him, Ron?"
"Montana," Ron replied. "He's had a lot of work with pheasants and birds in trials back home in Michigan, but I'm here to shoot a goose for Harley."
"You've come to the right place," I said, smiling. "We'll help you out with that."
Four people made fast work of two tepee blinds and a rig of decoys. The blinds went up first, and we waited a few minutes to unload the decoys.
"I like to wait until the dew has fallen before I set up," Will said. "That way there's no water glistening on the dekes to flare the birds. I'd rather miss out on the first flock than screw up the whole morning."
We waited, petting Harley, getting our gear arranged in the two tepee blinds and brushing the blinds a bit more. Then we brought out the full-bodied Canada goose decoys and put them in piles for Will to arrange.
"Will, do you have a system for putting out a decoy rig?" I asked.
"It's like finger-painting: you keep moving the birds until it feels right."
Another mystery explained! I looked at Will and laughed. He just shrugged.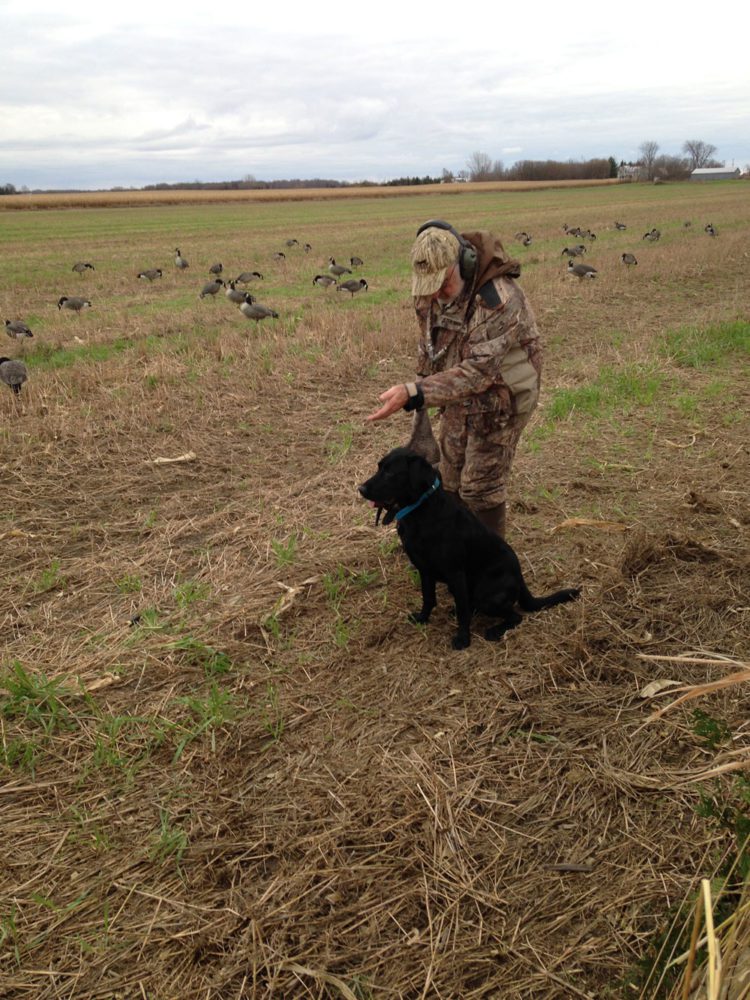 Harley knew his business well…even though he hadn't been goose hunting before.
We'd set up the decoys in a field of clover, our tepee blinds against brush alongside a hedgerow, a cut cornfield behind us. Hard for me to believe we were hunting green clover and not cut corn, but David had scouted the field and that's where the birds were. So we were there, too, facing the decoys in the clover with the slight wind at our back. The birds could finish coming toward us and, as my friend Bentley says, we'd "shoot 'em in the face."
A little conversation, the snick of shotgun actions as we loaded. Ray and I were together in one blind; Ron, Harley and Will in the other. I was shooting left, Ray the middle, Ron the right —Harley batted cleanup.
We waited half an hour before the doubts began. It's hunting, and there is no sure thing. Forty-five minutes and a
honk
from behind us. Right behind us! A flock of five ("a five pack," Will calls them) flew over the blind, swinging in front of us and, with wings set, beginning to settle in.
"Where'd they come from?" Will asked no one in particular. "Get ready. Take 'em!"
We three shooters rose from our chairs, brought our guns up and shot at the birds settling in a mere 15 yards away. I shot at the far-left bird, saw it fold, swung at the next, saw feathers fly at my shot, pumped my Model 12 and hit it again. The battered goose struggled, then fell a hundred yards out. Three more birds were down on the right.
Ron and Harley stepped out of their blind. Harley sat; we put our guns down and watched. Ron gave Harley the line on the far-right bird—45 yards out and walking away. At Ron's command Harley ran—all muscle and grace, a black streak—for the moving bird, hit the goose with his shoulder and head, knocked the bird down, and in five seconds had the still-struggling Canada firmly in his mouth and was heading for home. Harley delivered the bird to Ron, and at Ron's command released it into his master's hand. My goodness, that dog is good!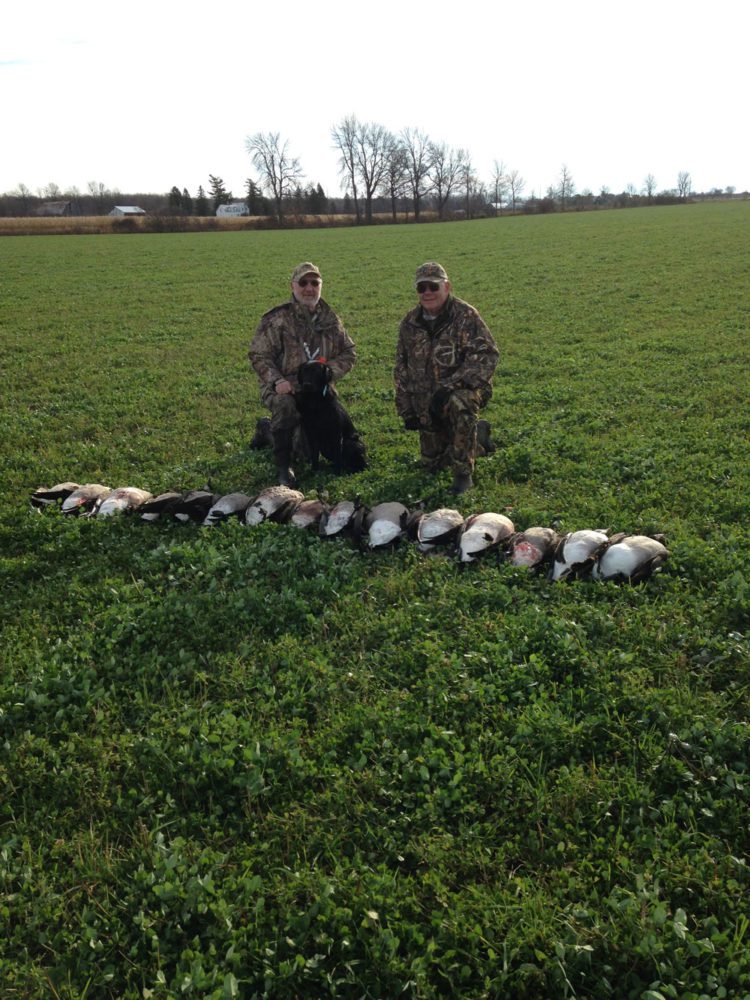 All in a good day's work for Harley and his hunters.
Ron sent him out three more times, and each time the retrieve was wonderful to watch—eager dog and increasingly proud master. Finally the last bird: more than 100 yards out, stone-dead and partly concealed in the clover—a blind retrieve. Ron gave the line and the order. Harley ran out 25 yards, turned, sat and looked for instructions.
"Back," Ron yelled.
The beautifully trained dog went back another 25 yards, turned, sat and waited.
"Back."
Another 25 yards.
Harley then had the bird in sight and headed directly to it. A few seconds to get it settled in his mouth, then prancing proudly and joyfully he crossed the clover and delivered the goose into Ron's hand.
Happy dog, proud master and very fortunate spectators! We shot a goose for Harley, but never expected such a payoff. Goose hunting is fun, but watching a very fine dog "put the finishing touches" on our downed geese was just plain joyful.