Discussion Starter
·
#1
·
I climbed the ladder in the basement to get a cardboard rifle box where I store them in the crossbraces in the ceiling. I saw a hard plastic, generic handgun box. I thought, "What the heck is that?" I used to think I had a good memory but I had no idea what was going to be in that box. When I took it down I was even more surprised to feel the weight of a gun in it. Why wasn't it in my safe? What is it?
I remember this gun being my dad's. I cannot remember why I had it or why it wasn't in my safe. I think my dad had me keep it for him to shoot if he came down to Illinois to visit from the log cabin home in Wisconsin where my mom and dad lived.
I've become much more interested in S&W's with thanks to all of you. I noted the square butt and diamond Magnas. The serial number inside the grips does not match the gun. The gun's s.n. is 3832XX. If I'm reading my SCSW3 correctly, this is a .38 M&P Model of 1905 4th Change. The bore is perfect, the action is tight and the trigger pull is crazy light and smooth in both single and double action. I vaguely remember my dad putting the rear sight on (Wonder Sight?) and soldering the front gold bead on. He also had a cross draw El Paso Saddlery Threeperson holster for it (which I do still have!).
Does anyone know a more accurate date than 1915-1942 for this serial number?
The Magnas are really nice with amazingly beautiful grain. I am tempted to sell them and put some standard grips on this little shooter. I doubt is has any value since the front sight was rather permanently changed. The rear adjustable would come off easy but that front sight would be hard to get back to factory specs.
Thanks in advance for any input everyone! Sure is neat to just "get" an old S&W for nothing out of the blue!
-Steve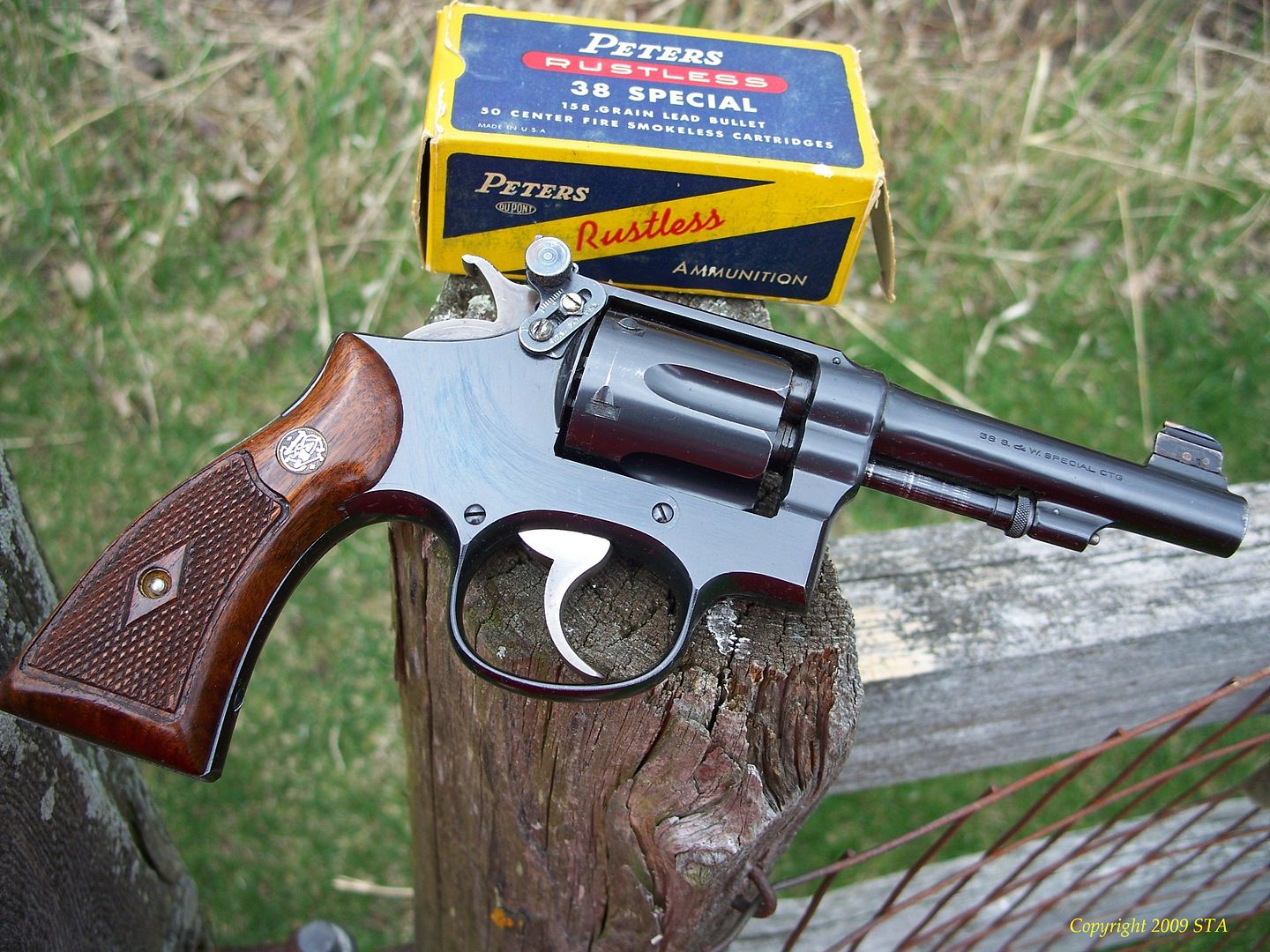 I went through my "parts" box and found my dad's old Mershon grip adaptor. Here's his old M&P back riding in the EPS crossdraw holster:
Update on 4-26-09: Just for fun I took the Executioner American Elk Stag handles off my 686 and tried them on this old M&P. Omigosh! I love the contrast of the blue finish against the whiteness of the Elk Stag. This is the way I'm keeping it. In my dad's crossdraw holster, it looks so "old school" to my eye. I love the sights too! I'm still smiling that I found this revolver. I measured the trigger pull with my Lyman digital gauge. Double action is right at 8 pounds. Single action is right at 3 pounds!