22/32 Hand Ejector Heavy Frame Target
Today's Gun Show find.....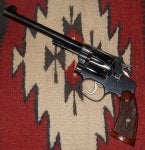 22/32 I Frame Hand Ejector Heavy Frame Target........Yeah, calling an I Frame revolver a "Heavy Frame" is kinda funny........(chuckle)
The SN puts it in the last few year prior to the war.....
s
Some feller wanted my Marlin 336 in 35 Remington to join his stable and he had this 22/32 HE..............you see the result.
I had a chance to spend a few minutes with Leo......always makes for a good day.
Without rival, this is the biggest show in the state (December at the State Fairgrounds). I'm heading back tomorrow.