Discussion Starter
·
#1
·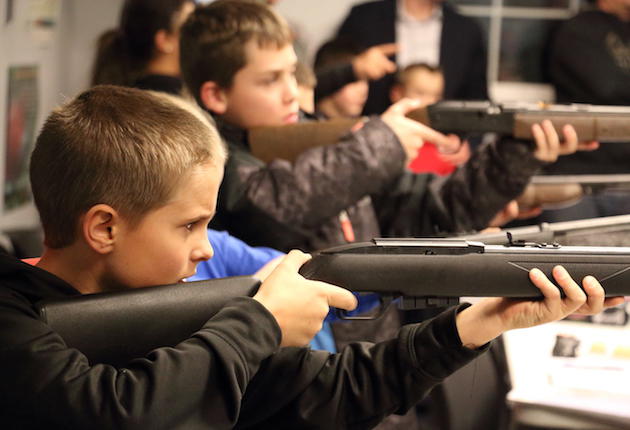 This mom bravely puts her pride on the line and levels the learning field by participating in hunter education with her two young sons.

sportingclassicsdaily.com
by
Kris Millgate
| Mar 30, 2021 |
FIREARMS
,
SHOOTING
|
1 comment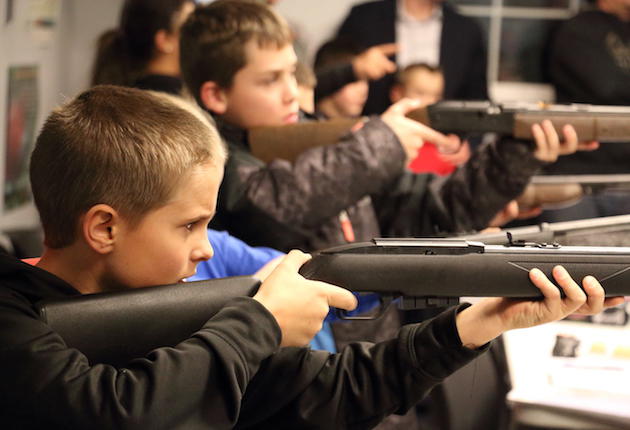 This mom bravely puts her pride on the line and levels the learning field by participating in hunter education with her two young sons.
It's the first night of hunter education class. The room is packed. Students sit at tables. Parents are on the fringes. My two boys make their way to an open table. I follow them while parental eyes follow me. I know adults are only here as chauffeurs for kids who can't drive yet, but I'm here for more. I pass up the parents and approach the table with my sons.
"Move over," my oldest son says to his little brother. "Let mom have the middle."
Yes, middle. Put mom in the middle. Middle is good for mom. I'm of small stature. Maybe I'll just blend in with the other small bodies around me. That's what I'm hoping for, because this is the awkward moment I've thought about since I signed up for hunter education. It's the moment parents on the fringe realize I'm more than a driver. I'm a student. Sitting at a table means I'm admitting I don't know it all, and that's just not what adults do.
"No adult wants to sit in a classroom full of 10-year-old little boys," says Ed Schriever,
Idaho Department of Fish and Game
, deputy director.
I boldly beg to differ. I passed up the online course for classroom time on purpose. While other adults safely hide behind a computer screen at home for their hunter education test, I choose to put my ignorance on display so I can be among the target audience, the next generation of hunters.
First Timers
My boys are barely old enough to take hunter education in Idaho, but I'm so over the age limit I'm grandfathered in. Hunter education became a pre-hunt requirement after I was born so I don't have to take it, but here I am anyway. Perspective is good, and I want this perspective — even if no other adult wants to be seen sitting at the kiddie table.
Don't get me wrong, I know how to hunt, mostly. My job as an outdoor journalist requires me to spend a lot of time stalking the wild with sportsmen, but I'm the one with the powerful footage rather than the firing power. And even if I could hit my target true, I wouldn't know how to field dress it. That's why I'm here. Knowledge. The more my kids and I know about our natural resources, the better off we all will be.
Idaho's hunter education program is divided among four sessions. Each session includes lecture time and hands-on training. The first time we first timers lay on our bellies with guns that won't fire, I spout some silly line from
A Christmas Story
about Black Bart.
No one older than 10 laughs.
A Second Chance
During the second session, we are studying a picture of a bulging bull elk tied across the top of a tiny hatchback. Our instructor asks us if that's legal. Yes. But
is it ethical?
A small hand shoots into the air on the front row. It's Macy Thorp, age 9. She's applying for a spring bear hunt with her dad as soon as she graduates this program and turns 10.
"No," she says. "Because if someone drives by and they have a much, much, much smaller elk, it would hurt their feelings."
True. Bragging is bad form. So is displaying your trophy like a hood ornament and thinking your hatchback is actually going to make it out of the woods with all that extra weight.
Next question: What is the number one threat to wildlife? Being that my boys and I live in Idaho, the wildest of the West, the quick and loud answer coming from a parent in the back is no surprise. "Wolves."
Fringe parent wants to chime in now, when he's just a driver
? The smug student in me smiles when the instructor says, "Nope. Wrong answer." Good thing that dad doesn't have to take the test. He'd need a second chance.
The right answer comes from a voice on my left, right out of my own son's mouth: "People."
He's right, and I'm proud. People. Specifically, people and their sprawling urban developments. When the wild runs out of room, we will run out of wild. The kids in class understand that, even if the aging fringe standing at the back of the room doesn't.
Take Three
A few hours into the third night of class and my youngest is fidgety. It's passed his bedtime. He lays his head in my lap, but I can tell he's still listening. The pre-teen at the table next to us is beyond listening. He's a lion in a Cracker Jack box. His grandpa, a houndsman sitting in the room's fringe, brought him. Apparently Grandpa doesn't know letting his grandson take three caffeinated sodas to class and guzzling all three late in the day is disastrous. His grandson is itching to show the instructor he knows how to load every gun on the table.
This is the night when we show our loading skills one-by-one to the instructor for approval, because gun safety is a major part of the course. Some of the kids handle the firearms like they weigh more than them, and all the naïve barrel waving going on makes me anxious. I'm used to being around people who know how to handle guns rather than people learning how to handle guns.
The Final Four
It's our last session, the final of four. Test time. My youngest sincerely asks me if he can sit close so he can see my answers. I'm mortified by his honest attempt at dishonesty, but I'm just as doubtful about my own answers. What if I guess wrong and fail us both? No way are we sharing. He's young for such serious studying, but he easily wins the Memory game every time we play. He's got this; no peeking.
I have my own test anxiety to deal with. I haven't taken a test in decades and I've never taken a test with my boys on either side of me taking the same test.
An hour later, we're all done and I'm watching our instructor mark tests with a red pen similar to the pen I use when I edit copy. My knees are knocking under the table. My oldest son is tapping a pencil on his chair. My youngest son gives up and puts his head down. It's past his bedtime again.
The instructor starts handing out hunter orange bandanas and beanies. You get both…if you pass. My boys smile as bright as the blazing color in their hands, and I'm right there with them when we realize we've passed. Not only do we have matching hats to wear in the woods, we also know the difference between black bears and grizzlies, how to spot male pronghorns and why you don't display your harvest on your hatchback.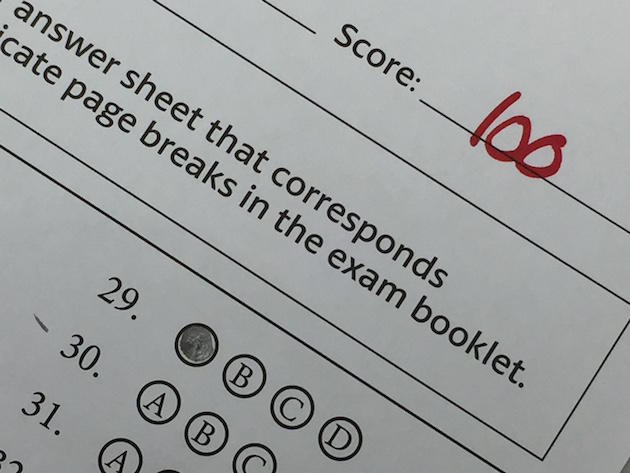 Aced it.
Later the instructor shows me my test score: 100. I don't gloat, but I am pleased. That score means something to me literally and figuratively. I earned that perfect score by putting 100 percent of my pride on the line and leveling the learning field between my boys and me. Along the way, I met some new hunters, most of them "much, much, much" younger than me. And I know with confidence all those know-it-all parents on the fringe truly missed out on an experience worth dropping the grown-up façade for.